Welcome to the wonderful world of vintage snowmobiles.
A multitude of changes have happened in the snowmobiling industry since the first sleds came out. Snow machines have evolved from basic models to today's highly specialized units carefully designed for particular terrain and purpose. For many sledders, there is great nostalgia in those early snowmobiles, and older riders have fond memories of family time on sleds when they were young. That evocation of times gone by seems to be, at least in part, why we find the value in vintage snowmobiles and love to see them brought back to good-as-new condition.
Here are our top Old Sled Zone articles from years gone by: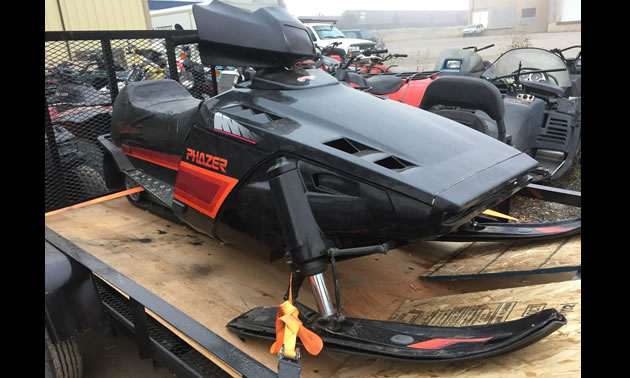 10. Engage Phazer: Yamaha's Phazer became the best-selling snowmobile in the world
Developed to offer real sports riding in a variety of conditions, the mid-1980's to early 1990's Yamaha Phazer was light in weight and featured a powerful, lightweight fan-cooled engine and an aerodynamic, handlebar-mounted fairing that began a new era in snowmobiling.
The Phazer would become the best-selling snowmobile in the world and rocketed Yamaha to No. 1.
Read the Vintage snowmobile story: Old Sled Sighting: 1980's Yamaha Phazer, "the sled that began a new era of snowmobiling"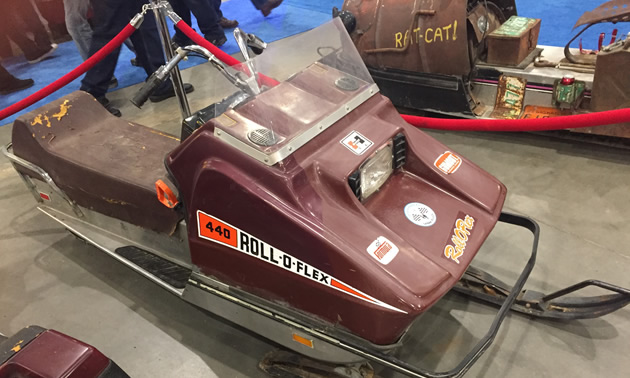 9. Roll over Beethoven: This classic sled—the Roll-O-Flex—hailed from Regina Saskatchewan
Roll-O-Flex was based in Regina, Saskatchewan, and only produced machines for a short period of time in the 1970's. The company was established in 1970 and it was all wrapped up by the mid-seventies.
Much of the machine incorporated Yamaha technology and parts at the time — including engines and braking systems.
Roll-O-Flex ran on their own patented "Superflexion" suspension system incorporating rubber wheels and parallel rail technology – leading edge in the day. A Roll-O-Flex typically sold for the bare bone price of $1200 to $1500 in the 1970's.
Read the Vintage snowmobile story: Old Sled Zone: Classic 1974 Roll-O-Flex 440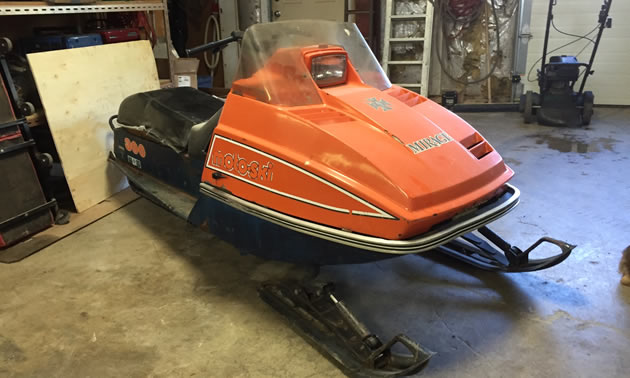 8. Bombardier bombshell: Moto-Ski Mirage makes its debut as the orange Ski-doo
By the 1980's Bombardier, the makers of Ski-doo snowmobiles, had taken over the Moto-Ski company and was trying to breathe new life into the once iconic lineup of snowmobiles. Under Bombardier, Moto-Ski was soon sporting Rotax engines and other Ski-doo components. So it is little wonder that since the mid-1970's the machines were often referred to as orange Ski-doos.
According to the copy from a 1980's Moto-Ski ad, "Mirage machines for 1980. They're the gutsiest lightweights going. A dream to maneuver. As quick and nimble as they come. You buy 'em for a low buck and run 'em for pennies."
Read the Vintage snowmobile story: Moto-Ski Mirage—an orange phantom of the snow?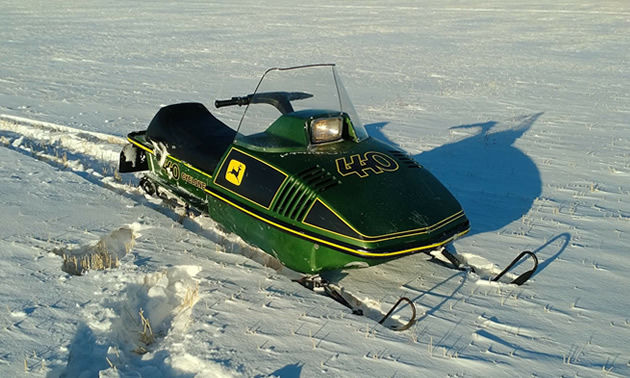 7. Runs like a Deere: 1977 John Deere Cyclone 440 restoration project
John Deere began producing snowmobiles in 1971. JD was fueled by the snow-sport boom that began at the turn of the decade. The 400 (339 cc) and 500 (436 cc) were the first two models produced, and the new line also helped introduce the recognizable "Nothing Runs Like a Deere" company slogan. At the time, John Deere dealers who sold primarily summer products were excited to have something to service and sell during the quieter winter months. 1976 saw the introduction of the 340 Liquifire, 440 Liquifire, 340 Cyclone, 440 Cyclone and Liquidator were added to the JD equipment line, giving customers an even more expansive selection.
John Deere, of course, exited the snowmobile business in 1982 when it sold the division to Polaris, who continued to sell off the inventory until 1984.
Read the Vintage snowmobile story: Old Sled Zone: 1977 John Deere Cyclone 440 restoration project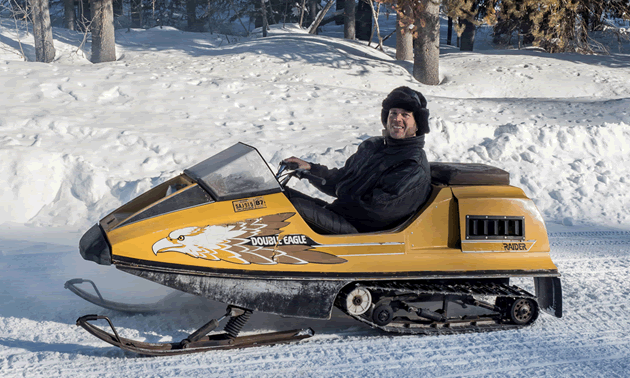 6. Double, double: This Double Eagle Raider rider was spotted at a vintage snowmobile rally
If the Double Eagle Raider snowmobiles were produced today, would they have survived and thrived? The invention and brainchild of Bob Bracey, these innovative (and decidedly odd-looking) snowmobiles were definitely ahead of their time – or maybe they were just a concept looking for a market?
Raider snowmobiles are especially unique for their use of a rear-mounted engine, twin-track design and cockpit seating, all of which were revolutionary ideas for the snowmobile industry in the 1970s.
Read the Vintage snowmobile story: 1970's Double Eagle Raider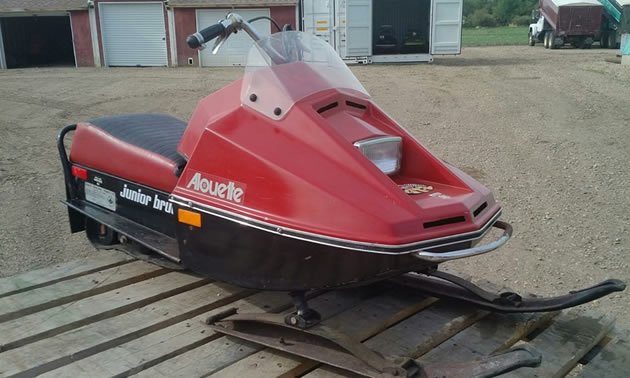 5. Et tu Brute? This Brute was made by the Alouette snowmobile company in Montreal in the 1960s
This Brute Junior is a 1972, it's all original with 5 HP Tecumseh engine. It is in almost-new condition and has been in storage for many years.
Although Alouette ended up calling it quits in the snowmobile business at the end of the 1974 model year it's legacy lived on in one of the most popular sleds ever made. In the middle of the 1980s Yamaha brought back an uncanny number of the Alouette's unique designs and built one of the best-selling and longest production run snowmobiles in history. In fact, most people would equate most of this description with that of the 1984 Yamaha Phazer.
Read the Vintage snowmobile story: 1972 Alouette Brute Junior + Super Brute 295 & 440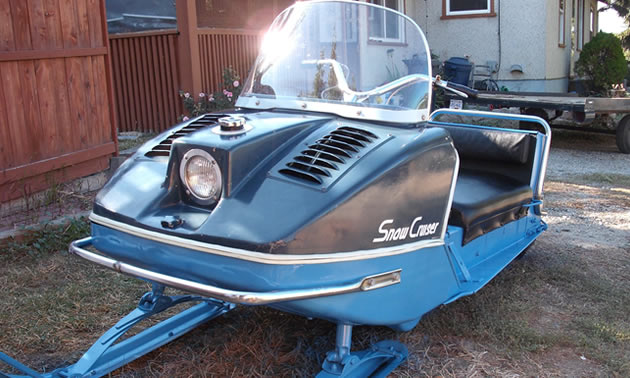 4. OMC—OMG! This powder blue beauty—the Snow Cruiser—was only sold in Canada
In the fall of 1964, Outboard Marine Corp. (OMC) of Waukegan, Ill., jumped into the fast-growing sport of snowmobiling. With three years of testing under its belt, OMC was ready to tackle the burgeoning market. The company produced three variations out of their Peterborough, Ontario, facility: the Johnson Skee-Horse, the Evinrude Skeeter and, in Canada, they changed the name of the Skeeter to Snow Cruiser. About all that was different was the paint colour and nameplate. The Johnson Skee-Horse was green, the Evinrude Skeeter had a blue tunnel with a white hood, and Snow Cruisers came in blue.
Read the Vintage snowmobile story: OMC Snow Cruiser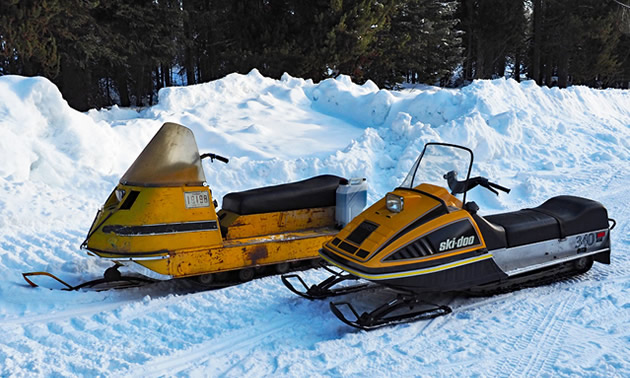 3. Tortoise and the Hair: The Ski-Doo Alpine—"The world's slowest snowmobile"—is a classic among old sled enthusiasts
Single-ski and double-track were some of the features that made the Ski-Doo Alpine a truly unique snowmobile. Here, we showcase two vintage Ski-Doo models: one the Ski-Doo Alpine (the world's slowest snowmobile) and the other is a more sporty late 1970's or early 1980's Ski-Doo 340 (Olympique, TNT or Everest – can't quite ID the model).
The single-ski Ski-Doo Alpine is somewhat of a classic among old sled enthusiasts. These old sleds build on Ski-Doo's early heritage of manufacturing a snowmobile or "tracked vehicle" to get "woodsmen through the forest and muskeg and then back home safely."
Thus the Alpine proved popular as a work sled for utility companies, game wardens, trappers, pipeline inspectors or anyone who needed to check on remote locations or lines in the middle of winter.
Purportedly the double-tracked Alpine was the "world's slowest" moving snowmobile but extremely reliable and dependable, so it's little wonder that backwoodsmen, hunters and workmen loved the machines. Today's equivalent to the Ski-Doo Alpine would be more utilitarian snowmobiles like the Tundra, Skandic and Expedition.
Read the Vintage snowmobile story: Old Sled Sighting: Single-Ski Ski-Doo Alpine—"The World's Slowest Snowmobile"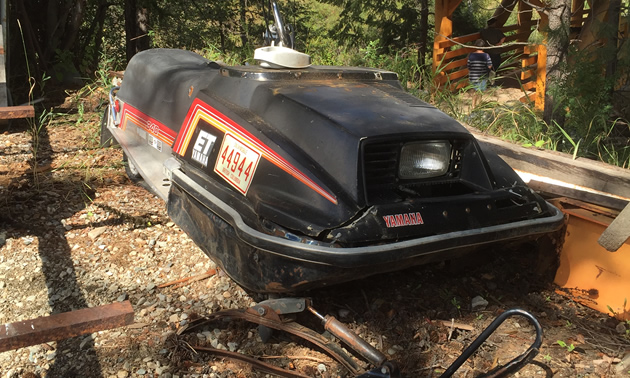 2. Muscle and hustle: The Yamaha 340 Enticer—An original muscle sled
This is the first Yamaha we ever posted in our Old Sled Sighting series. These high performance Yamaha machines featured some of the industry's leading edge snowmobile technology of the day. In 1979, Yamaha was making an impression on the snowmobile world, having incorporated a number of innovations into their high performance sleds.
That same year, Yamaha released a new line of snowmobiles under the Enticer name tag – they were known for their high speed performance (often called one of the original muscle sleds) and for their long-range riding capacity.
Read the Vintage snowmobile story: Yamaha 340 ET Enticer – An original muscle sled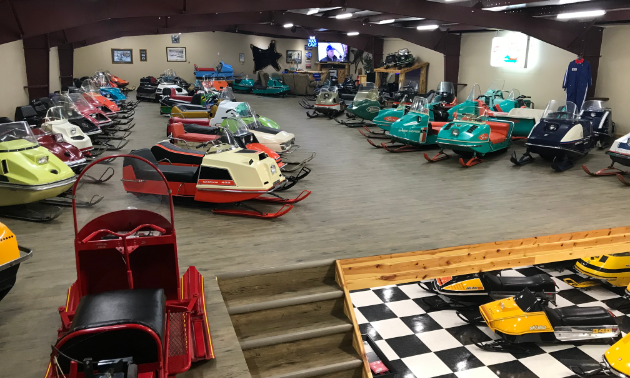 1. Sled heaven: The owner of Lorne's Vintage Sleds has "a crazy passion for old sleds"
Lorne Larson is old-school, just like his collection of 140 vintage snowmobiles.
"I'm just a guy that's got a crazy passion for old sleds," Larson said.
Lorne's Vintage Sleds is the kind of museum that any retro snowmobile enthusiast will appreciate. The museum is located just outside of Lloydminster, Alberta, and owned by Larson, a retired trucking company owner. Rather than waiting for boredom to set in, Larson bought a beef cattle ranch and built a classic snowmobile paradise on his property.
Lorne's Vintage Sleds has 140 snowmobiles on display in the two-storey 9,000-square-foot gallery. The collection is known primarily through word-of-mouth (not anymore, thanks to this publication). The museum has no website or visiting hours. Everything is organized by giving Larson a call or email to meet him on the property and getting an in-depth tour of the facility.
Larson's compilation covers the gamut of snowmobiles from yesteryear.
Read the Vintage snowmobile story: The owner of Lorne's Vintage Sleds has "a crazy passion for old sleds"
Do you have a vintage sled SnoRiders should know about?
Do you have a vintage sled restoration? Tell us about it! We would love to share your old sled story.