The Brute line of snowmobiles by Alouette, like so many other snow machines of the 1960's and 70's, had a varied and colourful history. When Manning, Alberta resident Sid Samek posted a photo of his Brute Junior 295 model it definitely caught our eye. Then he sent us photos of a couple more Brutes in his collection: an Alouette Super Brute 295 and Super Brute 440. (Not to be confused with Brutanza Engineering snowmobiles which came out of Brooten, Minnesota)
Sid's note said, "This (Brute) Junior is a 1972, it's all original with 5 HP Tecumseh engine. It is like new condition and has been in storage for many years. Here are couple other Super Brutes I have in my collection."
According to Stephen Burdick and Craig Wolf writing on the website snowmobile(.) com, "Based in Montreal, Quebec, Alouette began snowmobile production for the 1967 model year. Early models included the 707, with later production years adding GT, GTE, GTO, GTOE, Big Bird, XL, Venture, Escort, Eliminator, Sno Brute, Sno Duster, Silver Cloud MKII, Super Brute, Mini-Brute, and Super. Sachs 2-stroke engines powered most of these machines, although the kid-sized, Mini-Brute used a 5hp Tecumseh 4-stroke and the Silver Cloud MKII was powered by the Sachs Wankel Rotary Engine."
Here's some more on the history of the company, "Alouette ended up calling it quits in the snowmobile business at the end of the 1974 model year. Ohio-based snowmobile maker Rupp acquired the Alouette snowmobile line and continued to build sleds incorporating the names of Super Brute, and Sno Duster into the following two model years, but that ended after the 1976 season. However, Rupp never incorporated the forward thinking design of the 1974 Super Brute, instead the Alouette name was attached to Rupp Nitro style chassis powered by a liquid cooled engine."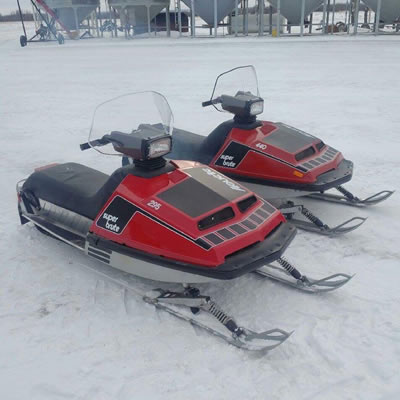 Burdick and Wolf also state that the Alouette innovations were snapped up by Yamaha and incorporated into their machines. "Although it may seem that this Alouette's design characteristics were left for dead during this transition period, snowmobile history would indicate something else. In the middle of the 1980s Yamaha brought back an uncanny number of the Alouette's unique designs and built one of the best-selling and longest production run snowmobiles in history. In fact, most people would equate most of this description with that of the 1984 Yamaha Phazer."
Despite all the up and downs, Alouette Brute snowmobiles continue to be a popular choice with collectors such as Sid Samek of Manning, Alberta. Thanks Sid for showing us your sleds and watch for a future story on his John Deere restorations.
Do you have a vintage sled restoration? Tell us about it! We would love to share your old sled story.