By the 1980's Bombardier, the makers of Ski-doo snowmobiles, had taken over the Moto-Ski company and was trying to breathe new life into the once iconic lineup of snowmobiles. Under Bombardier, Moto-Ski was soon sporting Rotax engines and other Ski-doo components. So it is little wonder that since the mid-1970's the machines were often referred to as orange Ski-doos.
According to the copy from a 1980's Moto-Ski ad, "Mirage machines for 1980. They're the gutsiest lightweights going. A dream to maneuver. As quick and nimble as they come. You buy 'em for a low buck and run 'em for pennies."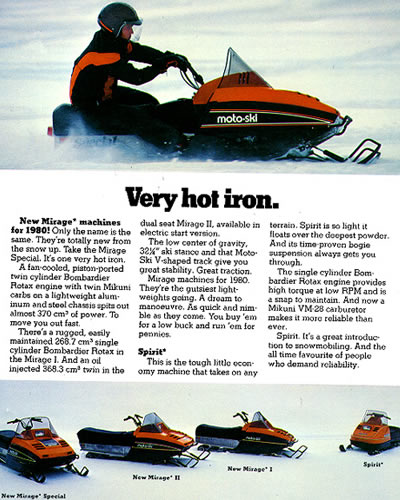 "They're totally new from the snow up, only the name is the same," stated the Moto-Ski advertisement.
Moto-Ski models included the Grand Prix, Cadet, Capri, Mini-Sno, Mirage I, Mirage II, Mirage Special, MS-18, Zephyr S, F, Nuvik, Grand Sport, Chimo, Spirit, Futura, Sonic, Super-Sonic and Ultra Sonic. They also manufactured and sold Mini-bikes called Moto-Skeeters for two years,1971 and 1972.
We found this exceptionally well-preserved Moto-Ski Mirage model at Kootenay Speed Shop, owned and operated by Trish Drinkle and her husband, in Creston.
Moto-Ski started back in 1963, the company was purchased in 1971 by Bombardier and production ceased in 1985—making Moto-Ski a true orange phantom mirage of the snow.
Do you have a vintage sled restoration? Tell us about it! We would love to share your old sled story.