We haven't heard from our friend Sid Samek in a little while, he's been too busy farming and making a living, so I decided to check in with him on what restoration project(s) he's working on lately.
It turns out that he just finished up a great looking new John Deere snowmobile and has even had it out for a "shakedown" run.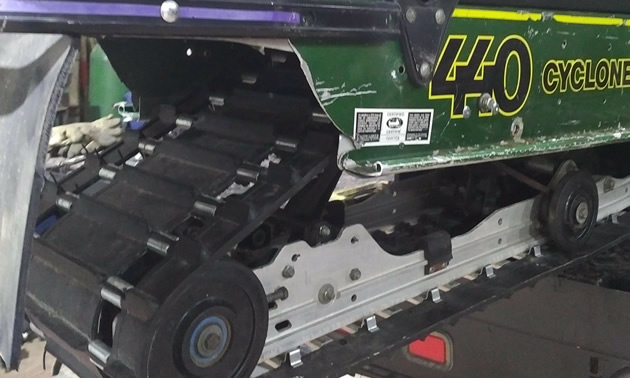 Sid tells us, "I have just finished one project, a 1977 John Deere Cyclone custom. I installed a Polaris long track and it turned out great."
Sid says he utilized a Polaris 136" track and a M-10 extra suspension. He used the JD Cyclone's drive sprockets, which he adjusted to match up with the new track. Then he added the extension off a Ski-doo 700 Summit and the rear bumper off a Polaris Mountain Max. Sid then measured and drilled new holes in the tunnel to add and secure the suspension. Plus he geared down the sprocket to 21/39 tooth and now he has a JD machine that pulls really good. He added, "Once we get some more snow I may have to gear down some more?"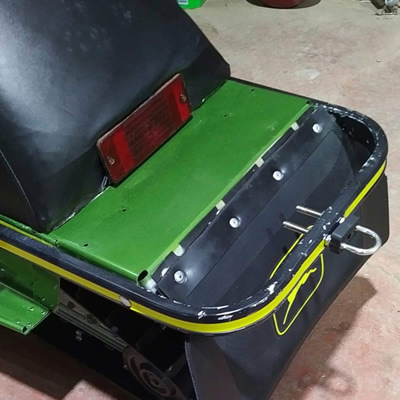 John Deere began producing snowmobiles in 1971. JD was fueled by the snow-sport boom that began at the turn of the decade. The 400 (339 cc) and 500 (436 cc) were the first two models produced, and the new line also helped introduce the recognizable "Nothing Runs Like a Deere" company slogan. At the time John Deere dealers who sold primarily summer products were excited to have something to service and sell during the quieter winter months. 1976 saw the introduction of the 340 Liquifire, 440 Liquifire, 340 Cyclone, 440 Cyclone and Liquidator were added to the JD equipment line, giving customers an even more expansive selection.
John Deere, of course, exited the snowmobile business in 1982 when it sold the division to Polaris, who continued to sell off the inventory until 1984.
Sid Samek summed it up by saying, "It's fun to drive but after last night we lost a lot of our snow — its 7+ right now." Don't worry Sid - the snow is coming and your JD Cyclone sounds like it's geared up to handle just about anything winter can throw at it.
Do you have a vintage sled restoration? Tell us about it! We would love to share your old sled story.