Lorne Larson is old-school, just like his collection of 140 vintage snowmobiles.
"I'm just a guy that's got a crazy passion for old sleds," Larson said.
Lorne's Vintage Sleds is the kind of museum that any retro snowmobile enthusiast will appreciate. The museum is located just outside of Lloydminster, Alberta, and owned by Larson, a retired trucking company owner. Rather than waiting for boredom to set in, Larson bought a beef cattle ranch and built a classic snowmobile paradise on his property.
Lorne's Vintage Sleds has 140 snowmobiles on display in the two-storey 9,000-square-foot gallery. The collection is known primarily through word-of-mouth (not anymore, thanks to this publication). The museum has no website or visiting hours. Everything is organized by giving Larson a call or email to meet him on the property and getting an in-depth tour of the facility.
Larson's compilation covers the gamut of snowmobiles from yesteryear.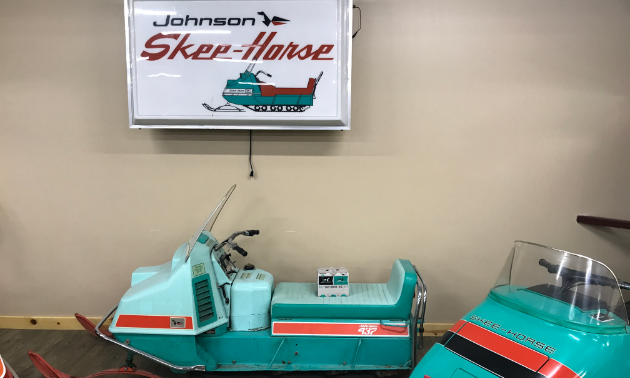 "My favourite ride is the 1967 Johnson Skee Horse 20-inch track with the matching cutter behind," he said. "It's got electric start and neutral. OMC, which is Johnson, Evinrude and Snow Cruiser—they're all the same family, they had a good machine back then. They did a good job on their boat engines. They had an upper hand on how to finish things nice."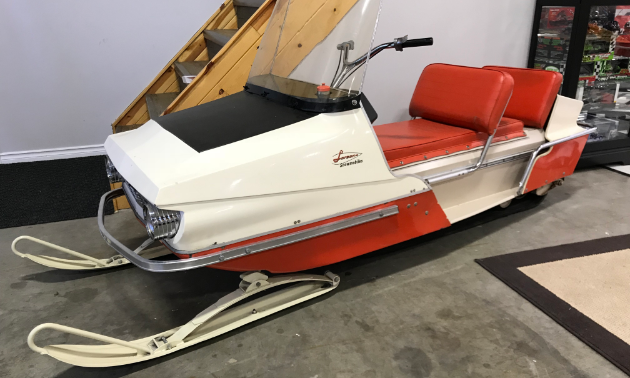 Inspecting machines at Lorne's Vintage Sleds is like uncovering ancient relics.
"The orphans or the oddballs that don't exist anymore would be a 1967 Larson Eagle model," said Larson. "It's got two backrests and a trunk. It's got two headlights and a grill. I think Larson was thinking of a car on the snow or something, ha ha. It is quite a unique looking machine."
Brand spankin' new
Some of Larson's old sleds are in such good condition that they've never even been used.
The first unused snowmobile is a 1967 Sears Edward Hillary Edition. The original owner "took it out of the crate himself," said Larson. "That was quite the treasure finding it."
Next is a 1970 Sno-Jet. "That was found in the basement of a warehouse in southern Nebraska," said Larson. "I picked that up at Hay Days last year. That was pretty cool."
Lastly is a 1983 Yamaha VMAX with 49 original miles. "The only thing that's missing is the price tag on the handlebar," Larson said.
Going for a spin
Larson's favourite place to ride is around his farmstead through bush and trails.
"If I'm riding vintage, I ride my OMCs—my 1973 Johnson Skee-Horse," he said. "Sometimes I ride the '76 Evinrude 45 Rotaries. When you've got a selection to ride from, you don't really have a favourite.
"If I go on a serious ride I'll take my 2017 Yamaha Sidewinder with the turbo."
Yamaha FTW
When it comes to Yamaha, Lorne's Vintage Sleds has no equal. "I've got about 50-some Yamahas," said Larson. "My Yamaha collection is pretty sweet."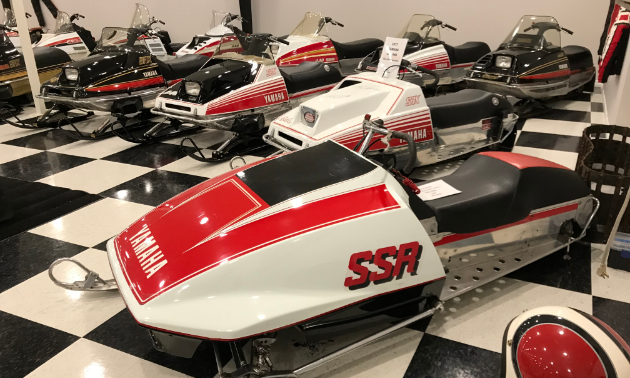 Larson's most unique Yamaha is a 1982 SRX.
"Yamaha recalled and destroyed them all," he said. "The 440 liquid-cooled were in the SRXs from 1976 up to 1981. The '81 had some crank problems. In '82, they decided to go to a 500 cc and they continued to have problems. Yamaha was very conscientious about their reputation so they recalled them all and destroyed them.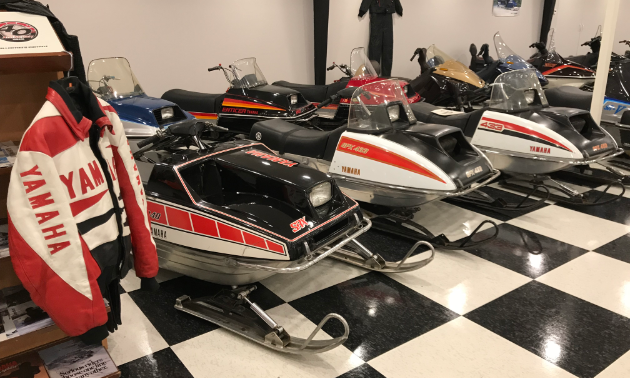 "The story is that about 17 of them slipped through the cracks and are still floating around the globe. I think there's three or four overseas. The rest of them are in the United States and Canada."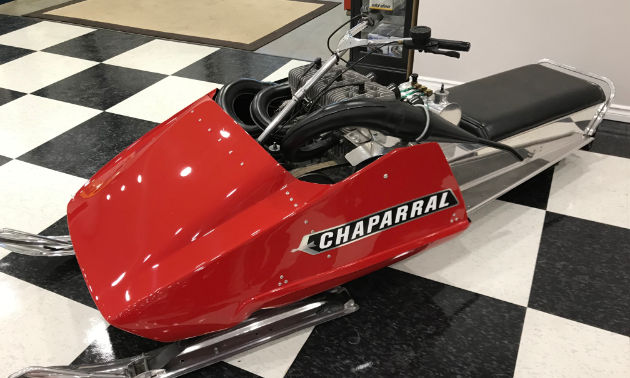 That's not the only rarity to be found at Lorne's Vintage Sleds. Larson's rarest snowmobile is a '72 Chaparral 650 Triple grass drag racer. "There were only 35 of them ever built," he said. "This is number 28. There are only two or three of them left in existence. It's super rare. Chaparral was definitely ahead of their time. The Chaparral is second to none. It's super cool."
Origin story
Larson grew up as a hard-working farm kid. Looking for some kind of entertainment on his parents' isolated farm, he took to snowmobiling to provide the recreational outlet he desired.
"My dad bought an old 1968 Snow Hawk, which was a pile of junk," he said. "Once we rode that thing, I just got hooked. I'm still trying to get one restored so I can get one of the first ones we ever had."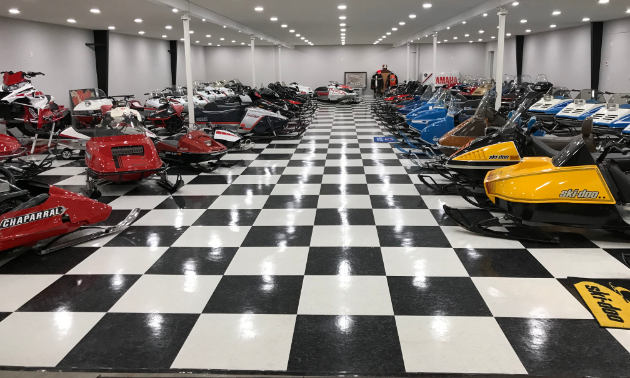 Larson's first snowmobile was a 1970 Eskimo, one of which you can find on the showroom floor of Lorne's Vintage Sleds. From there the Larson family got into Johnson Skee-Horses.
"When we got enough money scratched together as kids, we bought a real snowmobile—a Yamaha," said Larson. "That's been my passion over the years—until they started pulling them apart in the late '80s. Then I kind of gave up on them too."
Full house
Larson only began assembling his snowmobile collection in 2013 and has already amassed a total of 250 old sleds. "I got extras sitting in my workshop that I don't have room for in the museum," he said. "They're kinda the second level of niceness. Some of them have to be restored. Some of them are just riders. The ones in the showroom are real jewels. They're nice."
"If I could do it again, I would shoot for ones with low mileage, all original and the nicest shape that they could possibly be.
"I've backed off on buying because I went a bit overboard. I'd like to downsize to what's comfortable in the museum to about 150 to 160 sleds and then just watch for unique ones. I'm very fussy."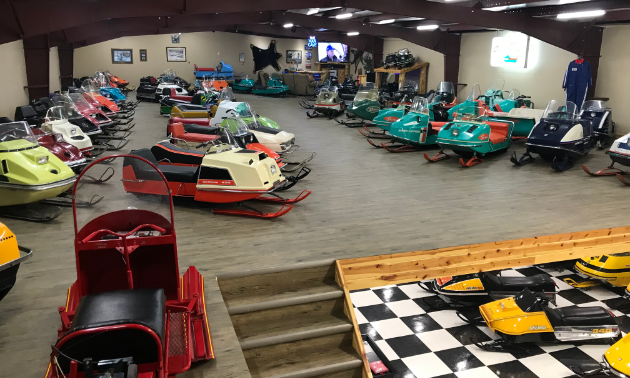 Larson's fussiness will shape how Lorne's Vintage Sleds shapes up in the future. He plans on updating his collection with upgraded versions of his existing sleds.
"For example, the Sears came from a friend of mine," he said. "I had a Sears, so now I'm upgrading to a nicer one. I'm going to sell the old one. The plan is to slowly improve each one if it's possible. Some are impossible because they are mint."
If you would like to see Larson's mint vintage collection for yourself, call him at 1-780-872-9242 or send an email to [email protected].
Do you have a vintage sled restoration? Tell us about it! We would love to share your old sled story.