You just never know where you will make an Old Sled Sighting. Recently I was out on a short family stroll along a bank of a popular creek, which parallels a small residential subdivision. While everyone else was gushing over the beautiful babbling brook, the thing that caught my eye was a late 1970's Yamaha Enticer tucked away in the trees in someone's backyard.
This is the first Yamaha we have posted in our Old Sled Sighting series. These high performance Yamaha machines featured some of the industry's leading edge snowmobile technology of the day. In 1979, Yamaha was making an impression on the snowmobile world, having incorporated a number of innovations into their high performance sleds.
That same year, Yamaha released a new line of snowmobiles under the Enticer name tag – they were known for their high speed performance (often called one of the original muscle sleds) and for their long-range riding capacity.
A Yamaha ad of the day stated: "Thrills and Frills – Introducing a new member of the (Yamaha) Enticer family, the Enticer 340 Deluxe. Like the popular ET 340, it comes with all the power, performance, handling and excitement you expect."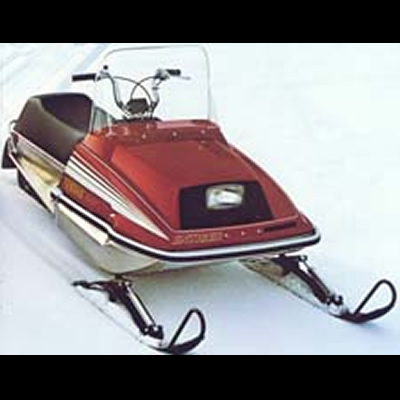 Both the 340 Deluxe and the 340 ET sported a fan-cooled twin engine. The 340 Enticer had a 338cc twin which delivered muscle, smooth responsive performance and quick, precise handling that was nothing short of exhilarating. The 340 ET had a 7-gallon gas tank for long range riding and two roomy storage compartments.
Other Enticer features included:
A monocoque frame made from strong, lightweight aluminum
Wide-stance skis
Slide rail suspension with Monoshock system
Deep-profile, dual-internal-drive track
A decompression system for easy pull-starting
The Yamaha Enticer 340 was definitely one of the industry's original muscle sleds!
Do you have a vintage sled restoration? Tell us about it! We would love to share your old sled story.