I grew up on the prairies of Canada. My passion for education, demonstration and restoration has me attracted to snow machines manufactured in the Western Canadian provinces. My friends north of the border love to bring me "farm auction specials"—their term for a rusty specimen of an obscure old snowmobile that nobody else would bid on at the machinery sales they attend.
Robin Nodwell SNO SCOOT
This is a tale of the lowly Robin Nodwell SNO SCOOT, made for three years in Calgary, Alberta. The Robin Nodwell Company made large equipment for Canadian oil companies. They specialized in huge tracked vehicles to support oil exploration in the bush and muskeg conditions of Northern Alberta. Not unlike Armand Bombardier, Bruce Nodwell received several patents for tracked vehicles and was awarded the Order of Canada, Canada's highest civilian honour, "for his contribution to the opening of the Canadian North through his inventions and development of various types of tracked vehicles."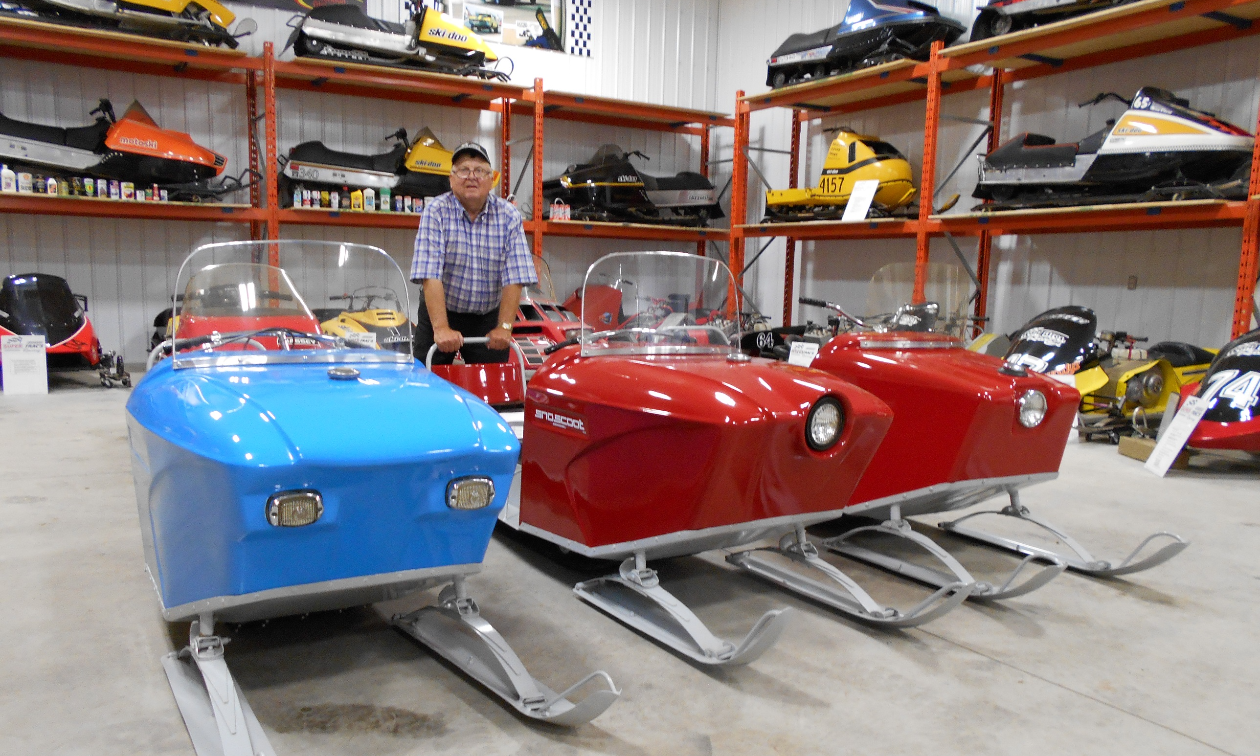 Over the years, I have been fortunate to be able to speak with the manufacturer's son in Alberta and the production manager, now retired in British Columbia, to learn more about the motivation behind their snowmobile project and production experiences. Apparently, by 1965, the Calgary Company felt that they should enter the snowmobile marketplace. From original company records, I acquired a feasibility study that spoke glowingly about the potential growth in snowmobiling. The report compared the Sno Scoot prototype to eight other manufacturers and concluded that it was as good as or better than the competition. Marketing was to be two-fold—traditional motorsports distributors and a major merchandiser (1965 models were sold at Simpson Sears stores in Canada). Production cost estimates were based on 5,000 or 8,000 units per year, at a cost of $600 and retail price at $875.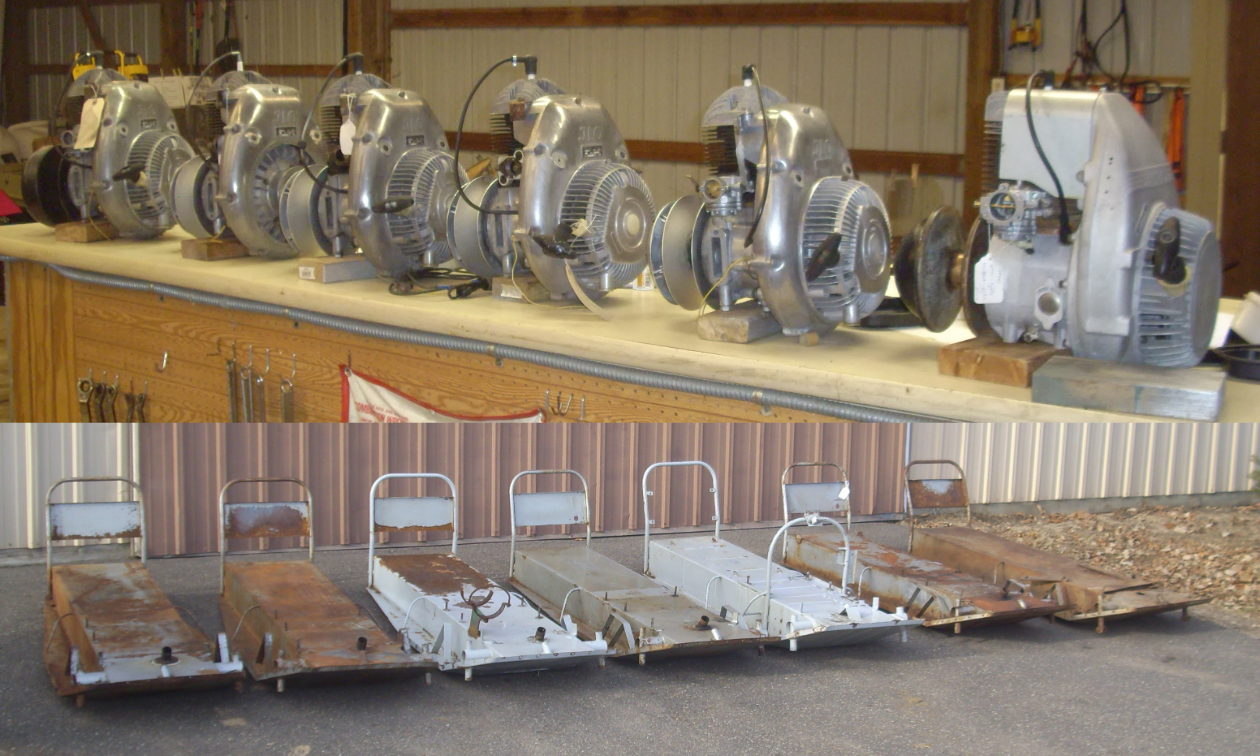 All of this turned out to be optimistic. In a production span of three model years, an estimated 475 were built. Moreover, it was discovered to be impossible to build them at $600. The manufacturer's son told me that he remembered a heated rant at the dinner table one evening when Bruce Nodwell lamented that there was no way to build their snowmobile for $600, which apparently Ski-Doo was managing to do out east.
Catastrophic compromises
The cost constraints were crippling. Subsequently, most Sno Scoots were built very crudely:
No brake.
No muffler. Engine exhaust was routed by flex pipe down into a tunnel cavity directly in front of the track that was stuffed with raw fiberglass insulation.
No gas tank. Instead, a fiberglass bowl was molded to the underside of the hood.
No continuous track. Not even a piano hinge to seam the track. Instead, the track material was simply overlapped at one cleat.
No front bumper.
Exposed drive chain.
No key switch. A single toggle operates spark and lights.
Steering shafts made of tubing that was too thin.
Many of these deficiencies were remedied in their final model year (1967). As it played out, however, the upgrades were too little and too late.
Restoring a forgotten lineage
For years at my place, I used to enjoy showing my snowmobile buddies these unsophisticated and peculiar features. Soon, however, I got an itch to restore them. After a decade, I had all three model years and went at it. In fact, seven un-restored machines were chosen for refurbishing. Most were in poor shape. However, one prized 1966 model that I secured was never used. I bought it from a Calgary kid who was just given it by a neighbour who had won it at a 1966 golf tournament, but never removed it from the factory trailer! Ah, the power of the Internet. I discovered the kid's post on a Canadian ATV blog, when he posted, "SNO SCOOT—what is it and what's it worth?"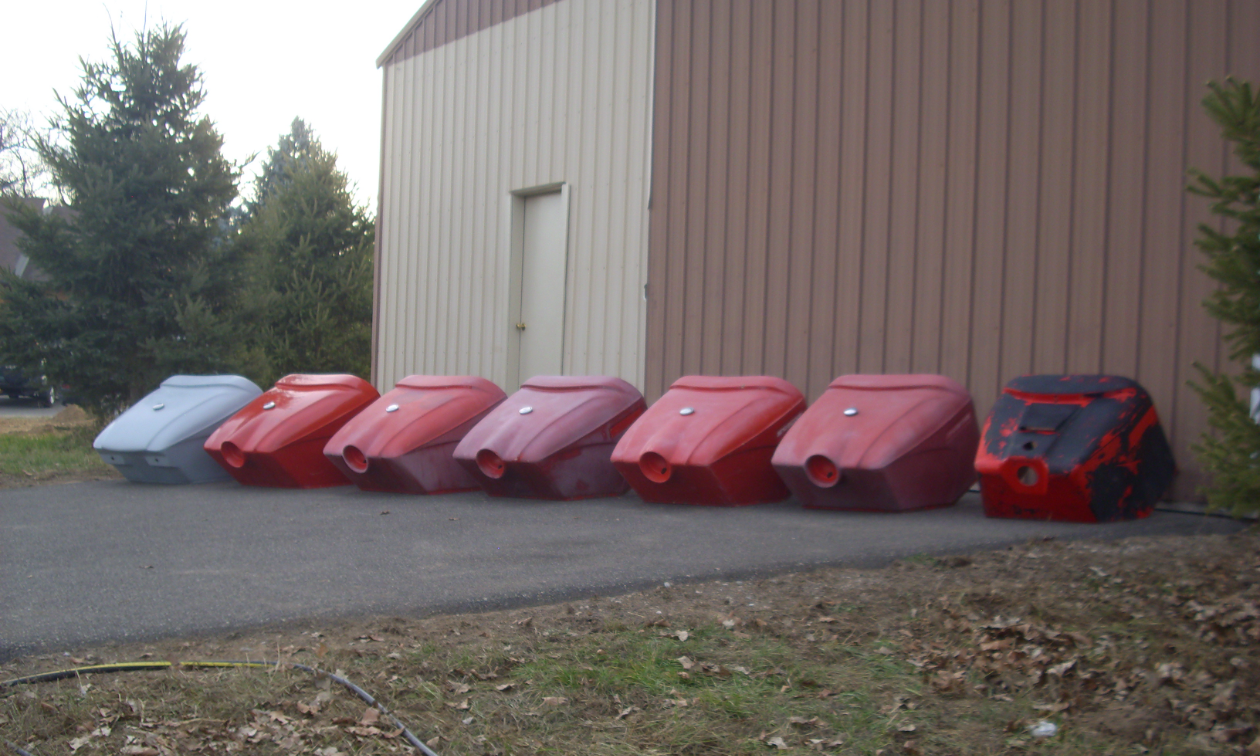 The greatest restoration challenge came with the chassis units and track/bogies. Once all stripped down, it became apparent that a major design flaw was lack of support at the chassis where the secondary clutch was mounted. Every chassis was cracked and ripped at this juncture. The fix required reinforcement plates welded both above and below the top of the tunnel. It became apparent that the secondary clutch mounting was misaligned at the factory. In one instance, the engine mount plate had to be moved over nearly an inch so that the two clutches were aligned correctly.
Only two original tracks were usable. Three bogie wheel sets were reused. Other than that, early Alouette and Ski-Doo drive-train elements were found to fit, or be modified to fit. With these other brands the entire under-chassis drive was changed over, including front driver, bogies, rear shaft, "scissor" rear suspension, track and all.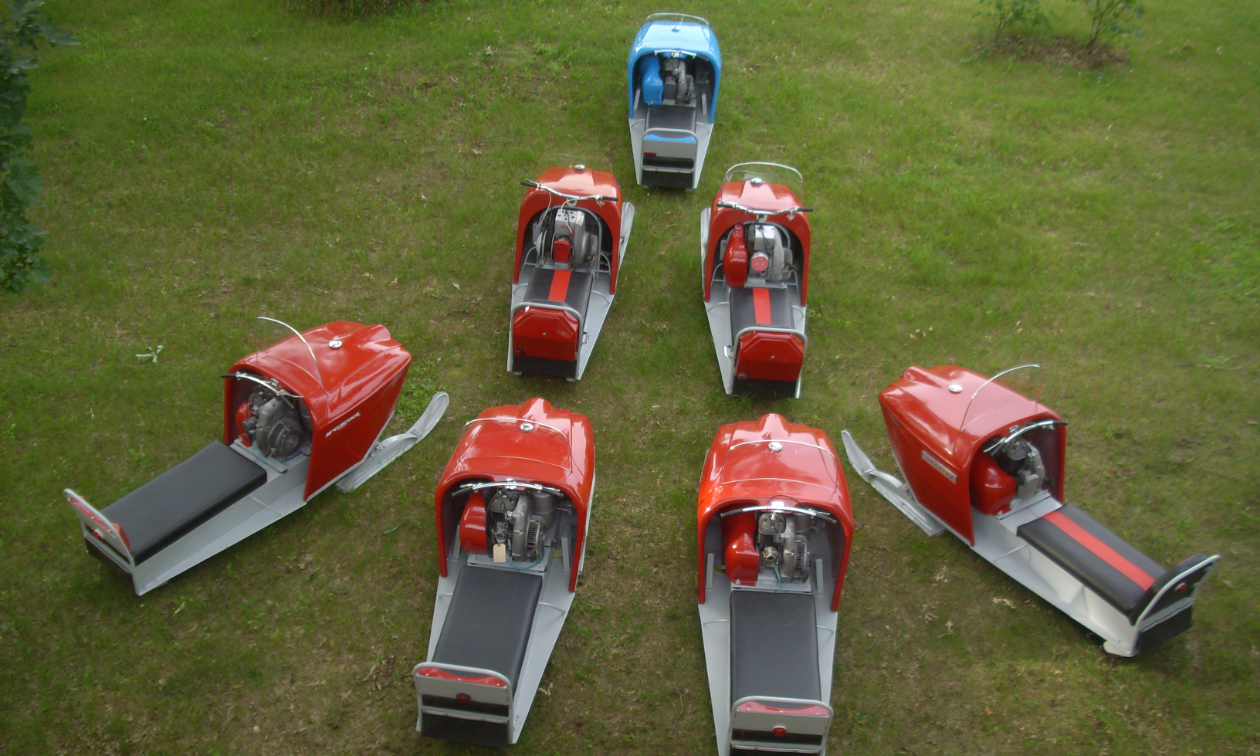 The original steering shafts were too light. In almost every case, the shafts were twisted and bent. At one point in their lives, someone had tried to turn the skis that were frozen to the ground. The skis stayed stuck, and the shafts failed. Most were farmer-welded and could not be reused. A friend took on the project and built a special jig and hand-crafted all new handlebar sets.
A decision was made to install mufflers. The original set-up with flex pipe and fiberglass batting was too crude and way too noisy. It was discovered that a Ski-Doo muffler of that era would fit and was readily available. Another "upgrade" was to install a brake onto the secondary clutches.
The trusty old JLO L252 engines were no problem at all. Even those that came to me after sitting outside on the Saskatchewan Prairie were all able to run by cleaning the points and rebuilding their tiny Tillotson HL carburetors. One 1967 model had a Sachs engine. Like all manufacturers in the day, they used whatever two-stroke European engine was available at the time.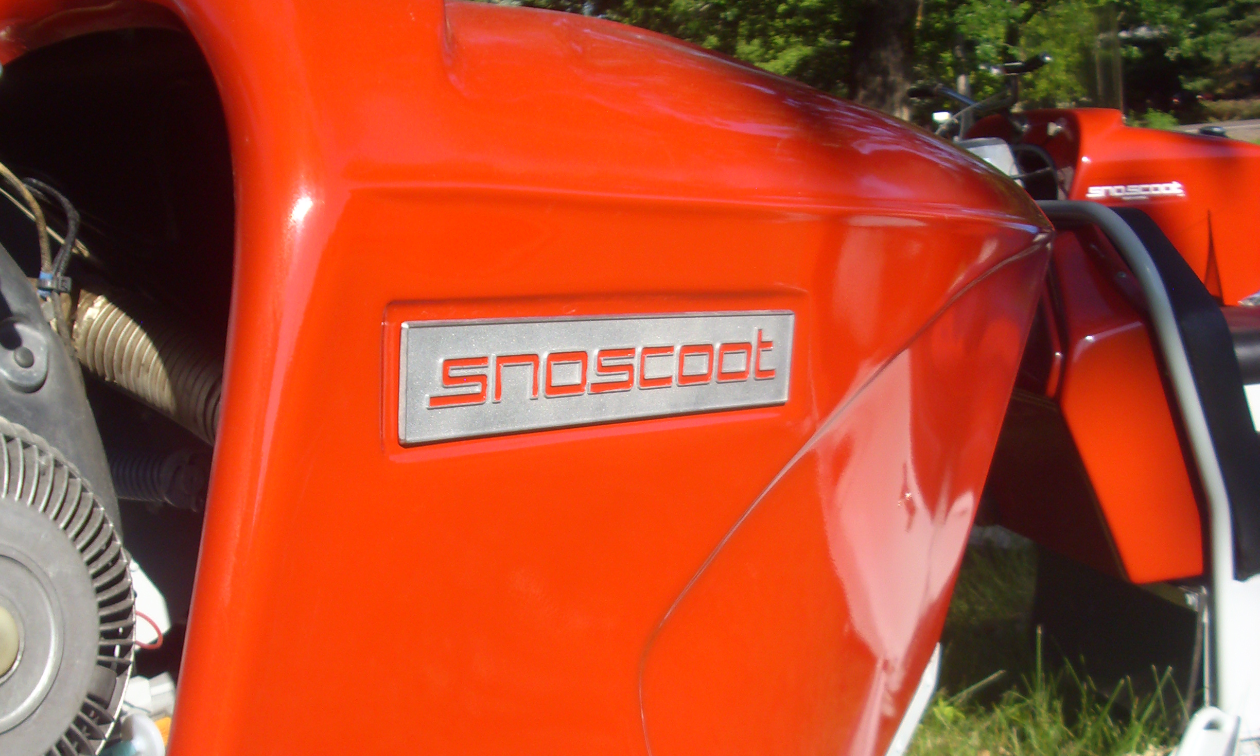 There was no room for a real steel gas tank under the hood, so a decision was made to stay with the original setup. It was a simple "salad bowl" shaped fiberglass cavity, fiberglassed onto the underside of the hood. It must hold a couple of gallons of gas. In practice, I have been advised to install a drain spigot on the hose leading to the carburetor, and drain-down the entire tank for summer storage. Also, I will unscrew the cap to vent any remaining gas tank fumes. I have learned about other old snow machine brands where the gas tank was fiberglass, exposed and painted. The gas fumes can tarnish the paint finish or leave a ghost image.
The end of SNO SCOOT
So there you have it. This Calgary manufacturer was trying to emulate Armand Bombardier and his Ski-Doo manufacturing success. It didn't work out and after three years, Robin Nodwell decided to stick with his strong suit: manufacture of oil exploration vehicles.