Weddings come and go, but not all of them are memorable. For passionate sledders, there's one sure way to stand out from the rest: A snowmobile-themed wedding.
We've covered quite a few of these wed-by-sled affairs. Here's a list of the most momentous sledding weddings that we've come across over the years.
"We chose to get married on our sleds because we both love riding and we're not fans of hot weather." — Angie Lepage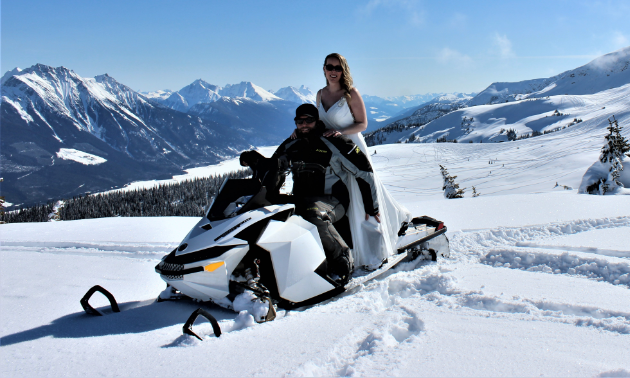 After going back and forth on multiple ideas that seemed to be geared to please others, Angie and Mitch decided to make wedding plans that suited them—and their sleds.
Best day ever: Reminiscing powdered memories in McBride, B.C.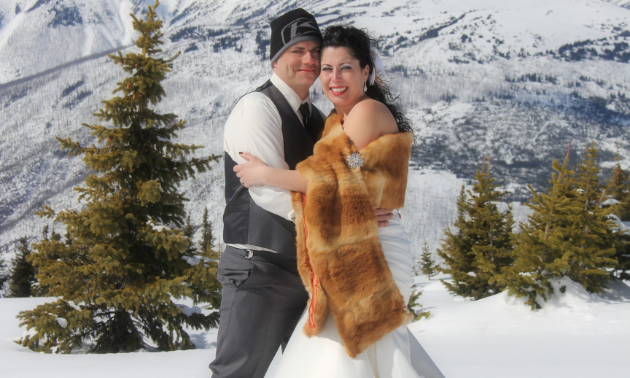 Barrett's best day ever was March 26, 2016, the date of her presidential wedding. Barrett and her hubby, Tyler, rode snowmobiles to the top of Lucille Mountain for a once-in-a-lifetime photo shoot with the wedding party in tow.
Chris and Jeannie Brewer's shared love for sledding is one for the record books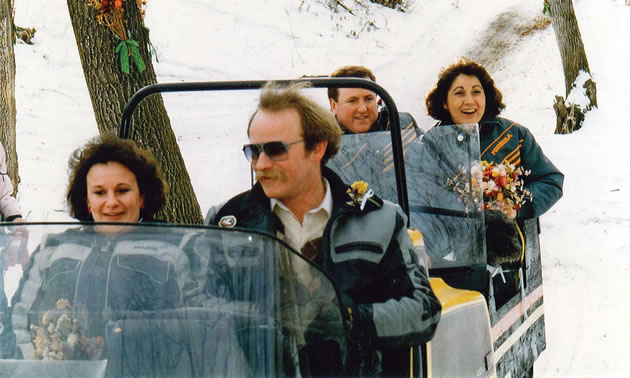 Chris and Jeannie Brewer from Regina Beach, Saskatchewan, live, eat and breathe snowmobiling. Both were bitten by the sledding bug at a young age, and after they met and fell in love, it seemed only natural for the couple to get married on sleds.
This committed snowmobiler honoured her favourite sport in her wedding photos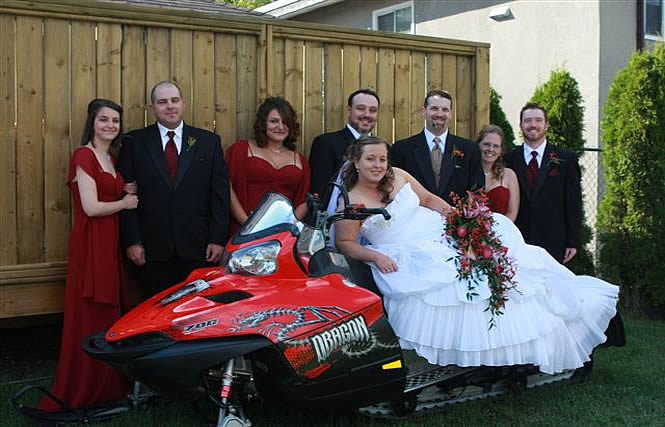 Sledder Chantelle Lockwood caught our eye when she sent in her unique Hotshots entry—a photo of herself dressed up in full bridal attire, aboard her brand new Dragon snowmobile. The impressive machine was a wedding present from the lucky groom, Quin Lockwood.
"We hit it off and were married shortly after on a mountain overlooking Elkford, B.C. It was snowing and we wore our sled clothes." — Stacey Booth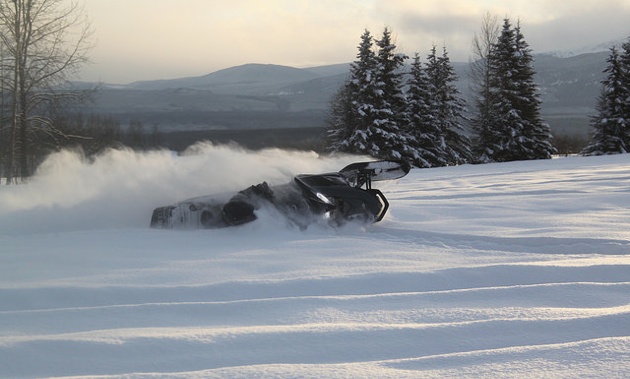 For ex-snowboarder Stacey Booth, sledding is more than just a pastime. Married on a snowy mountaintop overlooking Elkford, she and her husband, Mark, chose sledding gear over wedding attire when they exchanged vows.
For Amy Flowers of Calgary, Alberta, sledding is a lifelong passion that has only gotten stronger over the years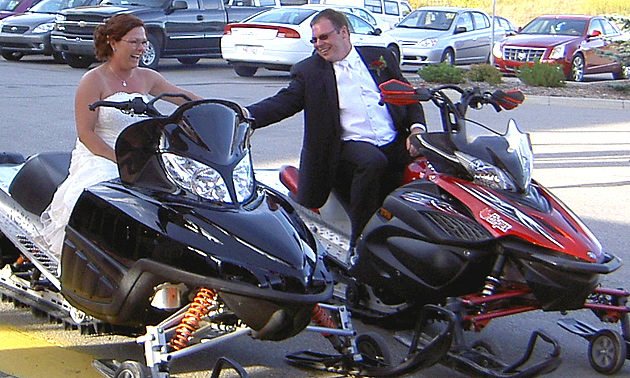 Bargen proposed to Flowers on top of Revelstoke's Frisby Ridge. At their wedding, their grand entrance was made on sleds. Even part of their honeymoon was spent sledding with the Krazy Canadian, Dan Davidoff, around Castlegar, B.C.
Megan Render took her sledding game to a whole new level when she discovered chute climbing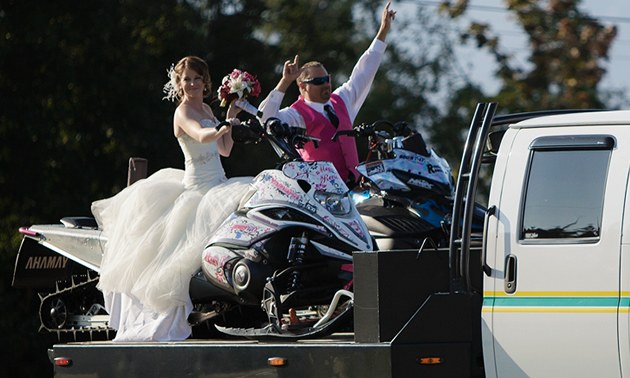 When she met Shane Render, who is now her husband, Megan's ascent into chute climbing began.
"It was the day I had prayed for." — Chris Steigerwald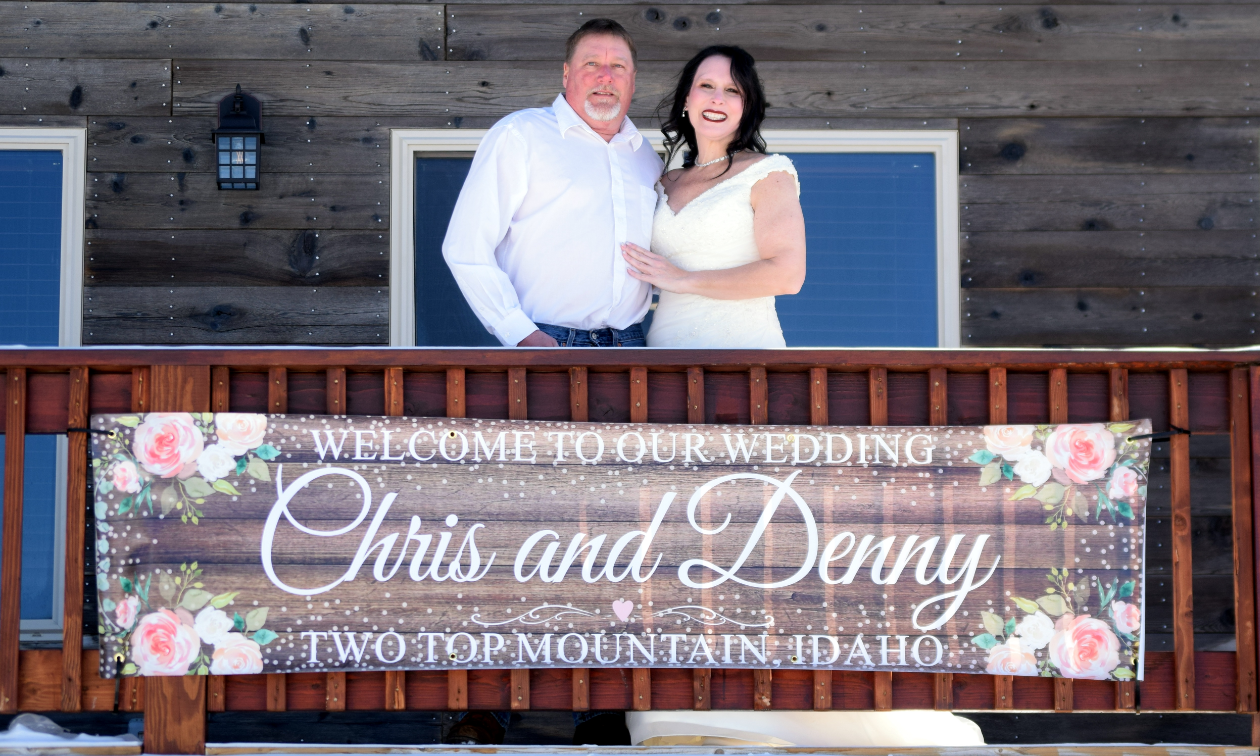 Destination weddings typically take place in some distant tropical paradise. For hardcore sledheads like Danny and Chris Steigerwald, their dream wedding scenario included plenty of sunshine, but it was a bit more chill than an archetypal wedding set far, far away.
If you've had a snowmobile-themed wedding of your own, tell us about it! We'd love to hear about your noteworthy nuptials.