There are many different factors that go into creating a best day ever. Narrowing down one particular date is challenging, especially when your sledding area resides in McBride, B.C., the reigning SledTown ShowDown champion. For Vicki Barrett, president of the McBride Big Country Snowmobile Association, the best day ever entails the following:
"It's the day you crest the top of a hill on a bluebird sky and see nothing but fresh powder for miles," she said. "It's digging your buddy out of a creek and laughing until your sides hurt. It's hitting fresh powder so deep it's over your windshield. It's the excitement of spotting the next line. It's the thrill of the adventure. It's riding with a group of buddies. It's the feeling of freedom when you ride. It's seeking new riding areas and having mastered the terrain in areas you love. It's pushing your skills. It's the thrill of the anticipation of what the next ride will bring."
The actual best day ever
Then again, maybe Barrett's best day ever was March 26, 2016, the date of her presidential wedding. Barrett and her hubby, Tyler, rode snowmobiles to the top of Lucille Mountain for a once-in-a-lifetime photo shoot with the wedding party in tow.
"We couldn't have asked for a better day," Barrett said. "The weather was a bit brisk but probably would've been warmer if I wasn't in a wedding dress. Bluebird skies. It was warm on the bottom and there wasn't any snow left in town. We did find enough fresh powder to have one tiny track in our pictures.
"It was amazing fun to watch the guys in their suits on sleds. Some have never experienced snowmobiling. We watched a few fall in love with it and the other few now understand why we love it."
In the two years since the wedding, Barrett and her husband have travelled up Lucille Mountain to celebrate their anniversary together.
Lucille Mountain
If you would like to create your own memories in this picturesque setting, head to the staging area on Lucille Mountain forest service road. A warm-up cabin, located 12 kilometres up the groomed trail, leads to alpine access.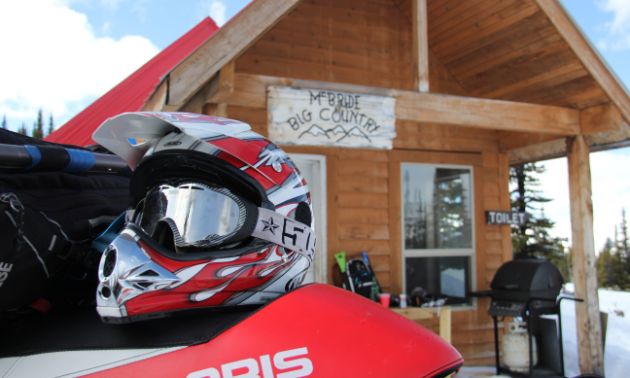 "This is a great mountain that offers family to expert riding," said Barrett. "Access to riding areas and bowls can be gained from the groomed trail, which is great when riders are wanting to transition gradually from simple to more challenging terrain. A marked trail dubbed 'The Granny Trail' provides entry to the bowl, allowing easy access both in and out."