Destination weddings typically take place in some distant tropical paradise. For hardcore sledheads like Denny and Chris Steigerwald, their dream wedding scenario included plenty of sunshine, but it was a bit more chill than an archetypal wedding set far, far away.
"We love the areas of West Yellowstone, Montana, and Island Park, Idaho," Chris said. "It's such a beautiful area right outside of Yellowstone National Park. The trails are plentiful and well-groomed and the people are friendly. We have taken several trips to that area to snowmobile. I like to stick to the trails and Denny likes to get more adventurous."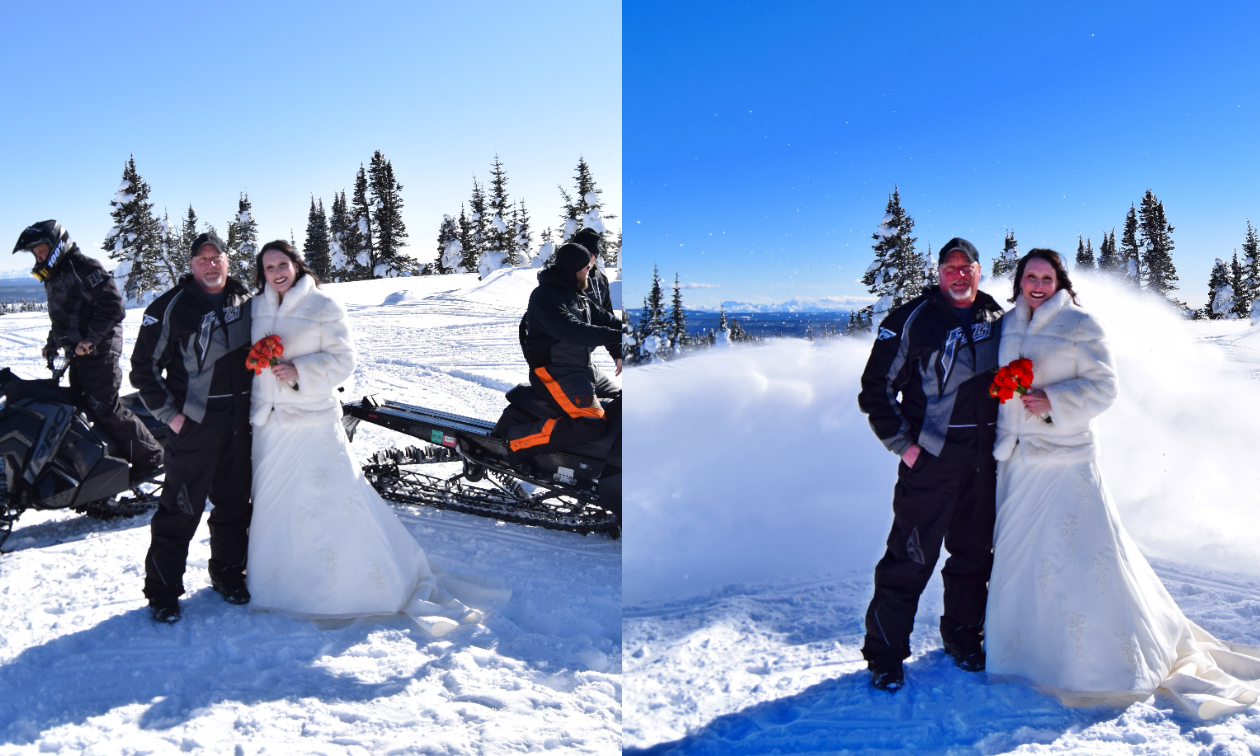 The Steigerwald's original plan was to have their wedding on February 22, 2022. Having a wedding on the tip of Idaho Park's Two Top Mountain on 2-22-22 would've been cool—a little too cool—so Chris and Denny Steigerwald delayed their snowmobile-themed wedding for a day.
"The day before the wedding the weather was forecasted to be a high of nine degrees, completely cloudy with snow and the cloud cover was projected to be at 7,000 feet, and Two Top is almost 9,000 feet above sea level," said Chris. "I was worried that if the weather was that bad, we might not even make it to the top. We made the decision to move the wedding back a day to 2-23-22. As the nighttime temperature dipped to -36—the coldest night of the winter—with dawn emerged an absolutely beautiful day. It was sunny and clear and the temps topped out in the afternoon at 16 degrees. We had bluebird skies and you could see clear to the Tetons. It was the day I had prayed for."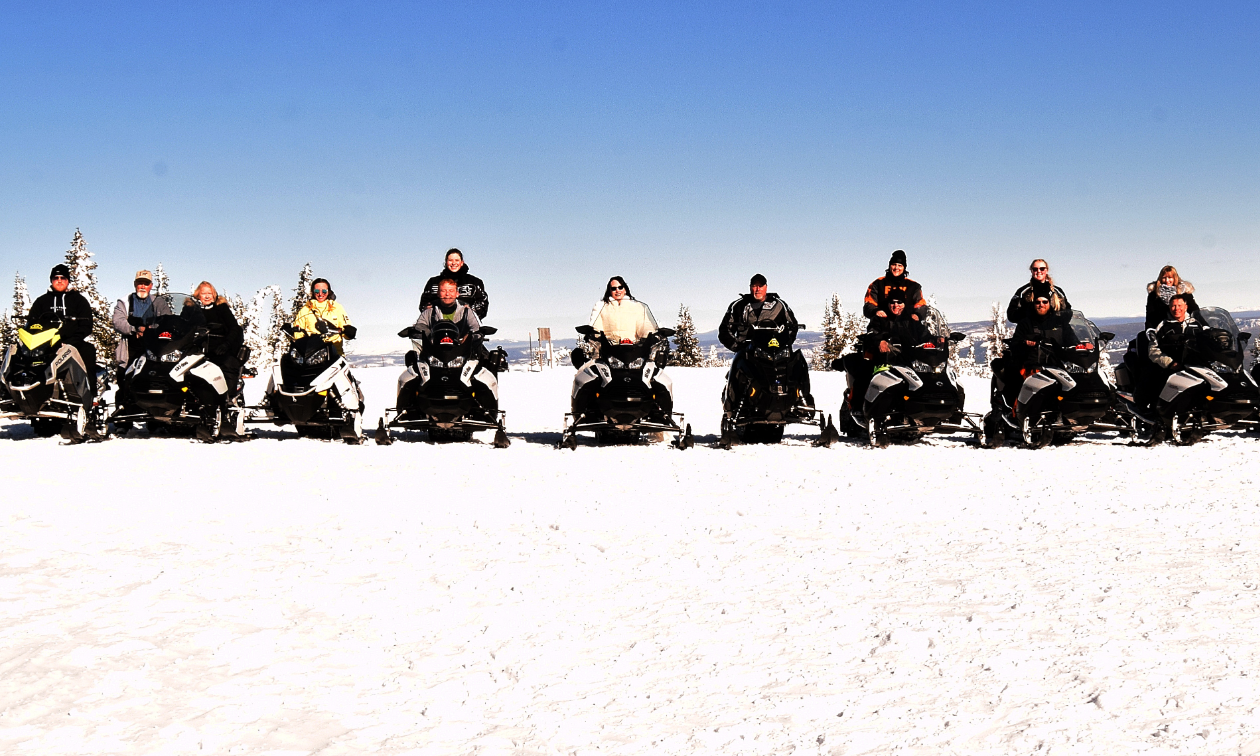 For the wedding day, Chris drove her sled with a friend on the back to the peak of Two Top in a formal wedding dress. She wore a snowmobile jacket and bibs up to her waist with two layers of thermals on the bottom. When everyone gathered at the top, Chris chose a spot on the side of the trail to gather for the ceremony, where she changed into a white fur jacket and white fur-lined gloves to complete the wedding wear ensemble.
"We had many riders stop to watch and snowmobiles zoomed past throughout the ceremony," Chris said. "Our four kids performed the ceremony. We were lucky to have 14 family and friends that joined us on the trip. After the wedding we took pictures on a tree-lined section of Rail Road Trail and at Big Springs."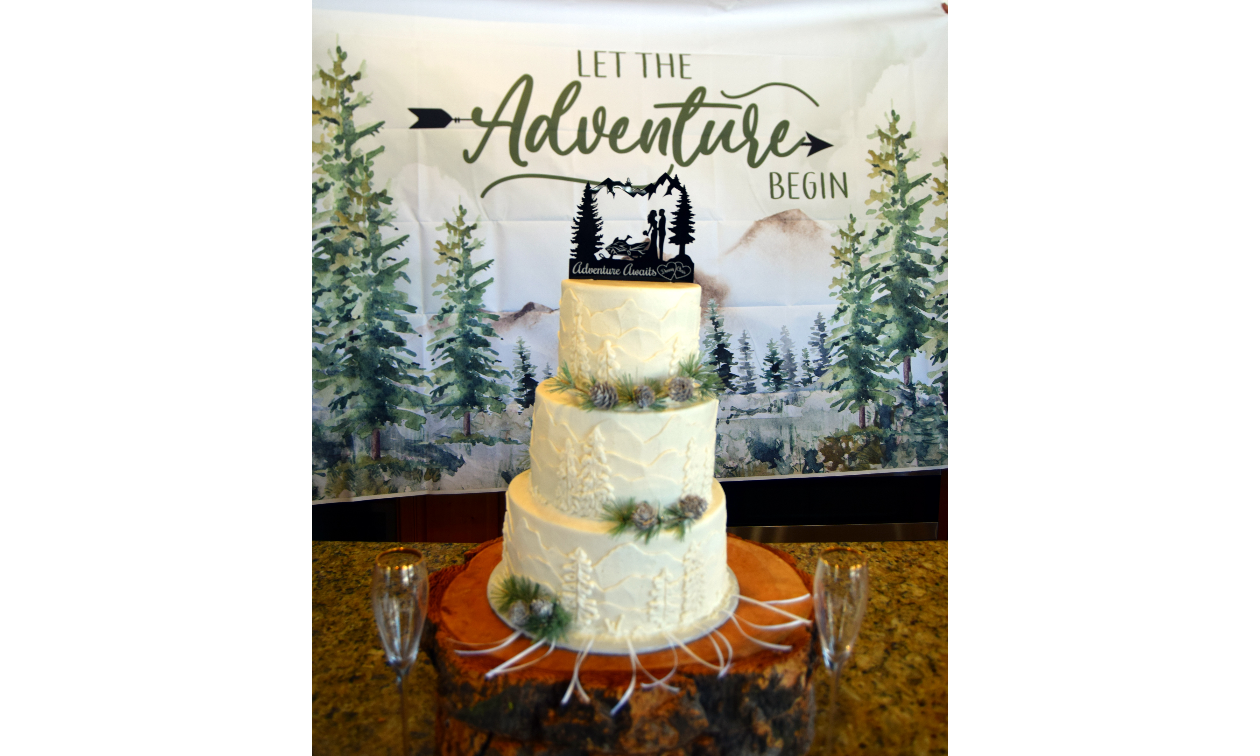 The theme of the Steigerwald's wedding was adventure. Chris had can koozies made with a Let the Adventure Begin theme and bought a large sign for display. The cake was all white with mountains, pine trees, and capped with a black, silhouette cake topper with a snowmobile and a bride and groom that read Adventure Awaits.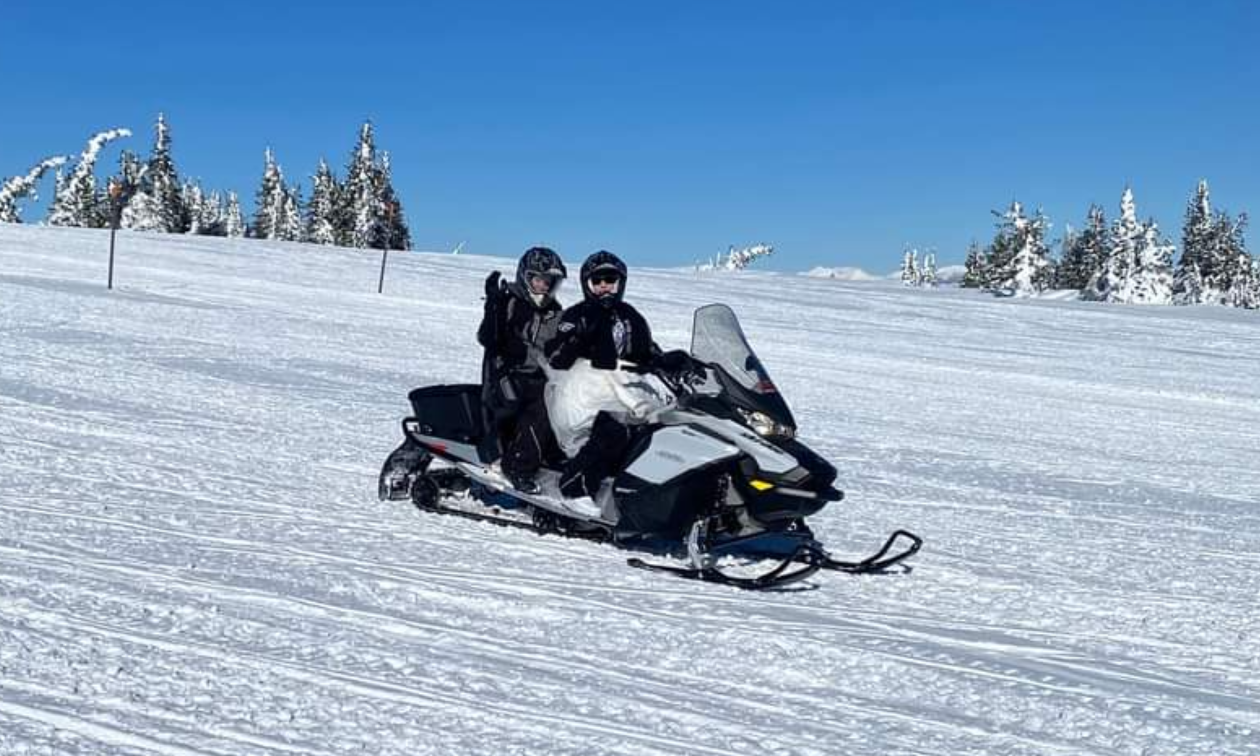 When planning an adventurous, outdoor wedding, Chris emphasizes flexibility and communication.
"Anytime you have an outside wedding, you have to factor the weather in," said Chris. "For us, it wasn't just rain or shine like most weddings. If the weather is bad on the top of Two Top, you just shouldn't chance the trip at all. An indoor wedding was not an option for us after traveling all the way to Idaho from Pennsylvania. Unfortunately, the forecasted weather meant moving our actual wedding day back one day.
"We made sure all of our guests knew they had to reserve sleds for a minimum of 2-22 and 2-23 so everyone could make it up to Two Top on either day for the wedding. Our photographer knew from the beginning there was a chance we could move the date due to weather and we explained that when we first spoke to him. He made sure he was available on both days that we were holding as a possibility and he was excited to be part of a unique experience."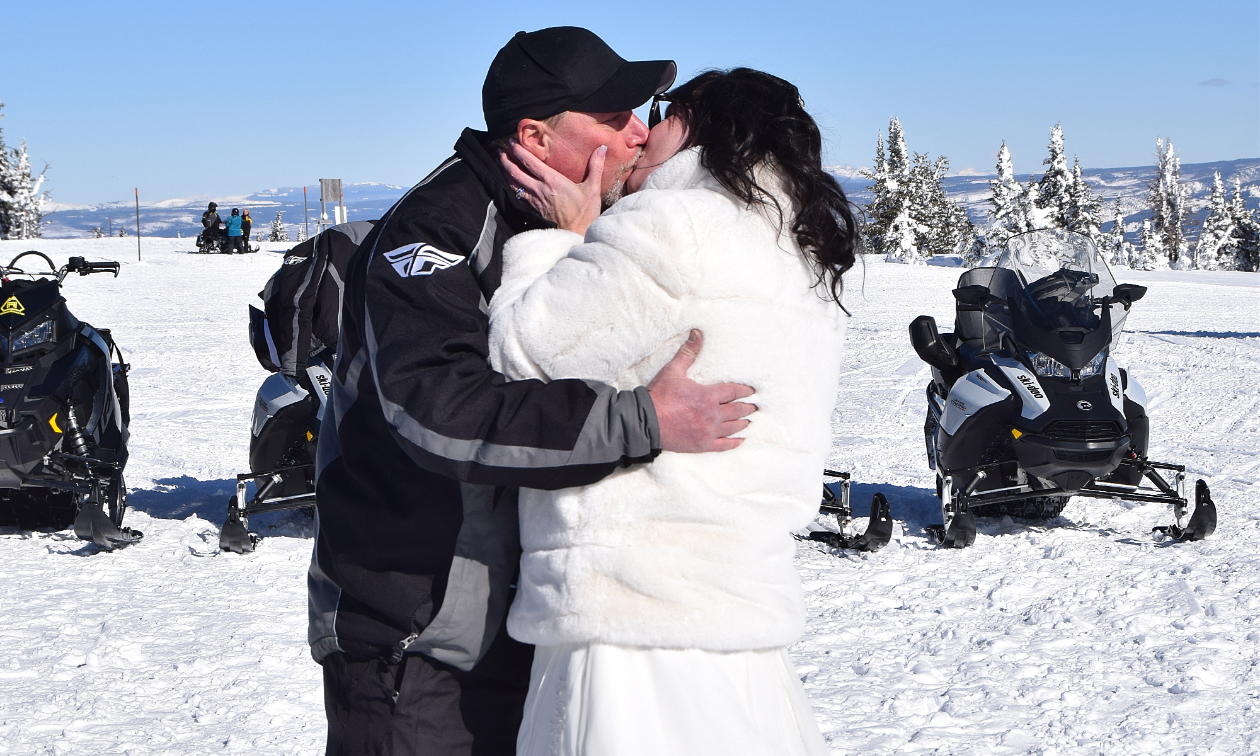 For brides-to-be that are concerned about having helmet hair for their snowmobile wedding photos, it is possible to protect your noggin and look your best, too.
"Luckily, I was able to move my hair appointment to the next day," Chris said. "Yes, I got my hair done only to end up putting my helmet on and off multiple times!"