Most women have some idea of what their dream wedding scenario would look like. For diehard sledheads like Angie Lepage, snowmobiles had to be part of the equation (along with a quality hubby, of course).
"My husband Mitch and I have been riding snowmobiles since we were kids," said Angie. "We both grew up in small town northern Ontario so pretty much everyone out there had sleds. We would go to school on sleds, work on sleds, fishing on sleds . . ."
The couple now resides in Sturgeon County, Alberta (Northwest of Edmonton). Their favourite places to go play in the fresh pow are across the provincial line in McBride, Blue River and Valemount, B.C.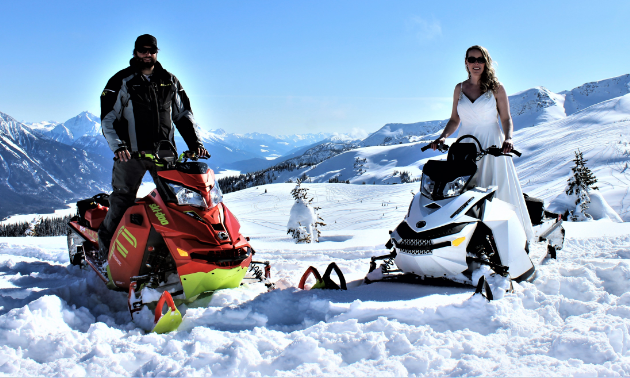 Angie and Mitch talked about what they wanted to do for a wedding that worked for them, family and friends. After going back and forth on multiple ideas that seemed to be geared to please others, Angie and Mitch decided to make wedding plans that suited them—the way they wanted it to go and where they wanted it to be.
"We chose to get married on our sleds because we both love riding and we're not fans of hot weather," Angie said. "Once we decided that's what we were doing, we had to pick a place that was going to be easy access for friends and family so we decided to do it at Clemina in Valemount.
"Clemina has some great views of mountain ranges and Kinbasket Lake. It was a great little spot to get married.
"We had to roll the dice on a date and picked March 10, 2018 as March seems to have lots of nice, warm bluebird days. We hit the jackpot that day as it was perfect and sunny."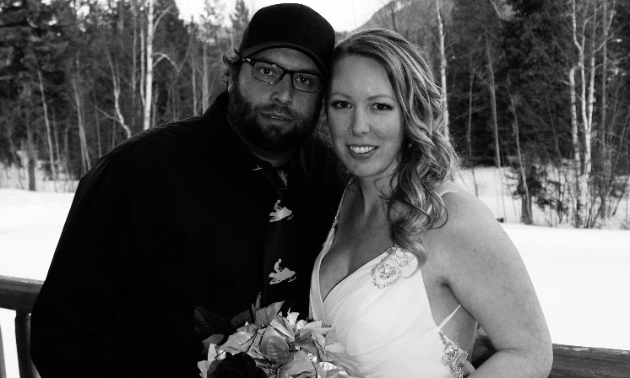 The ceremony was a quick one, lasting only 10 minutes. The bride and groom then took pictures while friends and family had a blast riding around on snowmobiles.
"We had to rent sleds for our parents but our friends had their own," said Angie. "We kept the wedding to just parents, brothers and friends that sled."
As for other sledders who would like to have a snowmobile-themed wedding, Angie advised having a backup plan because you never know what the weather might be like up in the mountains.
"Worst case, we would have just done it at the bottom of the hill on our sleds," she said. "We wouldn't have had the nice views like we did, but that's a chance to take when you do an outside wedding."