Amy Flowers describes her love of snowmobiling as an addiction. And like any sports junkie, when she's not doing it, she's thinking about it.
"At the end of the season, we put our sleds away, and the next night I start dreaming about sledding," she said. "And then it tortures me all summer until I can go riding again in November."
Growing up on a cattle farm in Cochrane, Alberta, Flowers, who now resides in Calgary, spent many of her childhood days exploring the fields and ditches around home. But it was a trip to Golden, B.C., when she was nine years old that really ignited her passion for the sport.
"I rode Quartz Creek a lot when I was growing up," said the now 36-year-old.
Her family, which included her mom, dad, brother, aunts and uncles, would also make an annual pilgrimage to Whitefish, Montana. Then when she was 21, Flowers decided to give snocross a try.
"In 1999, I bought a race sled, and my dad followed me around and helped me as my mechanic and crew chief, and then he decided that he wanted to race so it was the two of us."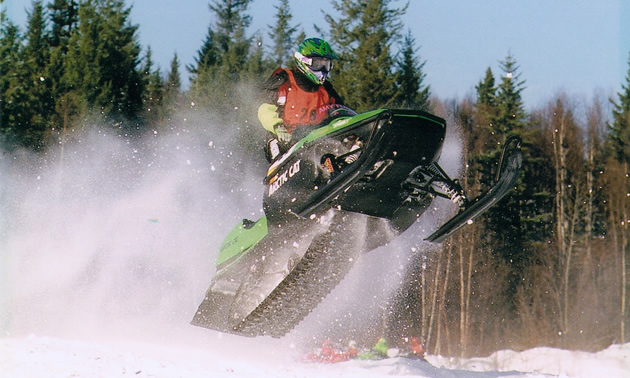 The father-daughter duo followed the snocross circuits throughout B.C. and Saskatchewan for a couple of years. Flowers would also compete in the hillclimbs that would often take place on the same day.
A new chapter in life
Eventually, racing every weekend got to be too much, and so she and her dad decided to focus more on the recreational side of the sport. Just before selling her race sled, though, Flowers saw a sign for snowmobile grass drags in Strathmore, Alberta, and decided to enter.
In addition to kicking some serious butt at the drags, she also bumped into Cale Bargen.
"He was volunteering at the event," said Flowers.
One thing led to another, and they soon became best friends and inseparable sledding partners. Bargen, who is originally from Winnipeg, Manitoba, grew up riding snowmobiles, but it wasn't until Flowers took him to Revelstoke, B.C., that he got his first taste of freeriding.
"It scared the living crap out of him," said Flowers with a chuckle. "But he caught on really quickly, and he fell in love with it. . . ."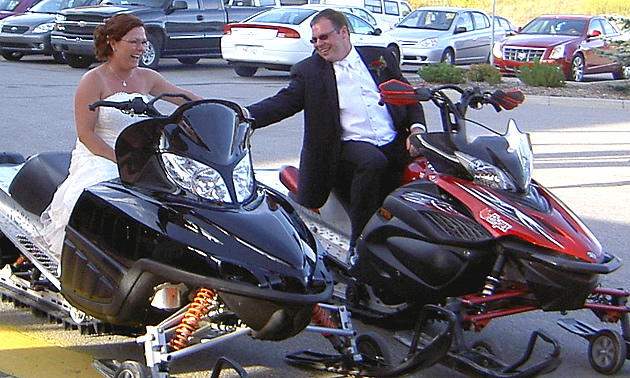 So enamoured with sledding were these two that Bargen proposed to Flowers on top of Revelstoke's Frisby Ridge. At their wedding, their grand entrance was made on sleds. Even part of their honeymoon was spent sledding with the Krazy Canadian, Dan Davidoff, around Castlegar, B.C.
Six years later, not much has change—except for the fact that now they have a three-year-old son. He too has acquired a taste for sledding.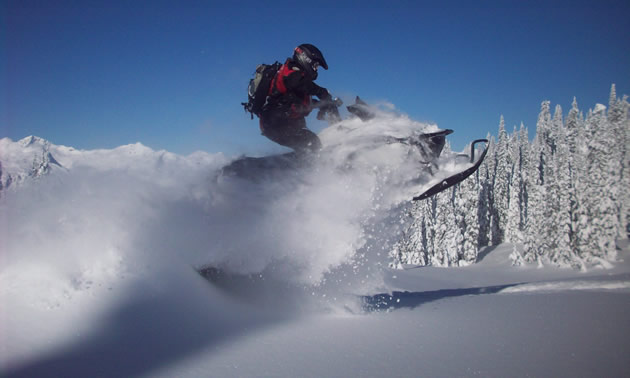 "We've taken (Riley) out a few times," said Flowers. "On May long weekend, we went to Boulder Mountain and he loved just driving around with my husband. We were out for probably eight hours or more and he didn't complain at all. He was just so happy."
Riley already has a sled of his own. It's a Yamaha SRX 120, but according to Flowers, he's not quite ready to ride it by himself. It won't be long though.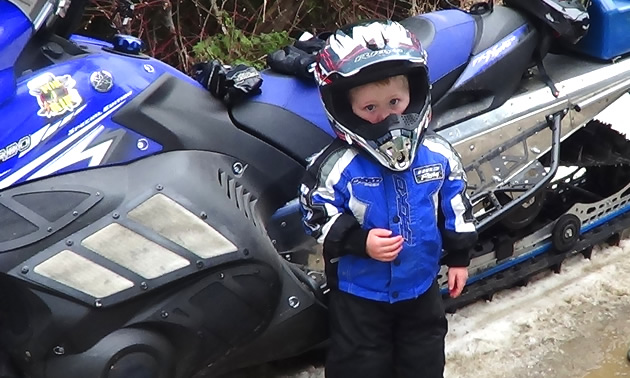 Friends in all places
Flowers and Bargen spend most of their time slaying the powder and chasing vertical lines in Revelstoke, but they've also ridden Sicamous, Valemount, McBride, Blue River, Fernie and Whistler.
Over the years, they've amassed a large group of friends—many of whom they've met through the sledding world.
"It started out just the two of us and now we can pull up to the parking lot and know 20 people," she said. "We have so many great friends out there that we hook up with."
Of course, Flowers and Bargen love those deep powder days, but they remain enthusiastic even when the snow is less than stellar.
"We just say we're going to have a good time, no matter what the conditions are," said Flowers.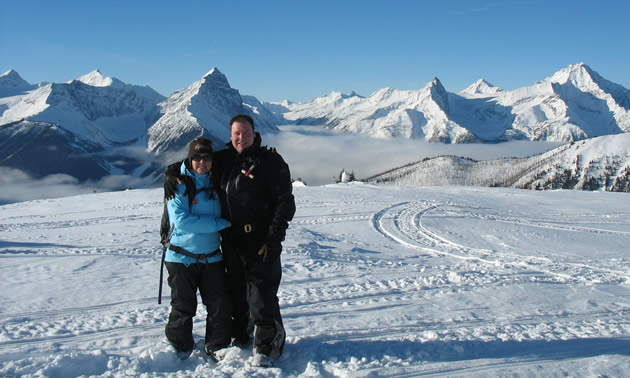 Like the rest of us, Flowers is waiting in eager anticipation for the snow to fall, especially because this winter she'll be riding as a brand ambassador for Divas SnowGear.
"I've always wanted to be involved in getting more women's gear out there, and I am very excited about this opportunity." said Flowers. "I want to be able to have a good mountain line of gear for women that's going to work."
Because to her, sledding is all about trying new things and being able to experience the freedom of being in the backcountry. It's a habit that she and Bargen aren't willing to break.
". . . (O)f course, now we are total addicts," said Flowers, "and that's our world, sledding."