For ex-snowboarder Stacey Booth, sledding is more than just a pastime. Married on a snowy mountaintop overlooking Elkford, she and her husband, Mark, chose sledding gear over wedding attire when they exchanged vows. Now living on an acreage with direct access to the backcountry, Stacey is out on her sled most days of the season. And if her husband can't join her, their dog Kayne is always up for a good run alongside Stacey and her sled.
How long have you been riding?
I've been riding since 2009.
Do you own other sleds (in addition to the 2013 turboed Arctic Cat 1100)?
Yes, I also own a 2009 Yamaha Nytro. It was my first sled that I ever rode by myself.
What got you into riding?
I was introduced to sledding by a friend. I was an avid snowboarder into backcountry snowboarding. I was at a bonfire, and this friend gave me a ride on his sled. I was hooked! After my first ride up a mountain, I soon realized this would be my faster, more efficient mode to get to the backcountry and to the top of the mountain! After a couple of rides, I also realized it was just as much fun to climb those mountains (with speed) as it was coming down. And, there's no other feeling than having that power and carving through deep powder!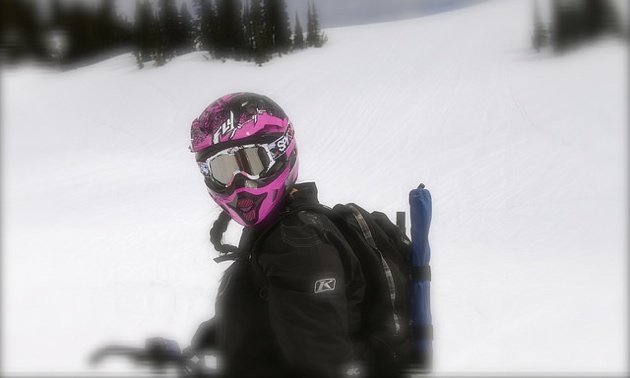 How often are you able to get out sledding in a season?
I just moved to 64 hectares with direct access to the backcountry, so this year I get out almost every day (when there's fresh snow). I have my own private playground in my backyard.
Where do you usually ride?
This year as my husband is away for work, I mostly ride in my backyard. I'm new to the Valley so I haven't had much opportunity to meet riding partners. When my husband is away, my main sled partner is our dog Kayne–he's quite amazing! I swear he was born to run! Last year my husband was living in the Elk Valley but had a work contract in Prince Rupert. As we were newlyweds, we decided that together we would travel back and forth once a month from Prince Rupert to Fernie. This gave us a perfect opportunity to enjoy all the riding areas in-between such as Smithers, Barriere (my hometown) and various sledding areas in Revelstoke. We even managed a ride in Prince Rupert where it usually rains all the time.
What were the conditions like the day you took this photo?
This day was a perfect spring day: bluebird sky, I rode in a long-sleeve shirt, it was mid-week so we had Boulder Mountain to ourselves. We were on our way back to Prince Rupert and stopped for a couple of days in Revelstoke to hit up a few areas: Sail Mountain, Trout Creek and this particular day Boulder Mountain. We rode all day and coasted back to our truck on fumes!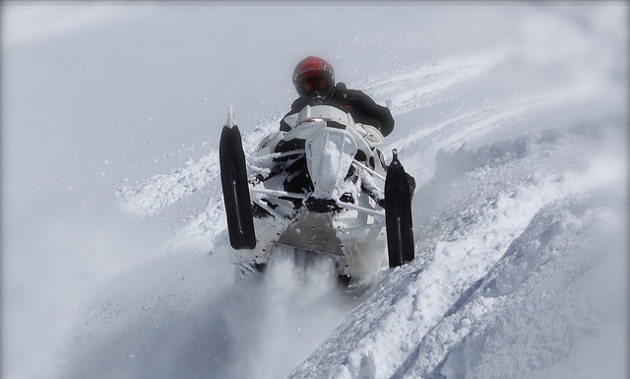 Is there anything else you'd like to add?
I met my husband through a mutual friend a few years back on Boulder Mountain. We were both involved in other relationships at the time so we had a good time riding that day, then we didn't run into each other again until five years later. Both of our previous relationships had ended. We hit it off and—long story short—were married shortly after on a mountain overlooking Elkford, B.C. It was snowing and we wore our sled clothes. We both love snowmobiling; winter sports are our passion. I now have three adorable stepsons ranging in age from four to 10 years. Like their dad, they also love motorsports, and we are introducing them to our passion of sledding. The youngest one swears we will be watching him in the X Games in a few years.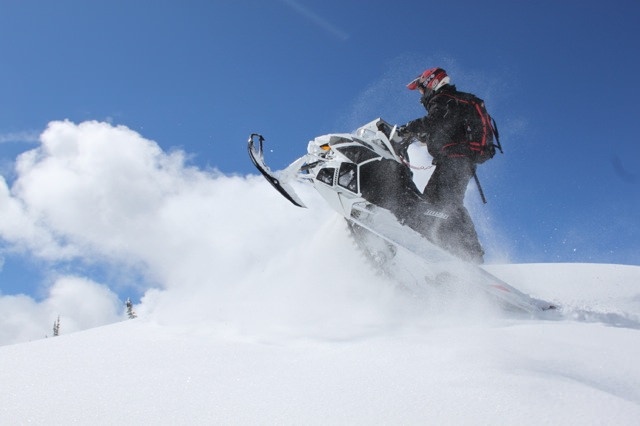 We live in Sparwood, B.C., with our three boys, a couple of horses and two dogs.