Megan Render isn't the typical person you'd see guiding a 270-horsepower four-stroke up rock-lined chutes that would scare the pants off even the most seasoned of riders. Nor is her name easily recognized in the sledding industry. Megan, however, is one of the top female riders in the sport.
For the most part, she tends to stay out of the spotlight. But she couldn't evade filmmakers for long. The now 29-year-old from Gull Lake, Alberta, scored a role in Krazy Canadian Adventures 4 when she became the first woman to successfully climb the Monster Chute in Revelstoke, B.C.
But that was in 2011, and Megan's story actually begins back in 1989 in the tiny town of Lashburn, Saskatchewan.
"When I was four, my parents bought my sister and I our first sled," said Megan. "Dad was trying to teach me how to ride and he was on the back and he was like, 'Ease into it,' and I pinned it and he went flying off."
From that moment on, it was sledding till midnight on the family farm and attending snowmobile rallies every weekend. Eventually, Megan and her sister, Melissa, got their own sleds, and the family started trekking out west to ride Golden and Revelstoke, B.C.
In the mountains, the sisters would push each other, constantly seeing who could make the highest mark on the hill. Their antics would attract onlookers, who, according to Megan, would often mistake them for boys. Frustrated, she started to wear pink.
A new playing field
After graduating from high school, Megan bought a Rev-XP 800 and that's when her riding really progressed.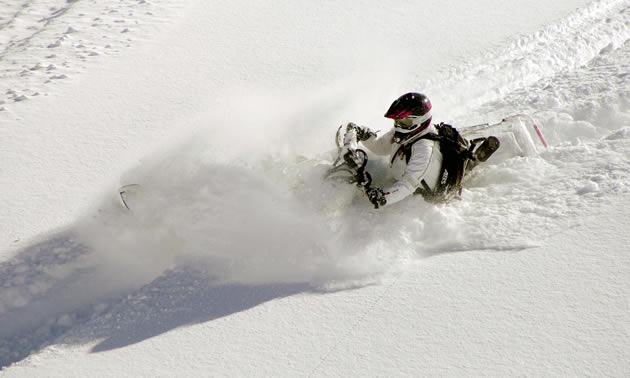 "I started to go off-trail a little more and I got more confident in that sled, because the XP, I really enjoyed it," she said.
Megan soon went from tagging along to keeping right up with the guys and trying new things on her own.
"Before, I would always be at the back of the pack and once I got my XP, then I was second or third . . . ," she said.
Her crew at the time included her dad, Rob MacDougall, as well as her uncle, Ron MacDougall, and her cousin, Laird McDougall, of Powerhouse Customs in Revelstoke.
"We did a lot of riding with my uncle and my cousin and we'd just be tree riding all the time," said Megan.
Then she met Shane Render, who is now her husband, and Megan's ascent into chute climbing began.
Of course, the crew Shane rolled with were all riding turboed Yamahas. Knowing her XP wouldn't suffice and unwilling to stay at the bottom of the chutes, watching as the other riders piloted their sleds to the top, Megan bought a turboed Yamaha Nytro. It later became known as "Pinky."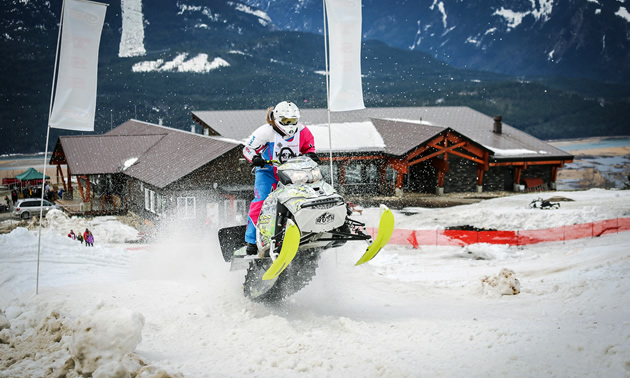 "I didn't like just watching the guys do it all the time," said Megan. "It was really boring so I wanted to try it. I knew the only way I was going to be able to do it was to get a turbo sled."
Since then, she and Pinky have staked their claim on some of the most gnarliest chutes in Revelstoke. In addition to Krazy Canadian Adventures, they've also been featured in Boost, Mountain Mod Mania and TSS Action Lines.
Megan's not seeking fame or glory, though.
"I'm doing it for the fun," she said, and later added, "There is nothing in the world that compares to the sounds of my sled dipping through the powder with the snow billowing into my face. You leave all your cares behind you—no drama, no stress—just you and your sled. Sledding is the only thing that lets me push myself mentally and physically and still have an incredible amount of fun doing it. . . ."
Megan still rides with her dad, but these days, there's no mistaking her for a boy. She wears her gender on her sleeve (and on her sled) and she has no qualms about it either.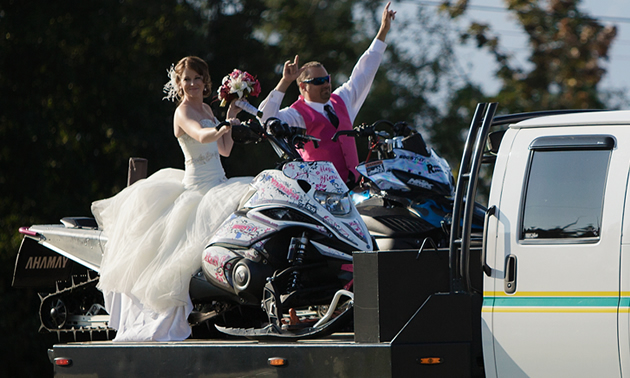 Her advice to other women looking to get into the sport is simple: "Don't let anyone tell you that you can't, because I've had so many people tell me I couldn't do it and I proved them wrong."
If the camera is rolling and it does happen to catch her in action this winter, great. But if not, Megan is happy as long as she's doing what she loves.
"It's passion I have," said Megan, "and I don't ever want to stop."