My very first experience on a snow bike (and a dirt bike) was at the West Yellowstone Snowmobile Expo in March of 2015. It was then that I realized snow bikes are a game changer. But 15 minutes on concrete trails was barely an adequate introduction, and ever since then, I had been dying to test them in some real terrain. Nine months later, my wish came true when I was randomly contacted by Steve Langevin of Invermere, B.C.
Langevin had just started Radium Snowbike & Snowmobile Rental and he was looking to get the word out. A quick chat over the phone and arrangements were made for my husband, Monte, and me to go for a true snow bike test in the Purcell Mountains.
Later, it was decided that Brewer Creek would be our testing grounds. Meeting up with Langevin on the morning of December 24th, I was happy to see that he ran pretty much the same setup that I had tried in West Yellowstone: Timbersled Mountain Horse kits bolted on to Husqvarna 450s. Still, my nerves were rattling as I received pre-ride instructions from Langevin. Since March, I had gotten a few more rides in on a dirt bike and was feeling way more comfortable with my nemesis—the clutch.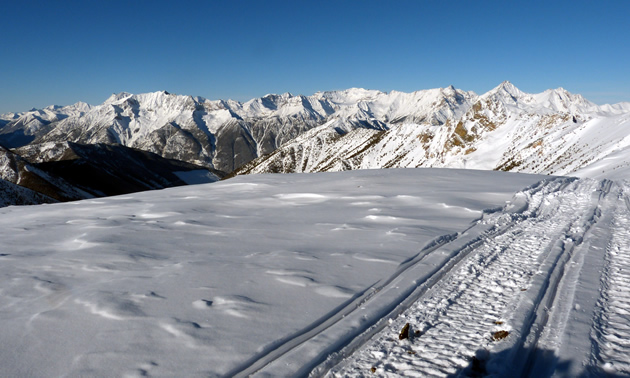 Learning curves
First gear on the snow bike was still a bit tricky, however, and it seemed as though I had to be fairly aggressive with the throttle to get the track spinning. On dirt, I am pretty tentative with the clutch, not wanting the "accidental wheelie" to occur. I had visions of this happening on the snow bike, but Langevin assured me that it's next to impossible to wheelie a snow bike. Some of the bikes in his fleet are equipped with Rekluse clutches, which make shifting into first much easier, but I was determined to learn the proper way.
Nevertheless, I got moving and after 10 minutes of riding around on open, flat terrain, I was starting to relax. Seeing my confidence building, Langevin motioned for me to follow him into the trees, away from the hardpack and into some fresh snow. Immediately, I found it easier to turn and lay the bike over—too far over.
After helping me stand it back up, Langevin explained that it's important to keep momentum, especially in the fresh stuff. It's still a dirt bike, so you have to watch your balance and well, ride it. Unlike a snowmobile where you can sometimes take a break from riding and just "drive" around, a snow bike requires more body English.
That being said, when it comes to riding in the fresh, I found the snow bike easier to handle than a snowmobile because you have only one ski and much less mass. And sidehills? What sidehills! I barely noticed them.
Eventually, Langevin left me to my own devices and after about 45 minutes on the bike, I was picking my own lines and grabbing for higher gears. Tree riding took on a whole new meaning, and I was amazed at how much terrain, and untouched snow, opens up to a snow biker.
Monte soon appeared on another bike and I stopped to watch him. He, of course, was a natural, but that comes from his many years of riding off-road motorcycles. Still, I envied his confidence as he ripped through the trees, hitting pillows and having a blast.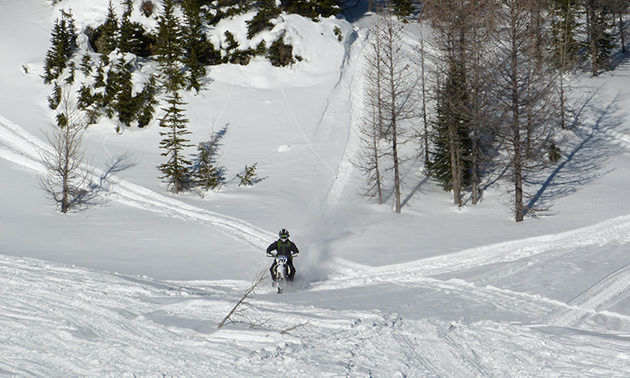 Common snow bike myths—busted
I also got to see Langevin in action, and I was impressed where he could take his stock 350. What's Timbersled's tagline, "anywhere you want to go?"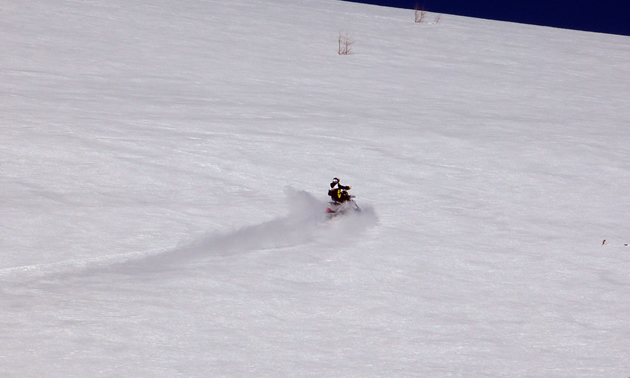 From what I observed, it is true that a snow bike won't climb the point-and-shoot way a 180-horsepower sled can, but that doesn't mean it can't climb the same hills. Anyhow, that is beside the point, because on a snow bike, the whole goal is to lay down tracks where nobody has been, which often leads you away from the big play areas.
Another myth that was dispelled during our test ride was that snow bikes are only good for spring riding. It was December when we went out and the bikes we rode had excellent flotation and more than enough horsepower to propel us through the fresh. Actually, the deeper the snow got, the more fun we had.
It has also been said that snow bikes are very beginner friendly. Are they? Well, it depends on the beginner. If you have previous motorcycle experience, then yes. But if you're a total dirt bike newb like me, then I would have to disagree—snow biking is not an easy sport.
Neither is backcountry sledding. My advice, if you're on the fence about either sport, is to try both before you buy—and Radium Snowbike and Snowmobile Rentals can definitely help you with that. Langevin also offers guiding services and accommodation packages at Panorama Mountain Resort.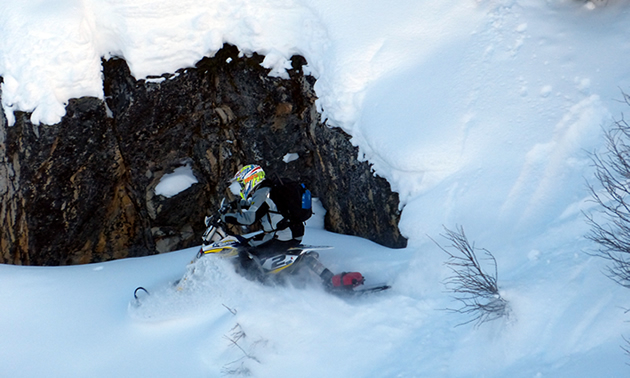 The verdict
So, what's the overall verdict on snow bikes? Well, from a snowmobiler's standpoint, I think they are a valuable addition to our winter sport and a blast to ride. But I don't think they can create that same freeing sensation of laying a sled over in fresh powder. The ultimate would be to have both—and that is another wish that is soon to come to fruition.