The odds were stacked against Cardell Potter at the 52nd Amsoil World Championship Snowmobile Derby in Eagle River, Wisconsin, on January 15 to 18, 2015. But that didn't stop him from winning his first-ever world championship. The 22-year-old from Camp Douglas, Wisconsin, even managed to set a new record by coming from a back row starting position to first place—something that's never been done before.
SnoRiders was able to get an interview with the ever-grateful Potter just days after his victory.
First off, congratulations on your big win!
Oh, thank you very much. I appreciate it. It was definitely an amazing experience, something I will never forget.
What was it like going up against two-time defending champ Malcolm Chartier?
It was definitely exciting. I knew that (he) would be fast. There were a lot of guys, though, that were really fast this weekend; Matt Schulz had great speed, PJ Wanderscheid was really fast and Jordan Wahl, guys like that. So I knew it wouldn't be easy and I would never have dreamed of coming from the back row. I would have just been happy finishing all the laps and coming home safe at the end of the day.
Are there any other accomplishments that you are most proud of?
A couple of exciting ones would be my first-ever Pro Champ, which would have been 2008, I think, at Plymouth, Wisconsin. That was my first year in Champ and only our second race, and we were able to win. And then I had a really long dry spell until my second win, which was at the end of last year. Eagle River here is my third only Champ win so it's pretty neat to get that first one a long time ago and now have one of my next wins be the biggest race of the year.
What's next for you this season?
Well, we've got a busy winter lined up here. We've got every weekend lined up where we will be at a race. We are going to run all of the TLR Cup Pro Champ races, and then I'm also fortunate enough to be able to drive for a team out of Michigan for all the pro enduro races. So we have two TLR Cup races, one at Wausau and one at Alexandria, Minnesota. From there, we go to the Soo I-500 for that pro enduro race. And then it's a couple more Champ races and then one more big enduro event.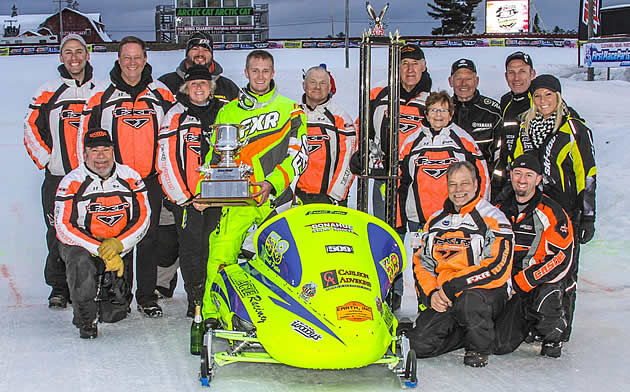 Do you ever compete in Canada?
I've been to Beausejour (Manitoba) a couple of times. It's been a few years since I've been up there but mainly I follow the TLR Cup, the Soo and a couple of other enduros in Michigan. There's just not enough weekends it seems like.
What keeps you busy during the week?
Well, I'm currently in college so I'm finishing up my bachelor's degree in business management so I'm extremely busy with that. Throughout the summer and part of the fall, I work for my dad part-time growing cranberries. It's a family business that we have. So we are definitely busy year-round. In the summer, we also race stock cars so when we get done with work at night, we go to the race shop and work on that stuff. Some people think that it's more of a second job but when we get an off weekend, we're kind of bored and when I don't have anything to do at night, I just like going over there and working on stuff.
What are some of your biggest accomplishments racing stock cars?
I got a big win at Plover (Wisconsin), the Memorial Day 100 lapper. I had Rookie of the Year at Dells (Raceway Park) my first season in the Limited Late Model and I guess this year our biggest accomplishment was probably our Top 10 finish at the Milwaukee Mile, the Howie Lettow (Memorial) 150. That was a big one for us.
Are there many differences between racing stock cars and sleds?
Yeah, I think there's a big difference. With stock cars, you go to a track and whatever the track is like at the beginning of the day, it stays, whereas with snowmobile racing, you really have to focus on the track, and pay attention as the ice conditions change throughout the day. The bumps change so you really have to focus in on the track and then you may end up making some last minute decision on what to change with handling adjustments on the sled, whereas it's maybe a little bit easier on the stock car side of things.
So after 17 years of racing sleds, what is it about the sport that has kept you doing this?
I just love the adrenalin part of it and I enjoy going to the races. All the other competitors, they are more like family to us. They've been great friends over the years. Nick Van Strydonk, for example, I've been racing with him since Day 1 so I've known him forever. It's just cool to be able to race with people who you can call your friends. All of my friends are people at the race track so if I wasn't at the track, it wouldn't be as much fun for me.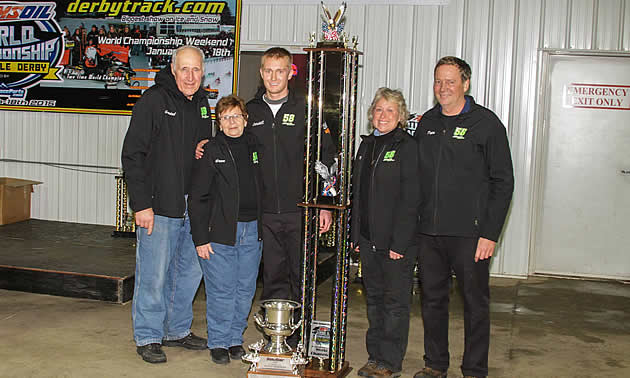 Is there anyone you'd like to thank?
Definitely a huge thanks to my mom and dad, my grandpa and grandma and all my crew guys—I couldn't have done it without them. We had a wild weekend, from an electrical issue on Thursday to a fire on Friday and finishing second Friday night to wrecking on Saturday to winning the (last chance qualifier) and then winning the race. So it was quite a rollercoaster, and I couldn't have done it without all their hard work. And my great sponsors: Donahue Super Sports, Woodys, FXR, Carlson Advisors, Earth Inc. and 509 Goggles. I couldn't have done it without all their support as well.
For updates and more, be sure to follow Cardell Potter via the Miracle Racing 58 team's Facebook page.