Much like the heydays of snowmobiling in the early '60s, the snow bike scene is growing at a rapid rate. More companies are entering the market every year, which is good for the sport and the consumer. Competition brings prices down and encourages ingenuity. Starting with the most popular, here is a quick guide to the different brands of snow bike conversion kits that are available for winter 2017-2018. We also have a dedicated article regarding Everything you need to know about snow bikes.
Timbersled Products is the most well-known snow bike manufacturer. Owned by Polaris, it offers the broadest range of kits. For 2018, everyone is talking about the new ARO platform. Eleven pounds lighter than its predecessor, it features an aluminum chassis and a 1:1 ski-to-track ratio. What's that? Well, you can read more about it in this article. Timbersled also released the TRIO Front Shock, a bolt-on accessory that eliminates a common snow bike problem: bottoming out. It also decreasing diving and increases lower fork protection.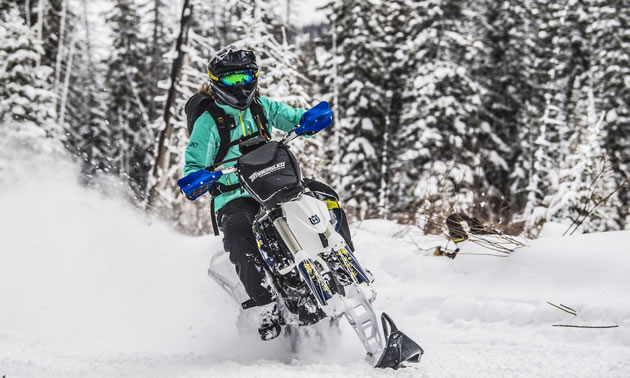 MotoTrax in Spokane, Washington, started in 2014 and launched its first kit, the Scout, a year later. Unlike most of the companies on this list, MotoTrax is backed by people who are dirt bikers first, winter enthusiasts second. Their goal, then, is to make MotoTrax handle as much like a bike as possible. So instead of employing a modified snowmobile skid with a front and rear shock, MotoTrax uses a single swing arm suspension with a true dirt bike-style shock.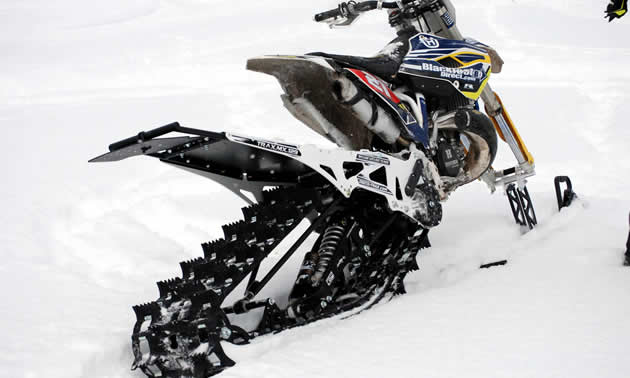 Yeti SnowMX is a Canadian-made snow bike conversion kit that was originally designed by C3 PowerSports in St. Albert, Alberta. The people here (check out our feature story) worked hard from 2013 on to develop a snow bike kit that raised the bar on handling and durability. The Yeti SnowMX, which is now owned by Camso, employs a carbon fibre chassis, a proven belt-drive system and a wide MaxKeel ski. There are six setups available for 2018, including the extremely nimble Yeti SuperSport 120 and 129. ​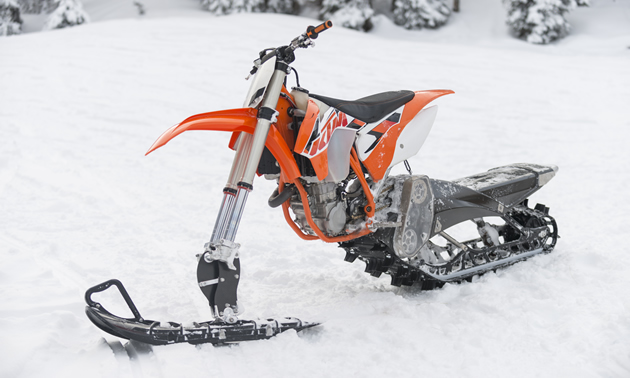 The people at Crazy Mountain Motorsports in Clyde Park, Montana, hit a homerun when they came out with a kit that took advantage of their experience and dedication to building high-quality snowmobiles (read more about it here). The CMX Snowbike Kit features CMX's custom belt-drive system, CNC-machined parts and the most forward-mounted rear suspension on the snow bike market. A working relationship with Camso/Yeti also means the current CMX kit employs Yeti's ski and spindle design. The biggest news at CMX this fall is the all new CMX Snowbike Track. It is available for sale for all snowbikes.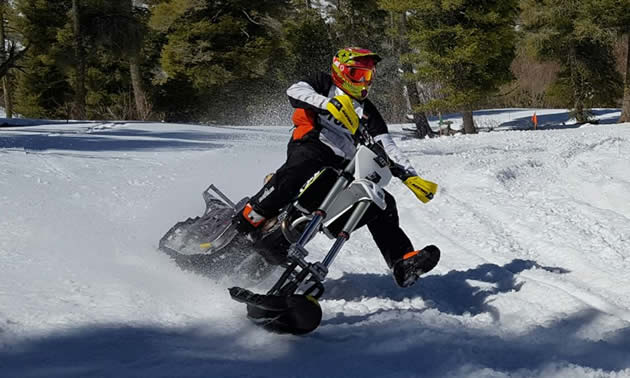 Camso is a Canadian company that's recognized worldwide for its tracked vehicle products. It should come as no surprise, then, that its DTS 129 snow bike conversion kit had a successful introduction to the market. Released in November 2016, the DTS 129 features easy-to-install track and ski components with an attractive price tag. Camso went with a chain-driven track system and a unique four-keel ski design.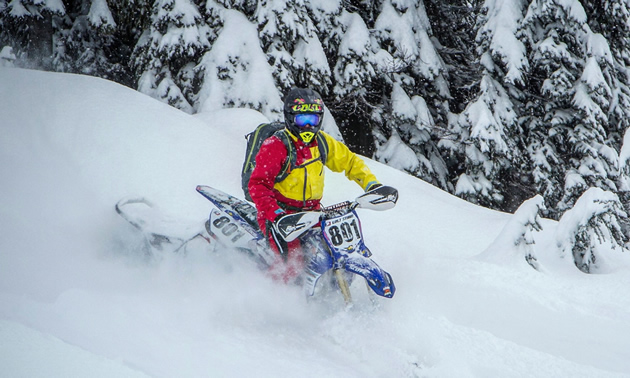 If you're not into mountain riding and you want a snow bike that accelerates, jumps and handles just like a dirt bike, check out Savage Snowbikes. Based in Southwestern Ontario, Savage Snowbikes is another Canadian company that builds conversion kits for lower elevation snow conditions and terrain. According to the company, Savage Snowbikes are the lightest kits on the market and their narrow design, combined with the bike's original suspension and drivetrain, is said to offer more predictable handling and minimal power loss. Plus, there is no one-size-fits-all kit at Savage Snowbikes; these kits are designed specificially for the different bike brands—including Honda, Kawasaki, KTM, Suzuki and Yamaha.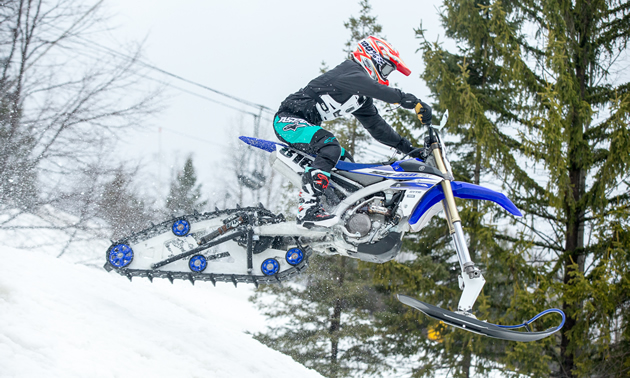 We've been waiting a year and a half for Arctic Cat to release more details (such as when it would be available and how much) about its purpose-built SVX 450 snow bike. According to the Arctic Insider blog, the release date has been bumped back because the vehicle didn't meet certain sound and emissions tests that are intended for new snowmobiles. You can read more about it in the author's ride report.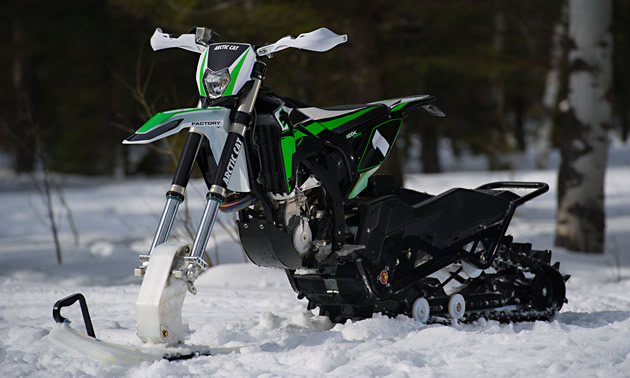 The idea of a purpose-built snow bike—or one you can't convert back to a dirt bike—isn't new. In fact, the SnowHawk could have been Canada's first true snow bike. Designed by AD Boivin in 2001, the original SnowHawk was powered by a fan-cooled engine and snowmobile transmission. It was meant to compete with the snowmobile market at the time, which meant it had some stiff competition. Over 1,000 of these machines went out worldwide, but as sales declined Boivin discontinued production.
In recent years, however, the SnowHawk has been enjoying a mini-revival—thanks to another Quebec-based company called MST Moto. Production of the MST SnowHawk kicked into high gear during the winter of 2014-2015 with engine upgrades and new features. Since then, the SnowHawk has been popping up in snow bike races and events like the SledPeak Hillclimb in Quebec.
AD Boivin also maintains a presence in the snow bike industry with its Explorer conversion kit, which is designed to fit most models of motocross or off-road bikes from 250 cc and up.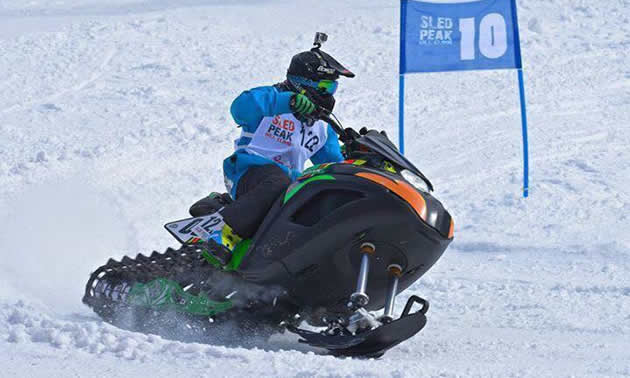 Another snow bike conversion kit that's got people talking is the SnowTech MX Adrenaline from West Haven, Utah. Available in three different track lengths, the SnowTech MX Adrenaline features aerospace-grade aluminum, a lightweight belt-drive system, the Camso Maxtrack I or II and the Yeti front ski. For 2018, the kits feature a third shock and other performance upgrades.
Made in Russia, Snowrider is a snow bike conversion kit that's said to fit any modern enduro or motocross bike with a displacement of 125-cc and up. It comes in three different track lengths, a 121-, 129- and 137-inch. Installation is the same as any other kit and takes about an hour.