Snow bikes are all the rage these days—and for good reason. Just because the calendar says it's cold out doesn't mean you need to tuck your dirt bike away for winter. Just strap on a snow bike kit and get ready to play in a whole new way!
Starting with the most popular, here is a quick guide to the different brands of snow bike conversion kits that are available right now:
Timbersled Products is the most well-known snow bike manufacturer. Owned by Polaris, it offers the broadest range of kits.
Overall, Timbersled has a great product and it's tough to beat the years of R&D the company has put in. Timbersled systems fit a wide range of modern motocross and off-road dirt bikes from the early 90s to today.
A Timbersled system includes a front ski and rear track system that replace the tires on your bike to allow you to ride all year. Timbersled systems are universal and require an install kit that is dirt bike specific.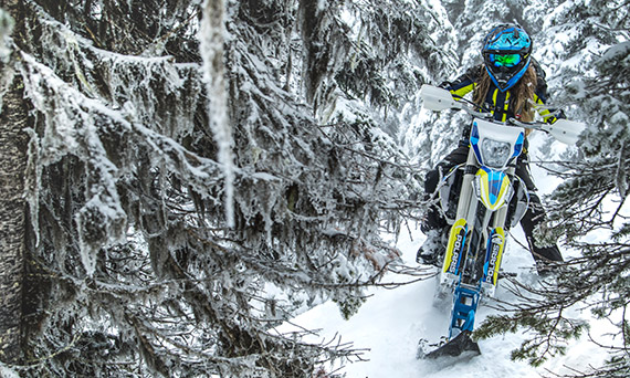 Timbersled's most popular model:
Timbersled ARO
The state-of-the-art Timbersled ARO platform was built with the rider in mind with the easiest install and best handling for 250+ cc bikes. The Timbersled ARO 3 features the industry's first 3" track, providing ultimate performance in deep snow conditions without sacrificing ARO handling and performance.
MotoTrax in Spokane, Washington, started in 2014 and launched its first kit, the Scout, a year later. Unlike most of the companies on this list, MotoTrax is backed by people who are dirt bikers first, winter enthusiasts second. Their goal, then, is to make MotoTrax handle as much like a bike as possible. So instead of employing a modified snowmobile skid with a front and rear shock, MotoTrax uses a single swing arm suspension with a true dirt bike-style shock.
The skid on the MotoTrax snow bike kit pivots nine degrees on both the right and left side—a feature you can certainly feel when riding off camber.
Engineered to your bike's natural feel, the Mototrax snow bike conversion system is the most advanced kit. Their track system is equipped with a single shock, rising-rate suspension, just like your dirt bike. Add in 12.5 degrees of lateral articulation and you have the most responsive and nimble snow bike on the mountain. MotoTrax is the only snow bike conversion system with motocross-style rising rate suspension.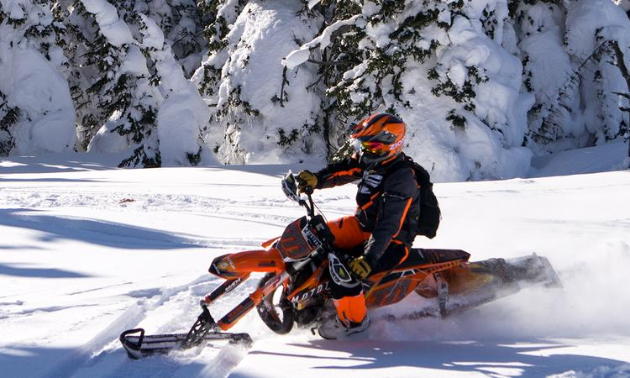 MotoTrax's most popular model:
2020 MotoTrax Enduro.120
The Enduro.120 is designed to go everywhere. Tailored for performance and agility, the Enduro.120 is made for all types of riding styles and conditions, making it perfect for first time snow bikers and low-altitude riding. The Enduro.120 also features the only rising rate suspension on the market with lateral articulation.
Yeti SnowMX is a Canadian-made snow bike conversion kit that was originally designed by C3 PowerSports in St. Albert, Alberta. The people here (check out our feature story) worked hard from 2013 on to develop a snow bike kit that raised the bar on handling and durability. The Yeti SnowMX, which is now owned by Camso, employs a carbon fibre chassis, a proven belt-drive system and a wide MaxKeel ski.
Yeti SnowMX sets the bar high with its lifetime-guaranteed carbon-fibre chassis.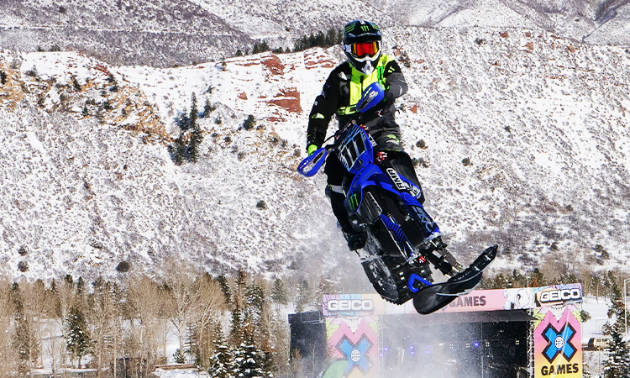 Yeti SnowMX's most popular model:
Yeti 120 SS
The Yeti 120 SS is designed for the racer. It's the nimblest, most responsive system to go faster. The Yeti 120 SS is designed with the lightest technology, allowing you to cross the finish line first.
The people at Crazy Mountain Motorsports in Clyde Park, Montana, hit a homerun when they came out with a kit that took advantage of their experience and dedication to building high-quality snowmobiles (read more about it here). The CMX Snowbike Kit features CMX's custom belt-drive system, CNC-machined parts and the most forward-mounted rear suspension on the snow bike market. A working relationship with Camso/Yeti also means the current CMX kit employs Yeti's ski and spindle design.
The people at Crazy Mountain Motorsports keep things small and focus on making a product that is rock solid.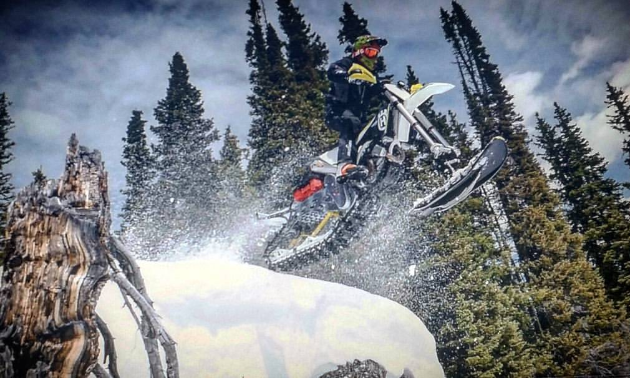 CMX's most popular model:
CMX Snowbike Kit
At Crazy Mountain Motorsports, their motto is "Relentless dedication to perfection." They engineer and build the highest quality backcountry machines for the most demanding backcountry rider.
Camso is a Canadian company that's recognized worldwide for its tracked vehicle products. It should come as no surprise, then, that its DTS 129 snow bike conversion kit had a successful introduction to the market. Released in November 2016, the DTS 129 features easy-to-install track and ski components with an attractive price tag. Camso went with a chain-driven track system and a unique four-keel ski design.
The Camso DTS 129 is designed to handle deep snow and hard-pack trail riding.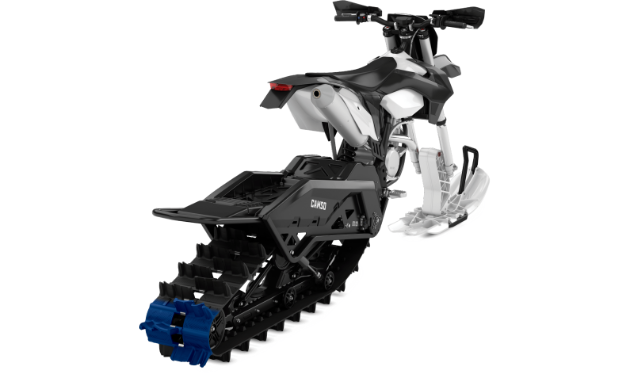 Camso's most popular model:
Camso DTS 129
Designed to integrate your bike's original balance and dynamics, the combination of the cutting-edge track design and the single rail suspension makes the DTS 129 an outstanding performer in deep snow and exceptional handling for hard pack trail riding.
The 2020 dirt-to-snow conversion system provides a deep snow performance and better handling. Ride year-round in all types of terrain with the unique single-rail suspension technology and the high-performance track.
If you're not into mountain riding and you want a snow bike that accelerates, jumps and handles just like a dirt bike, check out Savage Snowbikes. Based in Southwestern Ontario, Savage Snowbikes is another Canadian company that builds conversion kits for lower elevation snow conditions and terrain. According to the company, Savage Snowbikes are the lightest kits on the market and their narrow design, combined with the bike's original suspension and drivetrain, is said to offer more predictable handling and minimal power loss. Plus, there is no one-size-fits-all kit at Savage Snowbikes; these kits are designed specifically for the different bike brands—including Honda, Kawasaki, KTM, Suzuki and Yamaha.
Savage Snowbikes offers a lightweight, mx-style conversion kit that exhibits superior agility on and off the snocross track.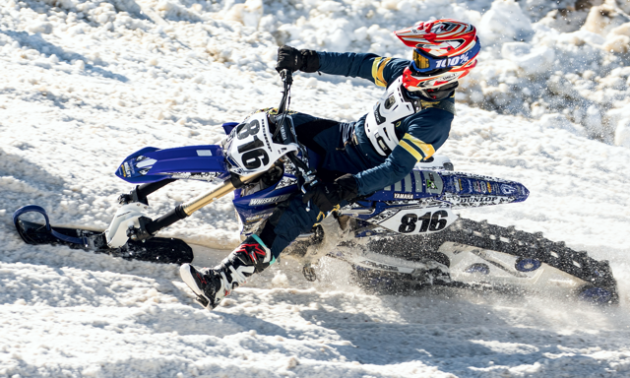 Savage Snowbikes' most popular model:
Honda Snow Bike Kit SV2.0
The SV2.0 snow bike conversion for Honda is a direct bolt-on kit designed specifically for your bike, ensuring a fast installation and excellent performance both on and off the track. The lightweight track drive system replaces the rear wheel and is coupled to your bike's original swing arm suspension to deliver the handling and big bump performance your bike delivers in the summer.
Another snow bike conversion kit that's got people talking is the SnowTech MX Adrenaline from West Haven, Utah. Available in three different track lengths, the SnowTech MX Adrenaline features aerospace-grade aluminum, a lightweight belt-drive system, the Camso Maxtrack I or II and the Yeti front ski.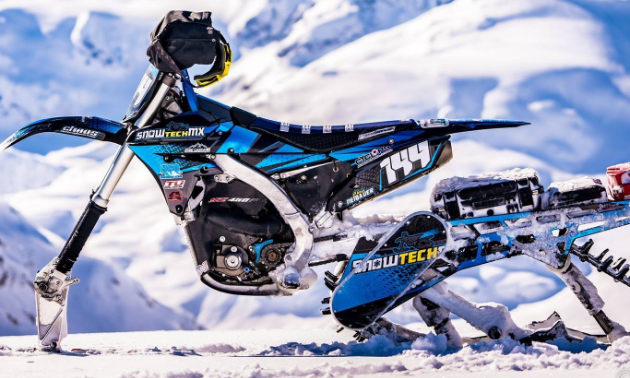 SnowTech MX's most popular model:
SnowTech MX Adrenaline
Adjustable components throughout, including the first ever dual-rake spindle and multi-position third shock make the Snowtech MX the most advanced snowbike system on the market.
Made in Russia, Snowrider is a snow bike conversion kit that's said to fit any modern enduro or motocross bike with a displacement of 125-cc and up. It comes in three different track lengths, a 121-, 129- and 137-inch. Installation is the same as any other kit and takes about an hour.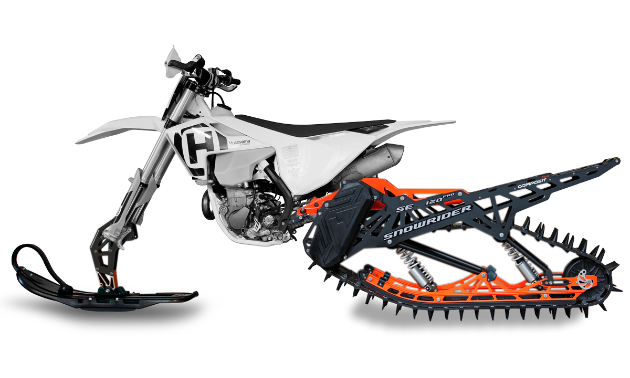 Snowrider's most popular model:
SR120" PRO-SE
The SR120" PRO-SE is set with a 120" track and 65 mm lugs. This option is ideal for forest riding and an aggressive style with jumps and sharp turns. The SR120" PRO-SE also boasts excellent steerability.