Rumours of a Canadian-made-and-manufactured snow bike kit have been spreading like wildfire, and for once, they are true. After 29 months of secret testing and tuning, the Yeti Snow MX goes into production this fall.
Lighter than its main competitor by about 35 pounds, the Yeti Snow MX features a carbon fibre chassis, titanium components and a purpose-built ski and track. It is the brainchild of Jamie Hodgson and Kevin Forsythe of C3 PowerSports and this is how their idea to produce an OEM quality kit came to fruition.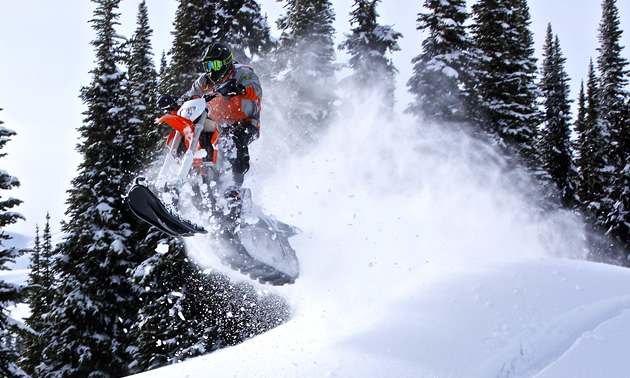 Catching the snow bike bug
Two years after swapping his snowmobile for a snow bike, Hodgson—who is from St. Albert, Alberta—approached Forsythe (the owner of C3 PowerSports) to build a snow bike kit that was lighter and more efficient than what was currently on the market.
Forsythe agreed, and the first generation Yeti was completed in the fall of 2013. Meanwhile, Hodgson noticed that snow bikers were starting to run turbos on their bikes to up the fun factor. After a winter on the Yeti, he and Forsythe decided to partner and take their creation to the next level.
"So we said, 'Let's make a kit that's lighter and uses less horsepower so that a turbo is not required to climb straight up a hill,' " said Hodgson.
Better, faster, higher
They reworked the original design and with the help of Scott Johnson of Imagination Machine Works built the second generation Yeti.
"He is Roger Goldammer's CAD designer and Roger is one of the top bike builders in the world," said Hodgson. "So Scott really understands bike geometry and bike frames."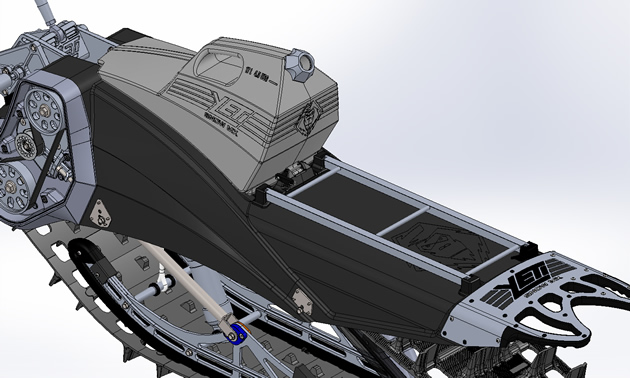 But there were still a few things that needed to be perfected, so they moved onto the third generation and that is when things really started to come together.
"We designed our own track with Camso (formerly Camoplast)," said Hodgson, "and we designed our own ski with PPD."
Shaving unnecessary weight off the track, they came up with a design that moves more snow and has less rotating mass than tracks found on other kits. This equates to better flotation and higher RPMs—which also means riders on the Yeti can shift into higher gears when climbing.
The MaxTrak works in conjunction with the MaxKeel ski for better handling.
"We designed both the ski and the track around a 20-inch arc and what that means is when you drive the kit it feels like you are driving a motorcycle," said Hodgson.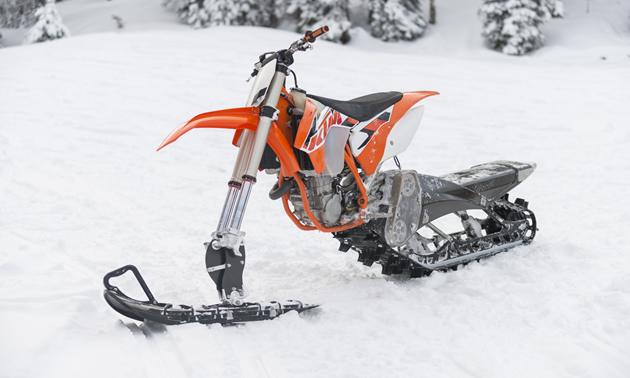 Handling on the trail and in the deep snow is also made better thanks to the aerospace-grade carbon fibre chassis mated with a Nextech-designed rear suspension, Ice Age Performance slide rails and Fox Float 3 shocks.
The Yeti takes advantage of C3's Syncrodrive belt drive system, which, according to Hodgson, gets more power to the ground faster than a chain drive.
"A belt drive is 40 per cent more efficient from 0 to ⅓ throttle," said Hodgson. "It's really efficient off the bottom—it takes less energy to get rolling."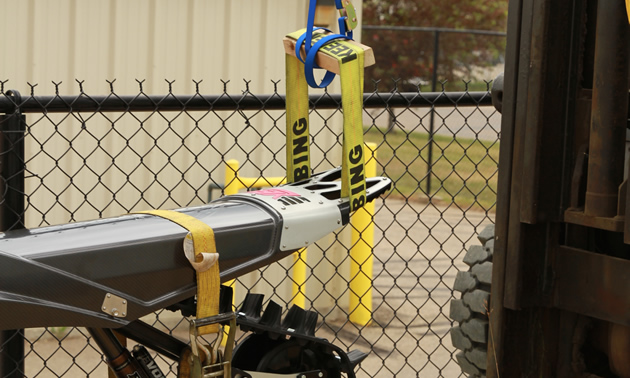 Tried and tested
Reliability is a non-issue with the Yeti, and Hodgson has proof that it will stand up to any kind of abuse riders can throw at it.
"Going onto the fourth generation, we had over 40 kits on 40 different bikes with 40 different riding styles starting in November and riding all last winter," he said. "We've tested it on frozen rivers and lakes. I've ridden it through the stubble fields and the plowed fields with basically no snow on it and lots of mountain riding."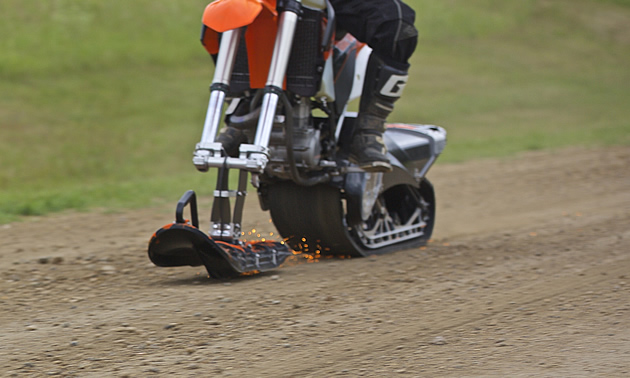 The Yeti has even been to Alaska with pro mountain biker and sledder Cory Derpak.
"He's been testing it and we've tweaked a few parts based on his 30- to 60-foot drops," said Hodgson.
What you'll see roaming the backcountry this winter is the result of two and a half years of testing and collaborating with the top manufacturers in the industry to create what Hodgson calls "the ultimate snow bike kit."
The Yeti Snow MX comes in 120-, 129-, 137- and 146-inch kits and it's ready to bring the burgeoning sport of snow biking to the next level.
Visit the Yeti Snow MX website for more info.