Alberta is such a great province for sledding because of its variety of terrain. You can ride in the mountains, enjoy nice prairie scenery and you can explore the forests in the northern part of Alberta—yes, snowmobiling in Alberta is truly an awesome experience. Active clubs throughout the province keep trails and amenities in tip-top shape.
Snowmobiling in Athabasca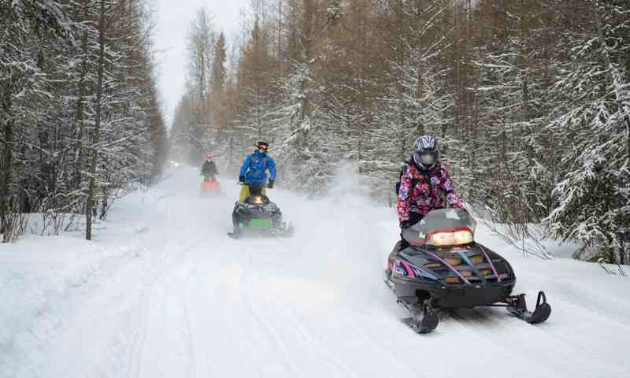 Right on the banks of Alberta's longest river is the outdoor-oriented town of Athabasca. Snowmobilers will feel right at home when they see the extensive trail networks and accessible staging areas that make Athabasca one of Alberta's top sledding zones.
Snowmobilers can ride 300 kilometres of groomed trails west of Baptiste Lake, with terrain and scenery consisting of boreal forest, river valleys and rolling hills. Two staging areas allow for easy access to the trails, and along the way are cabins and warm-up areas equipped with picnic tables, fire pits and firewood.
Find out more about snowmobiling in Athabasca.
Snowmobiling in Whitecourt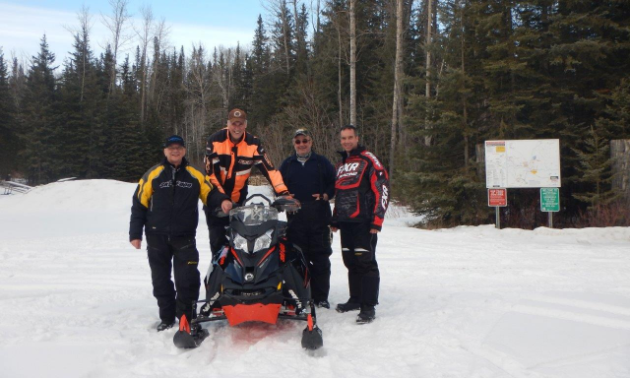 Whitecourt has established itself as one of the key snowmobiling destinations in Canada. With unbeatable snow conditions and a dedicated snowmobile club, this Alberta gem is home to numerous well-groomed trails that make snowmobiling a preferred activity for winter recreation.
There are over 480 kilometres of maintained trails in the Whitecourt area. Many are accessible from town since Whitecourt is one of the few communities that allows snowmobilers to operate on designated trails within town limits.
In 2015, Whitecourt played host to the million-dollar, five-day World Snowmobile Invasion event, further driving home the point that if you haven't already visited this area, then you probably should.
Find out more about snowmobiling in Whitecourt.
Snowmobiling in the Crowsnest Pass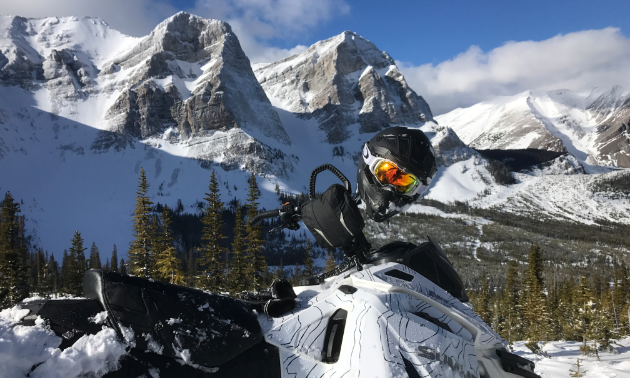 Where the foothills of Southern Alberta become towering peaks of the Canadian Rockies lies Crowsnest Pass—a low-elevation mountain pass and, more importantly, a snowmobiling destination that offers a wide array of riding opportunities. With everything from family-friendly snowmobile trails to high-alpine sledding terrain, Crowsnest Pass offers riders of all skill levels exactly what they've been looking for. The five main communities that make up the Pass (Bellevue, Blairmore, Coleman, Frank and Hillcrest) are sled-friendly with restaurants, fuel stations and accommodations that will make you feel at home during your entire stay.
There are 200 kilometres of groomed snowmobile trails and a total of 1,200 kilometres of maintained trails in and around Crowsnest Pass. Multiple trips here will get you feeling more comfortable with navigating the terrain.
Find out more about snowmobiling in the Crowsnest Pass.
Snowmobiling in Fort McMurray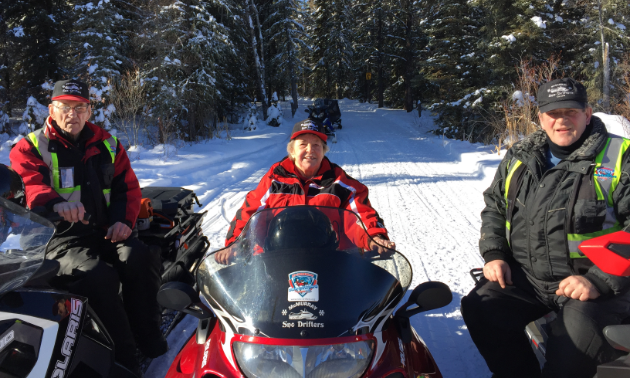 Fort McMurray offers a great snowmobile community, some exciting sledding areas and a pleasantly long season. With 275 kilometres of groomed trail, not to mentioned unlimited pipelines and cutlines, riders won't find it too easy to get bored.
The Connector Trail near Stony Mountain is full of winding hills that wind around, offering varied types of terrain.
Find out more about snowmobiling in Fort McMurray.
Snowmobiling in Swan Hills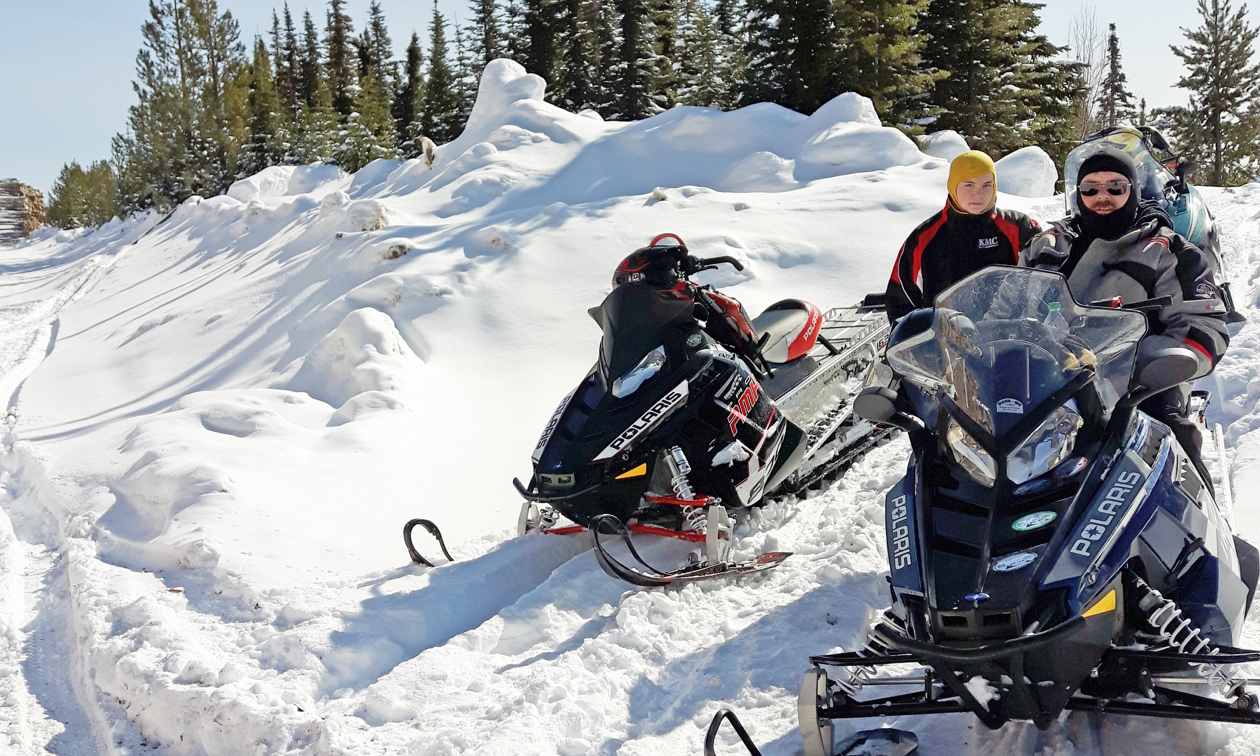 Due to the high elevation of Swan Hills, this town and the surrounding area receive above-average snowfall. The area's powder snow provides great riding early on in the season. The trails are usually ready to ride around the end of December and are usable until the end of March.
If you're tempted to spend some more time exploring this year, try the Krause Lake trail system; it is maintained by the Swan Hills Snow-Goers.
The Swan Hills Snow Goers maintains 450 kilometres (280 miles) of groomed trails in and around the Swan Hills area. There are also a lot of off-trail opportunities for advanced riders. The areas with deeper snow, like Virginia Hills and Goose Tower, offer a greater challenge and adventure (and more opportunities for carving up powder). The Goose Tower area is more hilly and challenging.
Find out more about snowmobiling in Swan Hills.
Snowmobiling in Westlock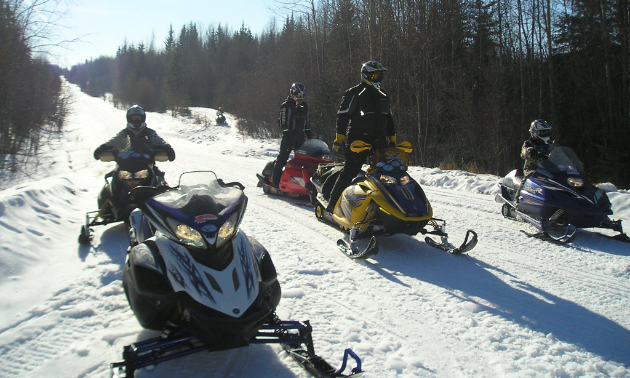 Westlock is a cozy little agricultural-based town in central Alberta, 85 kilometres north of Edmonton, and it is home to a dedicated club, the Pembina Drift Busters. With more than 150 kilometres of groomed trails to explore, Westlock is a magnet for snowmobilers.
The Pembina Drift Busters typically see about two feet of snow each winter—that's plenty of powder for these riders to work with. Most years, their trails are ready to ride by mid-December, and see their first grooming just after Christmas. Their season gives them about three good months of riding the 150 kilometres of trails.
The trail system consists mostly of bush on cutlines and pipeline leases with some small hills. Wildlife includes moose, deer, wolves, weasels, mink and all kinds of smaller animals.
Find out more about snowmobiling in Westlock.
Snowmobiling in Bonnyville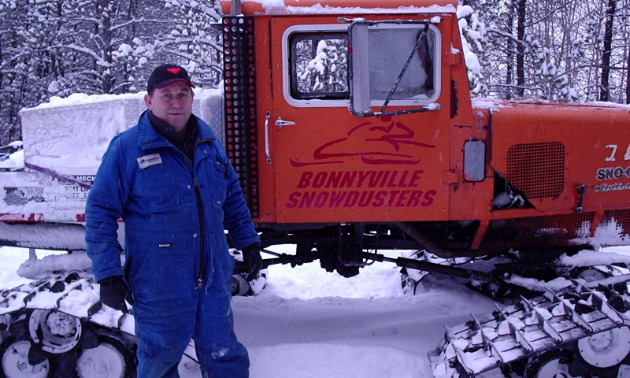 Bonnyville, Alberta: The land of lakes and northern lights, and a hidden gem for many snowmobile enthusiasts. This oil town is host to an almost endless trail system, which meanders through the boreal forest and among numerous lakes. There are three main trail systems that keep enthusiasts rolling throughout the winter months.
Bonnyville has a prime position along the Iron Horse Trail, so it's no wonder snowmobilers flock to this town. Soak up the wilderness scenery as you sled through boreal forests on trails that seem to go on forever.
No matter where you go in the Bonnyville ride area, you are certain to find adventure, beauty and excitement. Wolves, lynx, moose, elk and deer are regular sights, along with northern lights and fresh dry powder. Is it any wonder that people choose Bonnyville as their Northern Alberta ride destination?
Find out more about snowmobiling in Bonnyville.
Snowmobiling in Yellowhead County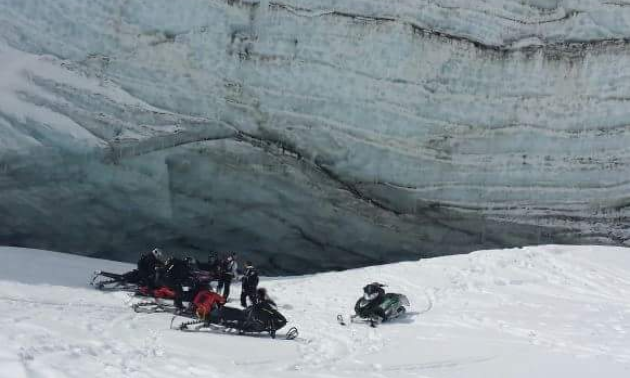 In the shadow of the North Rockies lies an expansive land of dense forest, wide open fields and snow-covered foothills. Known as Yellowhead County, this area stretches from the Pembina River to the gates of Jasper National Park and snowmobiling is a major part of the landscape.
Those seeking excitement will find it in Yellowhead County. Here is where you'll find a high quality of carving, climbing, jumping and sidehilling that the Hinton area provides. This Rider's Choice Award winner for "Favourite scenic snowmobiling area in Alberta" satisfies what a rider yearns for.
Find out more about snowmobiling in Yellowhead County.
Snowmobiling in Grande Prairie
Known for its amazing snow conditions and variety of terrain, Grande Prairie is one of Alberta's most popular snowmobiling destinations. Riders love the mountain terrain that Grande Prairie's nearby trails have to offer. These trails offer a wide mix of terrain and difficulty levels, so both families and adventurous riders can enjoy on the same day. The mountain valleys tend to be the best place for family rides, while the riskier trails extend up the mountains.
The area is maintained by the Swan City Snowmobile Club.
Swan City's trails expand across Alberta and into British Columbia, with riding agreements set in both provinces. The 134-kilometre trail into Kakwa Provincial Park is groomed from the staging area in Alberta all the way to B.C.'s staging area thanks to a partnership between the Prince George Snowmobile Club and the Swan City Snowmobile Club. The B.C. Parks public cabin is the centre point where the groomers overlap. Every now and then, the two organizations get together to share in the festivities.
Find out more about snowmobiling in Grande Prairie.
Snowmobiling in Rocky Mountain House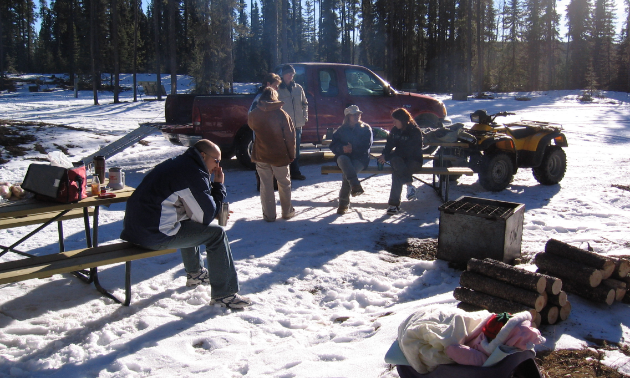 Snowmobiling in Rocky Mountain House is always a favourite activity. There are a variety of places to bring your sled and have a great time during your stay in this friendly Alberta community.