In the Lakeland region, you will find hundreds of kilometres of exciting snowmobile terrain, with a number of communities along the way that will welcome sledders warmly. Here is some information that can help you plan your next snowmobile vacation in this fabulous part of Alberta.
Top snowmobile areas in the Lakeland region
The Lakeland region includes several communities that are known for their sledding conditions. With deep powder, hills and valleys, and vast fields to play in, this part of Alberta attracts snowmobilers by the drove.
Snowmobile trails near St. Paul, Alberta
Maintained by the St. Paul Trailblazers, the snowmobiling trails around St. Paul allow for fun, easy riding, and connect to a number of other communities and trail networks in the area. Try the Bellevue Ferry Trail, which runs from St. Paul 50 kilometres south to the North Saskatchewan River. At that point it joins up with the Two Hills Snowmobile Trail.
Snowmobile trails near Smoky Lake
The Smoky Lake Trail Twisters manage the sledding terrain around Smoky Lake, a pristine area along the Iron Horse Trail that can thrill snowmobilers of all skill levels. Smoky Lake is known as the Pumpkin Capital of Alberta, and there is an annual festival held in the fall to celebrate the community's rich agri-tourism. Smoky Lake has also been deemed the Birthday Town Alberta site; with a registration at the Smoky Lake Inn, you are entitled to free gifts from local businesses on your birthday.
Snowmobile trails near Elk Point
Managed by the community-driven Elk Point Trail Riders, the sledding territory around Elk Point is a blast to ride. With open fields, woodland areas and hill-covered terrain, the landscape seems to be built for your snowmobiling pleasure.
Snowmobiling on the Iron Horse Trail
The Iron Horse Trail is a well-maintained, groomed trail that takes sledders on a network of all-terrain paths through Central Alberta. With more than 300 kilometres of terrain to traverse, snowmobilers can sled from one community to another by following this massive trail system.
Snowmobile trails near Cold Lake
If you start your adventure in Cold Lake, you are in for a treat. There are 330 kilometres of trails to access easily from town, and you can snowmobile right from your doorstep to get there. At Cold Lake, the Iron Horse Trail acts as an extension of the Trans-Canadian Snowmobile Trail. You can venture off the main route to explore, or head along the groomed trails to your heart's content. The riding is easy and perfect for families looking to see beautiful outdoor scenery and explore vast open terrain. We suggest you try the ride from Cold Lake to the Crane Lake cabin, as this route is a favourite among locals.
Snowmobile trails near Lac la Biche
The sledding around Lac la Biche is scenic and varied, offering wide open terrain that even novice riders can enjoy. You can even head from Lac la Biche and take a power-line route to Elinor Lake and the Lakeland Provincial Recreation Area. Be sure to contact the local chamber for an updated map/directions of this area before heading out.
Where to buy a snowmobile trail pass in the Lakeland region
To sled in Alberta you must have an Alberta Snowmobile Association (ASA) membership, which grants you access to the trails and benefits the local clubs in the communities where you ride.
Local snowmobiling events in the Lakeland region
Winter Festival of Speed
Held each year in late February/early March (weather permitting), Lac la Biche's Winter Festival of Speed celebrates winter recreation in all forms. There is a sled rally, horse-drawn sleigh rides and more. For more information on this year's event, visit the Lac la Biche events page.
St. Paul Trailblazers Snowmobile Rally
Every February, the St. Paul Trailblazers host their annual rally to celebrate the sledding season. For more information, visit the club Facebook page.
Lakeland region snowmobile clubs
With an active Facebook page that updates members on local conditions and events, the St. Paul Trailblazers know how to run a sledding club.
The dedicated Smoky Lake Trail Twisters keep the nearby riding areas in excellent shape for snowmobilers.
The Cold Lake Snowmobile Club is constantly putting in long hours to keep the local trails groomed. Its members are always seeking new ways to make improvements and upgrades to the trail networks.
With only about 15 members, this organization is a small club with big heart. To find out more about their activities, check out our Elk Point Trail Riders club page.
Top winter activities in the Lakeland region
Dogsledding
Snowshoeing
Skiing (downhill or cross-country)
Snowboarding
Ice skating
Ice fishing
Snowmobile dealers in the Lakeland region
What snowmobilers say about the Lakeland region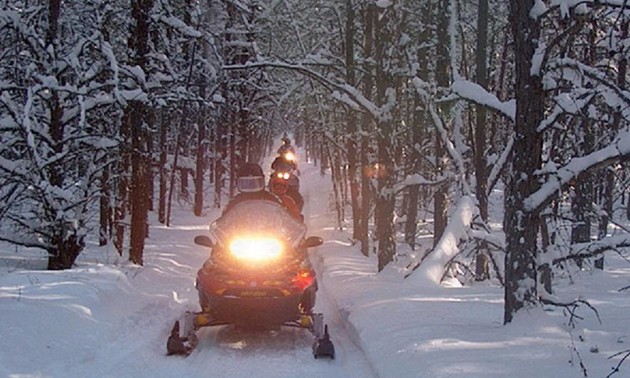 Jerry Bidulock has worked closely with sledders, clubs, local and provincial government, and Trans Canada Trail since the early '70s. - Photo courtesy Jerry Bidulock
"We have a wonderful mix of river valley flats to rolling hills to bush trails to river running to some magnificent hills overlooking pristine valleys—it's truly a winter wonderland."

- Jerry Bidulock, local sledder

"One of the best rides that I had last season was using the Iron Horse Trail. It had been freshly groomed, it was a beautiful day and it was one of the only times I got to ride it—I usually groom it. But from my doorstep, across Cold Lake and over to the Crane Lake cabin is probably my favourite ride. We do a lot of family sledding now, with my significant other, Lana, and the kids (six, nine and 11). They all have sleds."

- Dean Dube, president of the Cold Lake Snowmobile Club
Lakeland region tourism info