Five hundred members strong, the Whitecourt Trailblazers Snowmobile Club is one of the largest clubs in Alberta—and it's a good thing, too, because this club has 465 kilometres of trails, three cabins, four lookouts and two staging areas to maintain. Since 1979, it has worked closely with the town of Whitecourt and thus has been able to host major events, such as the million-dollar 2015 World Snowmobile Invasion.
Top Whitecourt snowmobiling trails
The Summit Trail is one of the most popular rides around Whitecourt. With heavily forested sections and lots of hills, it takes riders to the Summit Warm-Up Shelter where they can stop for a break before retracing their tracks or looping back around to Whitecourt on one of the connecting trails.
For more information about this and other trails, see our destination article.
Where is the staging area?
Snowmobilers can get to the Summit Trailhead from Whitecourt or they can park and unload at the Groat Creek Staging Area, which is located 10 minutes south of Whitecourt on Highway 32. With parking limited to about 10 trucks with trailers, you'll want to get to the staging area early.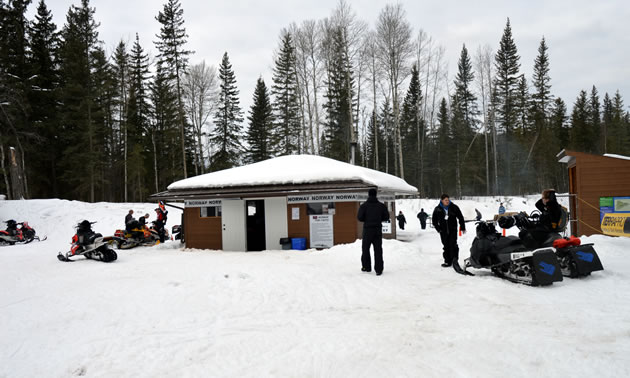 Where to get trail passes for snowmobiling in Whitecourt
To ride the trails in Whitecourt, sledders will need to purchase an Alberta Snowmobile Association (ASA) Trail Pass. An annual pass is $70 per person before January 1st and $80 after. A day pass is $20 per sled, per day. Trail passes are available at IGA, RPM Powersports Ltd., Adrenaline Powersports Ltd., First Choice Truck & Car Wash, Kanata Esso, Bumper to Bumper, TTRC Ltd., and from most club members. Memberships and trail passes can also be purchased online.
Groomer
The club operates a 2005 Bombardier BR 350 and a 1995 Bombardier BR 400MP groomer with Mogul Master Drags.
Warm-up shelters
The club maintains three warm-up shelters along the trails in Whitecourt. Each of them has a stove, a firepit, firewood, an outdoor bathroom and a picnic table. There are four lookouts that have firepits, firewood, picnic tables and outhouses as well.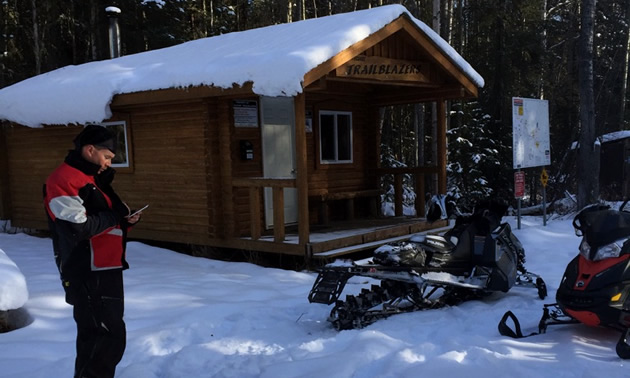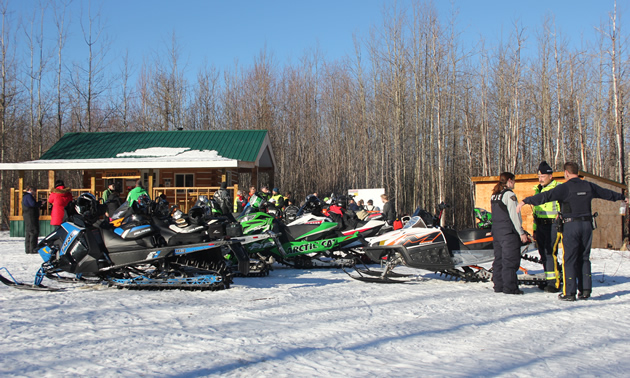 Club meetings
On the second Wednesday of every month, the club holds a meeting downstairs at the Whitecourt Legion (4928-51st Avenue) The time is 7:30 p.m. Anyone is welcome to attend, but the club asks that you remove all headgear in respect of the fallen.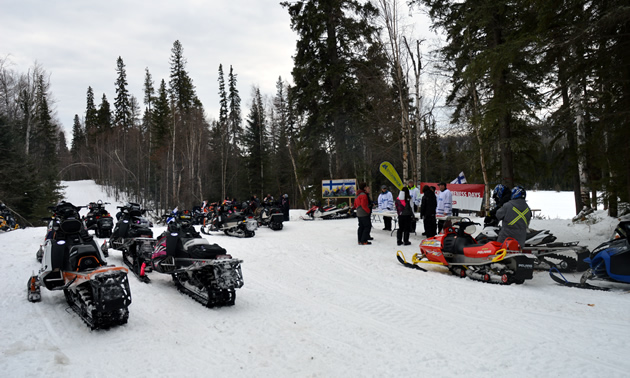 Annual snowmobile events for Whitecourt
VIP & Media Ride: A showcase for the local snowmobiling scene, the club's annual VIP & Media Ride in late January attracts mayors, MLAs, MPs, executive members of the ASA and TV, radio and newspaper media.
Annual Family Snowmobile Rally: In February, the clubs hosts one of the province's largest snowmobile rallies. Designed for all ages, this event includes prizes, food and fun set up at checkstops along the trails.
How to join the Whitecourt Trailblazers
You automatically become a member of the Trailblazers when you purchase a trail pass from club members or supporting Whitecourt businesses. If you'd like to do more for the club, you can join the volunteer list. Help is always needed.
Connect with the club
Club start date:
1979
Average number of members:
The club expects to sell 500 annual memberships and 700 day passes each year.
Club contact:
Cindy Brooks, executive assistant
Current president:
Aaron Munro (2016-2017)
Have you gone snowmobiling in Whitecourt? Share your photos with SnoRiders and be entered to win cool prizes in our Hotshots contest.