Snow biking is a winter sport, growing in popularity with more riders than ever before entering the snow bike scene. Technology has advanced to create some of the most user-friendly kits that have ever been created, drawing out an unexpected user group into winter motorized recreation.
Diehard dirt enthusiasts, who normally packed it in for the winter or headed south for warm dirt bike adventures, are emerging as first timers in the winter scene.
Snow biking versus snowmobiling
Cory Bourassa works as a service technician for Cycle Works West in Acheson, Alberta. He is a diehard dirt biker and was more than a little intrigued the first time he saw a Timbersled Snow Bike kit at his place of work. He took the plunge and snow checked his kit—a 2017 Timbersled 120 kit on his 2015 RMZ 450—last season.
There were many who teased him about getting a snow bike rather than a snowmobile. They had a hard time understanding the full potential today's kits on the market offer. Surrounded by snowmobilers, he appeared to be the odd man out, but after some networking he found a group of snow bikers to ride with and made his first trip to Golden, B.C.
"The first day I was using muscles I never knew I had," said Bourassa. "I wasn't sure if the snow bike scene was meant for me."
The feeling of doubt was short-lived, however. The second day out riding, everything fell into place and he was hooked.
"I was surprised how easy snow biking is compared to dirt biking," he said. "With a snow bike, you can make your own lines in the fresh powder, whereas riding dirt you have specific paths and lines to follow. I enjoy the freedom of a snow bike, and love that I only have one machine to maintain."
In an ironic twist of fate, those who teased him about becoming a snow biker are now on snow bikes of their own, giving Bourassa the last laugh.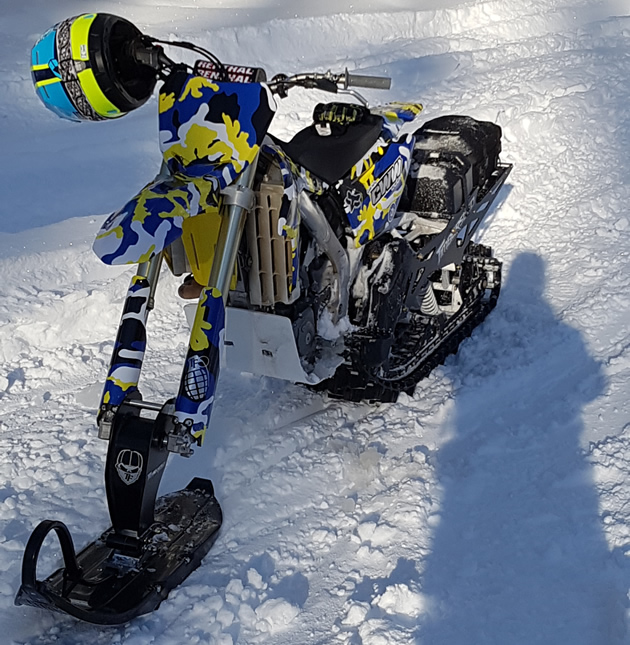 Why are dirt bikers shifting to snow for the winter?
They love the idea of their dirt bike being a multi-season toy. For many dirt bikers, a snowmobile isn't something they can justify purchasing, for it is yet one more expense and payment to add to their household budget. Having a multi-season toy makes sense. One bike, one insurance, one unit to maintain and one registration is very appealing to many when they're crunching numbers.
Snow biking is very user friendly, especially if you're a dirt biker. There isn't the huge learning curve as there is with snowmobiling. Some skills, such as sidehilling a snowmobile and counter steering, take serious time and effort to develop. Skills that are necessary for mountain sledding, such as navigating off-camber sidehills, are a piece of cake on a snow bike. One simply rides with no need to counter steer, dangle or any other special manoeuvre, which creates a very easy and relaxing experience.
It takes far less effort to get a snow bike unstuck than a snowmobile. Newbies in the snowmobile scene often become discouraged from becoming stuck often, which goes along with learning how to ride. Snow bikes, however, are usually simple to get out of a jam, with most first timers experiencing tipping over rather than being dug-to-China-stuck.
With many options available in today's snow bike marketplace, you can go as bare bones or as fancy as you'd like, including options for youth-sized snow bike kits, equating to fun for the whole family.
In this day of land closures due to environmental or conservation concerns, snow bikes open a lot of terrain not normally used by snowmobiles, including technical trees and areas that may not be considered steep and deep enough for many mountain riders to enjoy. Hours of fun can happen in a small area of terrain for snow bikes, which equates to more fresh powder riding days.
Ease of transport is another plus for someone getting into the snow bike scene. Three snow bikes can fit into the back of a pickup truck easily, requiring no extra purchase of a deck or trailer as required by snowmobiles. More bikes on one truck is a definite plus when considering the price of gas in today's economy.
There are numerous snow bike kit brands on the market today with many makes and models to choose from. This is a plus for consumers, for with competition comes competitive pricing. It's far easier to find a kit to fit your budget in today's market than it was five years ago.
Warning: snow biking is highly addictive
If you are a dirt biker on the fence wondering if snow biking is for you, try one out. Many dealerships offer demo rides for potential customers. They will often give you one-on-one mentoring time when you first get into the sport. A word of warning, however—snow biking is highly addictive. Side effects may include an unexpected purchase, uncontrollable grinning and endless adventures during the winter months.
As with any winter mountain sport, it's imperative you prepare for the winter responsibly. Avalanche education and equipment are a must. Network with your local snowmobile club for they will be a valuable resource, providing an opportunity to meet other riders, learn about winter backcountry safety and gain insight into land closures and local issues.
If you are a dirt bike rider who's transitioning to a snow bike, you might want to check out these Tips From Pro Timbersled Snow Bike Rider Reagan Sieg.