It's 9 a.m. on a Tuesday in late February and Cory Derpak is heading out the door to take advantage of a winter storm that's covered Whistler, B.C., in a thick blanket of white. His weapon of choice? A Yeti snow bike kit bolted onto a Husqvarna 350 enduro. He sleds too, but today, the Arctic Cat M8000 is staying at home.
Over the last few winters, Derpak has slowly been transitioning from sleds to snow bikes, but it's not the only shift he's made. A self-proclaimed purveyor of good times, Derpak has gone from ski racing to competing as a professional mountain biker to being featured in snowmobile movies to riding motocross. He has learned how to take full advantage of changing seasons. In other words, Derpak is the ultimate crossover athlete.
Growing up in a ski town
The 30-year-old's addiction to action sports started when he was a kid growing up in Whistler. With both of his parents involved in the ski business, Derpak spent lots of time on the slopes. By age 11, however, his passion for ski racing had evolved into a budding career in freestyle, or slopestyle, mountain biking. Turning pro at 15, Derpak went on to win large events, such as the 2001 Joy Ride Junior World Biker Cross.
To keep up his game in the winter months, Derpak got into snowmobiling. It was the perfect cross trainer, but true to his nature, he wasn't content with the simple mediocrity of keeping the skis and track grounded.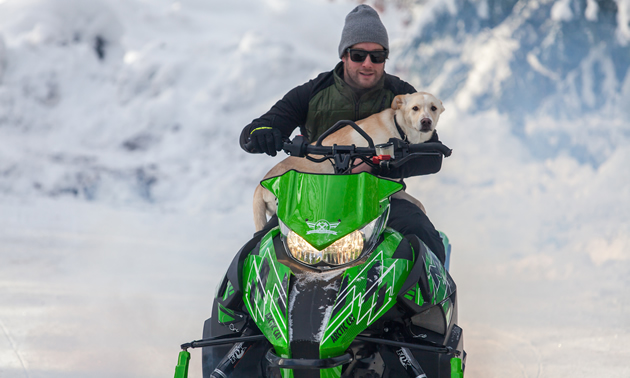 "When I got my first sled, we started building jumps right away," he said.
There to guide him were strong mentors.
"I was really lucky to learn about the sport, mountain safety and snow conditions from the original Slednecks guys in this area—like Jason Fentiman, Grey Rodier and BJ Murray," said Derpak.
Looking for yet another way to improve his mountain bike skills, Derpak took up riding dirt bikes as well.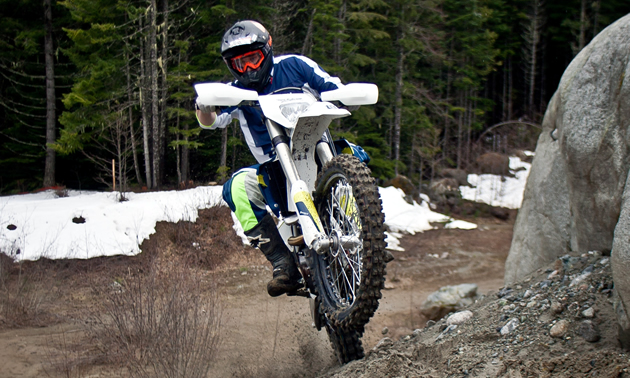 Retirement and a new focus
In 2009, Derpak started ESP Parks, a construction business that builds mountain bike and skateboard parks. His career as a professional mountain biker eventually came to an end in 2011, but like any good athlete, he couldn't stay out of the spotlight for long.
Two and a half years ago, C3 PowerSports in St. Albert, Alberta, welcomed Derpak into the Yeti Snow MX family, as did Husqvarna Motorcycles. Now a factory rider for both companies, Derpak is enthusiastic about promoting snow bikes and seeing where their capabilities lie.
"The sport is still so young that people don't really know what's possible on these things," he said.
Therefore, Derpak has two goals he'd like to accomplish before the season is over: backflipping a snow bike and setting a new world record for longest jump on a snow bike. To accomplish the latter, he'll need to break the current record of 25 metres.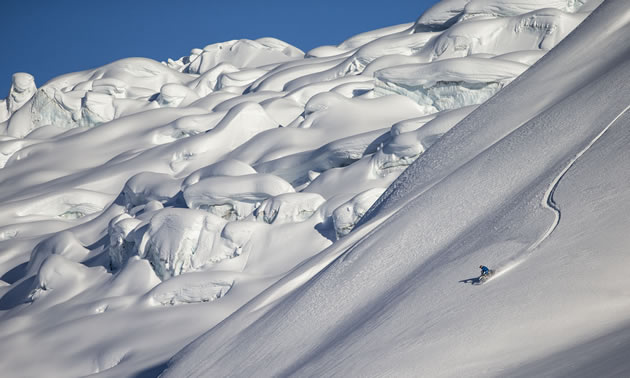 The winter riding season in Whistler usually lasts until late May, so Derpak will be on snow for several more weeks. Then he'll switch his focus to dirt biking.
"I'm looking forward to getting a couple of hare scrambles under my belt," he said. "There are a couple of races, one down in Oregon and another in the Penticton area, that I'll be doing. I've never raced (a hare scramble) before, so this will be my first summer trying it out."
Keeping it on the pipe
True to his nature, Derpak is always looking for new challenges. Some would call him crazy and there's certainly a fine line, especially when it comes to action sports, between taking calculated risks and being reckless—the latter being not what Derpak is about.
"I don't feel like I'm crazy by any stretch," he said. "I feel like I'm quite calculated with what I do, and at 30 years old, I've been doing these things for a long time and pushing my own limits and boundaries since I was young. When it's something you've been doing for a good portion of your life, I think you develop a unique skillset where you can read situations a little differently than most people. So instead of it being viewed as crazy or reckless, I think it's more about being able to decipher good, healthy, calculated risks. It's something you develop over time."
Whether it's on a snowmobile, a dirt bike or a combination thereof, Derpak will always be pushing his limits, seeing where the next big thing will take him.
"I get such a sense of satisfaction and pride in being able to continually push myself and see what my own personal boundaries and limitations are," he said. "It's sort of who I am and what I've grown up doing. I don't want to be an average person who's kind of floating through. I want to be out there and always pushing myself to progression and seeing what's possible."