Just one year ago former motorcycle road racer and pro motocrosser Cody Matechuk shifted his focus to snow biking. Since then, the 23-year-old from Cochrane, Alberta, won a bronze medal at the prestigious 2017 Winter X Games inaugural snow bike race, captured second overall at the Canadian Snow Bike MX Nationals and more recently, landed the front cover of Trax Vol. 3 Uprising.
Extremely hardworking and goal-oriented, Matechuk is the perfect candidate to take this burgeoning sport to the next level. In a recent interview with SnoRiders, he revealed some exciting plans for this season:
Hey Cody, where are you calling from?
I'm in Colorado right now. I've been here since the middle of July. We're doing moto training for kids and mechanic work on the equipment, just taking care of a big family ranch.
Can you recap last winter for us?
It was a pretty crazy first half of the season. They announced X Games in late September but they didn't announce where the qualifier was going to be held until a month or so before. We had heard rumours about it being in Minnesota so we planned for it, because for us, it was the worst case scenario; it's such a long way to go.
We went down there and it didn't go perfectly, with some crashes, stalls and having to come from dead last with five laps to go. But I ended up getting into third place for the qualifier spots, so that was wicked.
The next step was X Games. We went back to the drawing board and got two bikes ready. We didn't get the testing time we needed because it was really hard to find somewhere to ride, especially at altitude. But we did what we could. We were behind and kinda had to wing it at X Games. It put us in a bad spot because my race bike wasn't working like we wanted it to. So we ended up racing on the backup bike, which was pretty much bone stock—all it had was the Raze Wingman Kit that anyone can buy. So we raced the final on that stock bike and did the best we could. There was some ice on the track that led to that stall. I made a little mistake there and couldn't get my bike started so that set us back, then it was just survival mode.
There were no blue flags, basically it was the gate drop and the next time we saw a flag, it was the white and then a checkered. In all the chaos of a 26-second lap time with 16 riders on that small track, you had to pass two guys every corner. It was basically just a wall of snow, you couldn't see or tell where everyone was and you didn't know what position you're in, so just head down and pin it. When I crossed the finish line, I didn't know where I had finished until I stopped and talked to someone and found out I got a podium. That was quite the relief.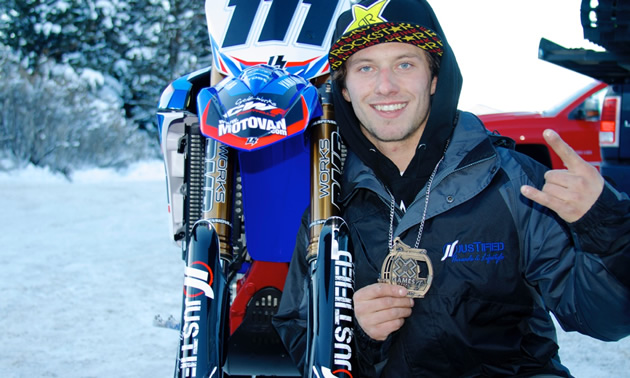 What was it like to go home after such a big win?
Honestly, I didn't really go home. After X Games, I went to Panama for 10 days just to get away from all the stress and stuff. The day after I came back I went to Revelstoke to film with Trax and Reagan Sieg. We had two races in February and other than that, I rode almost every day in the backcountry.
What's the story behind the Trax cover shot?
The day I found that I was out with one of the guys who got me into sledding. He's been a sledder his entire life. He's a big chute climber, he's got a 174 turbo and always said no to snow bikes. I said, "Man, you gotta come and spend a full day, not 10 minutes because you don't get the hang of it in 10 minutes and you'll never appreciate it.
Finally, I got him to ride my spare bike. We spent a full day in Revelstoke and he was loving it. We explored all these new places and found an entirely new way into this mountain I ride all the time. We picked our way straight up the side of the mountain through the trees and came out on the back end of this riding area.
We found this spot, he looked down and there was a big chute that nobody has ever climbed before. Of course, he was looking down and I was looking up and thinking, "I can probably jump across this." About a month later, I went back up, built a jump and the day after, we brought the film crew up and hit it. I ended up doing it five times. There are a few shots in the movie of it.
Other than work, what kept you busy this summer?
I started BASE jumping and that's been my main focus. The BASE jumping is something I've wanted to do ever since I was young. I am pushing for 100 jumps this summer and I have 65 so far. We are going to keep getting after that until the snow flies.
What are your goals?
Of course, X Games gold is the main focus for the first half of the winter. After that, I want to get back into the heavy filming. I have some other gaps in mind that have never been done in Revelstoke. I want to get a few other races in—I know there are some races in the Canadian Snowcross Racing Association and also the AMA Snow Bike Series. I've also got a world's first that I'm working on and can't disclose. There's going to be something big happening this winter after all the racing . . . it's going to be a little dangerous.
Keep an eye on Matechuk's website or follow him on Facebook and Instagram for updates!