It's hard to recognize him when he's upside down in the air on a sled, but Sam Rogers is the rider who's on the front cover of the Winter 2014/2015 issue of SnoRiders magazine.
Rogers, 26, is a pro snowmobile freestyler from Bozeman, Montana, who grew up riding sleds. He raced cross-country and snocross for a number of years and then, at age 15, got hooked on freestyle. By 17, Rogers was performing at major events around the world.
He is a familiar face at the X Games, and he's no stranger to Canada either. At the 2009 Polaris Pro Freestyle Snowmobile Air-Offs in Whitecourt, Alberta, Rogers set a Guinness world record for longest snowmobile backflip from ramp to snow. And he'll be back in Whitecourt in February for the 2015 World Snowmobile Invasion.
SnoRiders caught up with the veteran freestyler to see what he's been up to lately.
You just got back from Mexico, what were you doing there?
Yeah, I'm riding a tour down there called Xpilots, and it's like a big Monster Energy-sponsored deal. It's pretty much just a big freestyle motocross competition, and then in-between those guys' final run, I got to do 10 to 12 jumps. It's pretty cool.
What's the coolest event you've ever done?
I don't know. Honestly, that Whitecourt one was pretty rad because of the energy from all the people there and the event itself. That was was pretty cool. And then just some stuff in Europe. Actually, the first competition I did in Moscow, Russia, with Red Bull called Revolution on Machines. That was was probably the coolest one so far because it was right on Red Square and there were so many people, it was a pretty crazy event.
What's next on your schedule?
Pretty much just practicing for X Games. I think there are two more events in Mexico in January, but Colton Moore is going to come down here to my place and we are just going to try to get dialed in for X Games.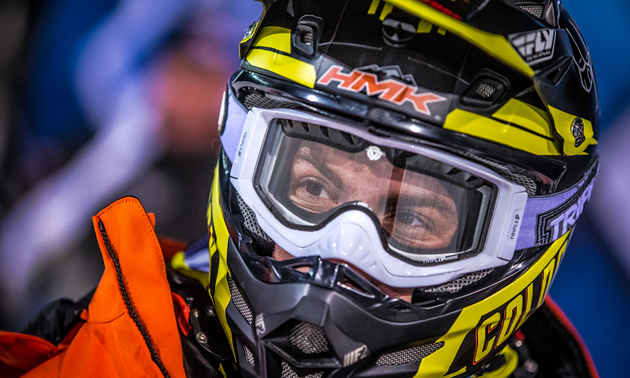 Do you ever ride recreationally?
A little bit. This is actually the first year I ended up getting a mountain sled so I'm going to try to do that more because I've just been so busy with the freestyle stuff lately. I went out once last year, and it was in May so it wasn't really like winter riding. I definitely want to go out more this winter. I rode a lot of motocross this summer and got into hitting ramps on the bike. Bikes are fun. You can constantly ride them in the summer instead of ride for 10 minutes and then have to wait for the sled to cool down.
Have you flipped bikes yet?
I haven't yet, actually. I just barely started hitting ramps three days before we got the first snow here so my buddy and I were just messing around, getting back to full distance and just feeling it out. It's a lot different than a sled so you gotta take your time with it.
Besides freestyle, what keeps you busy?
That's about it. It doesn't really leave a lot of time for much else, but when I'm home, which is rare, it's kind of nice to just relax and get into my routine of going to the gym and chillin' with my dog.
What kind of dog?
I have a little long-haired chihuahua. He's my little buddy.
Sam Rogers has a chihuahua?
I know (laughs), I got him because I had a pitbull a long time ago and it was really hard to take care of him being gone all the time, so I figured that at least, when I wanted to I could bring him with me, but I haven't been too stoked to bring him to Mexico or Russia because I don't know what to expect sometimes over there.
What's kept you in freestyle all these years?
I just grew up riding sleds. My family's been crazy into sleds since Day 1, so I just kind of got better known and I don't really enjoy anything else as much as I like riding sleds. It's kind of like the only thing I got going on right now. So I'll just try to do it as long as I can, I guess.
Before we hang up, is there anything else you'd like to add?
I'm just looking forward to seeing all the guys with the (Whitecourt) Trailblazers, Dan (Guenette) especially. That guy is pretty good. I haven't seen him for a long time, and he actually came to one of the shows in Jackson Hole (Wyoming) a few years ago. (I'm) just excited to come up there. Canada's always a great time, especially for that event.