Five winters ago, Ryan Law convinced his dad to buy him a sled, and now he's catching big airs with the crew from Hickshow Productions and Thunderstruck. Law's segment in FollowCam 6 blew our minds, and so we decided to catch up with the 16-year-old from Castlegar, B.C., to see where his innate talent is taking him.
How did you get into sledding?
Five years ago, I was telling my dad I really, really, really wanted a sled, and then for Christmas, we got one for the yard and then we got two. So we had a Powder Special and an Indy 500 and then we started taking them in the mountains. We were pretty clueless as far as that went for any sort of riding and pretty much had issues every time we went out with the sleds breaking down.
So, did you upgrade?
From the Indy 500, I went to a Yamaha Phazer 500, the four-stroke—that was very difficult to ride for a mountain sled—and then to a 2014 Ski-Doo Summit X 800.
Who do you usually ride with?
Well, last season was the first season that it wasn't just me and my dad going out every weekend and ripping the whole day. We went with Hickshow Productions. They had a local riding clinic going on and so we both went in that, and after a day of riding with those guys, Cam and Tyler Hicks, they pulled my dad over and said that my riding was good enough to ride with the guys. I was happy about that because I really wanted to ride with new people. We both started at the same time, so my dad didn't really have any more experience than me. So from there on, I learned a lot.
In what ways has your riding improved?
As far as jumping goes, I had never even hit a jump before last season—well, anything substantial, just like a little four-foot hump. It was huge going with other riders to get tips and see what they're doing.
What was filming like?
With Hickshow, most of the jumps we hit, he filmed pretty much all of it, so from the beginning when we started riding with them, every weekend he filmed me, it was like, oh, this weekend was good. And then we'd get to next weekend and all the stuff he filmed of me before was pretty much useless because every weekend I kept getting better and better as we kept progressing through the season. With Thunderstruck, that was pretty big. There were so many people out there and meeting new people. I was pretty comfortable on that gap jump because I hit that with Hickshow when we went to Revelstoke before. I had no clue they were going to use that, so it was pretty awesome to see it behind Maverick (Walker's segment).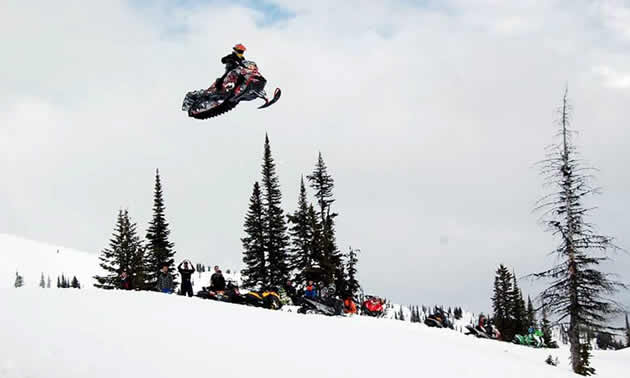 Did you get to see some new areas?
Oh yeah, huge areas. Before, we pretty much had just two or three spots, and then just about every weekend we went to a new zone we hadn't been to before. In Revelstoke, we would have had no clue where to go to build jumps or even how to build a jump if we hadn't went with those guys.
What was your favourite ride last season?
When we went to Revelstoke with Thunderstruck, we were there for three days. The very first day, it was more just hanging around. We rode around on our own and watched the guys pull all the chutes and it was cool to see. The second day was when we went and built jumps and the helicopter was there so I was pretty nervous. And then the third day was really awesome because at the very end of my segment, I did that cliff drop. Actually, the one where I was sliding down the hill, I did first and then we went into a new area and saw a bigger one, but the first drop was where I kind of gained my confidence. I still looked at it for just about an hour, threw a snowball down to see how steep it was and where the landing was and then I did it.
Do you ever feel pressured to push it beyond your limits?
No, not really. Especially with the Hickshow guys, they're really good for not pushing. They help a lot. If they don't feel comfortable doing something or they think something is a little too much, they'll say so. Like, everyone was pretty nervous when I did that big cliff drop at the end of the segment.
Where do you see yourself as a sledder in five years?
That's a hard one. I just want to improve as much as I can every time I go riding and be the best sledder I can be for myself and be someone others can look up to.
Is there anyone in the sport right now that you look up to?
Brett Turcotte definitely seems like he's the guy to look up to at this time. He would be my idol right now.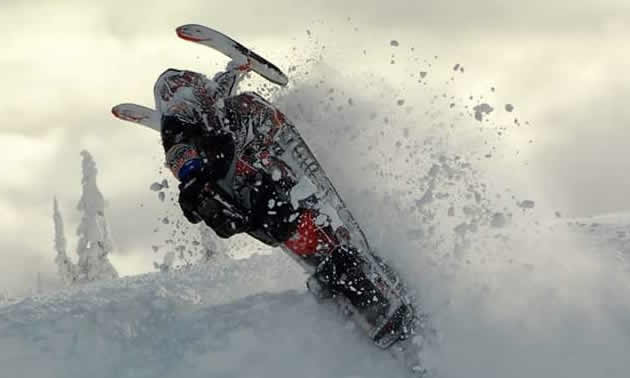 What keeps you busy in the summertime?
I'm really into downhill mountain biking so we make some trips out to Silver Star Resort in Vernon. We have some family there, too. It's super awesome at the resort because you get laps in all day long. You can get so much experience so quickly, compared to riding local trails. Local trails are nice as well, but you just don't get the experience of doing ten, 40-minute runs a day compared to doing three runs a day.
Do you have any other motorized hobbies?
I'm into dirt biking, but not as much as mountain biking. I think we've got some nice areas to go around here for dirt biking, but we don't really go a lot. Having the trails for mountain biking with jumps built on them is more what I'm into for sure.
What do you love about sledding?
Compared to dirt biking and everything, you have huge territories to go and you can just go everywhere on a sled. There are no trails. Mountain biking is awesome because there are trails that are built, but for sledding, it's cool because you can just go everywhere.
Is there anything you'd like to add?
Definitely the biggest help for all this would be the Hickshow guys, so a big thank you to all them for helping me improve my riding.