Born in B.C. and raised on a grain farm in Letellier, Manitoba, Josh Penner is a former pro motocross racer who carried the No. 1 plate in Manitoba before turning his attention to the freestyle dirt bike and snowmobile scene.
That was in 2013, and since then, Penner has performed on his bike at Hay Days in Minnesota, and he's been featured in several snowmobiling films—including the highly anticipated Winter Project. Penner has also been to the Winter X Games twice. This year, he placed seventh in the snowmobile freestyle event.
Just before Christmas, SnoRiders was able to catch up with Penner to see what else he's got planned for the new year:
First of all, how did you get into motocross?
My dad took me to my first race when I was nine years old and I was hooked ever since.
What has been your biggest accomplishment on bikes?
Either winning the pro provincial championship or earning National No. 68 across Canada throughout the Canadian Nationals.
How did you make the transition from motocross to freestyle?
I don't know. One thing just always led to another. It's like you accomplish one thing and you just want to keep progressing. I always have to continue getting better. It's just my mentality. I always say I don't want to, but then it just ends up happening.
Tell us about the Penner Compound you have at your house?
Yeah, it's a good spot for freestyle for sure. I've got a track that goes around my whole yard and a pond to swim in in the middle—some fun things. And then I have three dirt bike ramps and a big setup in the middle that has my snowmobile ramp beside my dirt bike ramp.
What's scarier, flipping a bike or a snowmobile?
I think I'm more nervous to flip a dirt bike than a snowmobile. It's easier to over-rotate or under-rotate a dirt bike than a snowmobile. A snowmobile, you have that big track that helps you spin around or you hit the brake in the air and it helps you slow down. Sure, you have to pull harder initially, but it seems like it is easier to control. And the bigger machine is more stable so you won't go sideways in the air as easily as you would on a dirt bike.
How does one go about learning how to backflip?
I went to Michigan to Scott Murray's facility and he actually helps you and teaches you. So he kind of told me the techniques: if I should pull back harder or less or how to control it in the air. And he taught me all the little tricks so I do it properly and not end up hurting myself, because I'm not that young anymore and I'd like to continue doing this.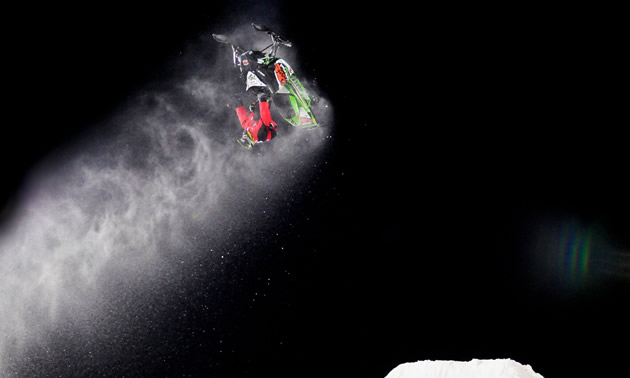 The last couple of seasons, you've spent some time sledding in B.C. and Alaska, so what do you think of the whole backcountry sled scene?
It's fun. For a guy like me to go up there all the time, it's definitely hard on the bank account so it's not really worth it. I'm in an area that's better off for freestyle. If I was to live out there, I think that's what I would also be doing. The backcountry is awesome.
Do you remember your first ride in the mountains?
Oh yeah, that was like another world up there. Pretty wild. It was unreal. It was hard to put into words.
Where did you go?
Brett (Turcotte) took me out to the Whistler area.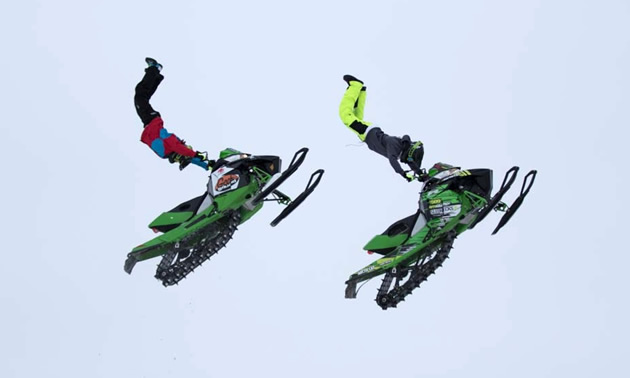 How did you meet Brett?
We knew each other through motocross before sledding came about. I was racing pro in Regina (Saskatchewan) and he was the Intermediate class and we met there.
After X Games, what are your plans for the rest of the winter?
I have a lot of shows booked with Tyler Johnson and Octane Addictions. I met him this fall. I did a show with him on dirt bike. He's a really good guy. I actually did my first ramp flip on his setup, so we got along pretty good and now he wants me to come and jump at his sled shows.
Is there anyone you'd like to thank?
McGuire Racing, Geek Squad, Micro Trend, Arctic Cat, HMK, Speedwerx, Red Dragons, 204 Skate Shop, 509 Inc., Keystone Kat, RPM Graphx, Nix Nuvo, Green Valley Equipment, Sip Dark, TheRiderScope and Octane Addictions. I have a lot of people helping me out this year, and it's great. It would be impossible to do this with the travelling and stuff.