Brock Hoyer of Williams Lake, B.C., made history at the 2017 Winter X Games in Aspen, Colorado, by capturing a gold medal in the event's first-ever Snow BikeCross competition. For the hundreds of Canadians fans who cheered him on, it should've come as no surprise, really, because Hoyer is one of the early pioneers of this sport.
Originally, Hoyer saw snow bikes as a great cross-trainer to his already flourishing motocross career, but now it's kind of the opposite. With factory support from Yamaha and Timbersled, Hoyer is focused on filming, testing new product and racing throughout the winter months.
As you can imagine, Hoyer's been running full throttle since his big win in Aspen. SnoRiders managed to catch up with the 29-year-old, however, to talk about X Games and the future of snow biking.
Going into the race, who was going to be your toughest competitor?
Oh, there were definitely a couple of guys. (Colton) Haaker's got a big following and reputation of being really good on a bike. There were definitely a couple of unknown questions about different people. You hear rumours of fast guys showing up out of the AMA series, but you just can't expect anything until you are there. I didn't let it worry me too much; I just knew that I had a program I had to follow to be prepared for this race. So I just put my head down and didn't think about anybody else.
With Cody Matechuk from Cochrane, Alberta, getting the bronze medal, what does it mean to you and the sport having not one but two Canadians on the podium at X Games?
Everyone is so pumped for me to have a medal. For my team, my motor builders, the product that I run with Timbersled, my Yamaha bikes, everyone in B.C. and all my friends and family, I think this is all shared for them. Yeah, I won it, but there's no "I" in team. There have been a lot of people who have supported me and made this possible and got this dream come true. My wife and my whole crew that was down there—I can't thank them enough. It was a win for everyone.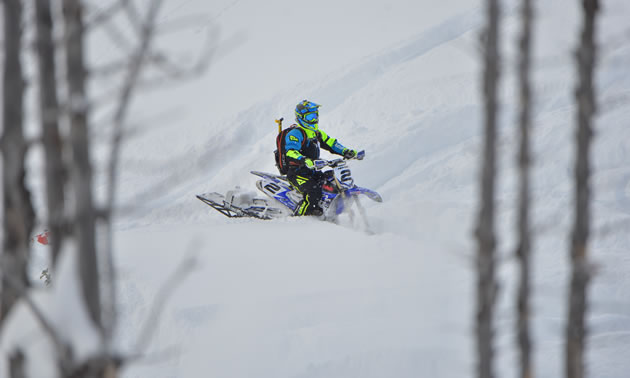 What's the biggest difference between racing snow bikes and dirt bikes?
It's a lot more expensive—I'd say that's the biggest difference. They definitely handle similar, but we don't have the front wheel as a gyro so they definitely handle a little different in the air. You can't throw them upside down and scrub as hard as you do on a moto bike. You can still do it but you have to do it in a slightly different way. The setup is a lot different and so is bike prep, but how you ride them and the feel of them, I think they still feel very similar to a dirt bike—other than you are running an 11-inch front ski and you feel a little bit more push.
Do you run a different snow bike setup on the track than you do in the backcountry?
Yep, it's slightly different. My race bike is pretty much a track bike, only with a different suspension setup. It's like a freestyle sled and a race sled—they are kind of set up similar and you can do both with them. But my backcountry bike is set up differently with a powder track and different intakes, thermostat and tuning—that kind of stuff to make it last longer in the backcountry and take the cold weather and snow hitting it all day long.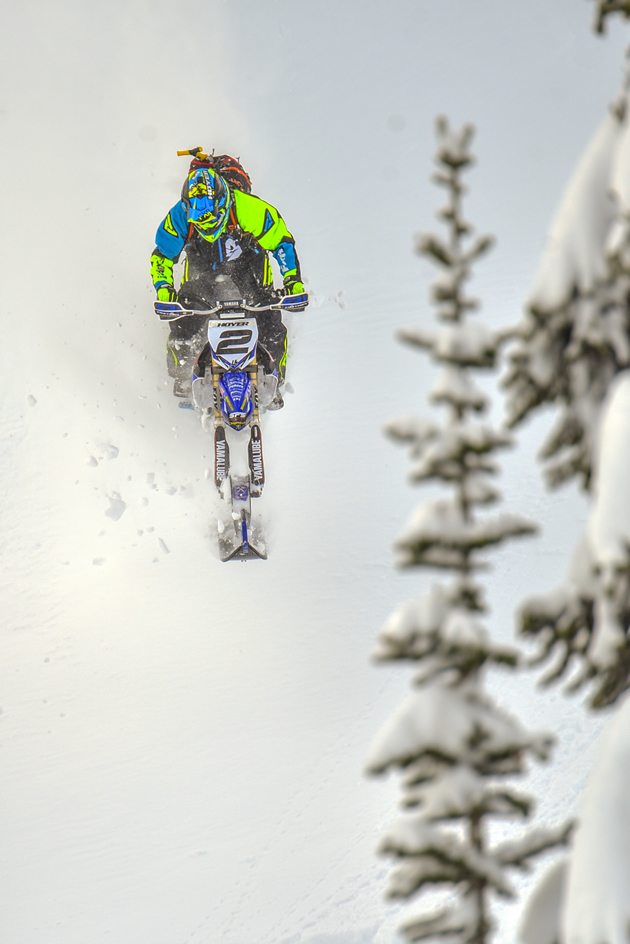 People typically think of you as a snow bike guy, but you also ride sleds for Yamaha.
I sledded back in the day. But this will be my third season (with Yamaha) and we just finished filming the new prototypes for the 2018 release, which is pretty cool. Of course, my focus is on snow bikes, but I go out and film with the sleds and do lots of unique things with them. I don't kill it like guys like Brett Turcotte, but I definitely go out and have fun and represent my product.
Do you think snow bikes and snowmobiles can be ridden together?
Oh yeah totally. It is more fun riding with your own groups. Everyone compares them but you can really compare a sled to a snow bike. They are totally different product lines that do totally different things. Snow biking works best with other snow bikes and sledding with other sleds, but we definitely mix. When I first started, there weren't many other snow bikers so everyone I rode with were sledders, but now that I have so many friends and family members on snow bikes, I can plan days on the snow with snow bikers.
What's the next big thing you'd like to see happen in the snow bike scene?
Honestly, I don't know. From Day 1, I thought X Games was the thing and we're here, we did it and I was blessed to come home with a medal. It's still kind of sinking in. So I don't know what's next. We're racing already so that's great and we have a Canadian series starting up so it's building. The sky's the limit. Next might be freestyle shows or who knows. There are so many different options. Anything you can think of doing on dirt bikes and sleds, we can do on snow bikes. Endurocross for snow bikes? There are so many different things we could do as a racing community. But X Games was kind of like the cherry on the top to really show these things off.
Thanks, Brock. Any thank-yous or shoutouts?
I would definitely like to thank Yamaha Motor Canada for everything they've done, as well as Timbersled; Rockstar Energy; FXR Racing; LimeNine; my whole family; my agent, Courtney Lloyd; my wife, Jenny Hoyer; my mechanic, Ian Leuenberger, for all the great help; and my right hand man, Kingsley Cheung, for coming down and helping me early on for X Games.