It's the height of summer and that means we're smack dab in the middle of snowmobile watercross season.
If you're a little puzzled by that statement, it's probably because you live in Western Canada where the concept of racing snowmobiles on water has yet to cement itself. It's in Ontario, Quebec and the U.S. where this crazy and somewhat quirky sport has found a permanent home.
There are actually five watercross racing associations in Canada and the U.S., but the International Watercross Association (IWA) is the largest; it's been going strong since 1988. There are seven races on the IWA calendar, with the most prestigious being the Grantsburg World Championships.
Usually held in mid-July on the banks of Memory Lake in Grantsburg, Wisconsin, the World Championships attract some of the best racers our country and the U.S. have to offer, plus thousands of spectators. The town of Grantsburg nearly shuts down for three days and everyone heads to the lake to watch the thrilling spectacle that is watercross.
A pioneer and his racing progeny
Now it wouldn't be fair to speak about the Grantsburg World Championships—or the sport of watercross for that matter—without a mention of Mark Maki.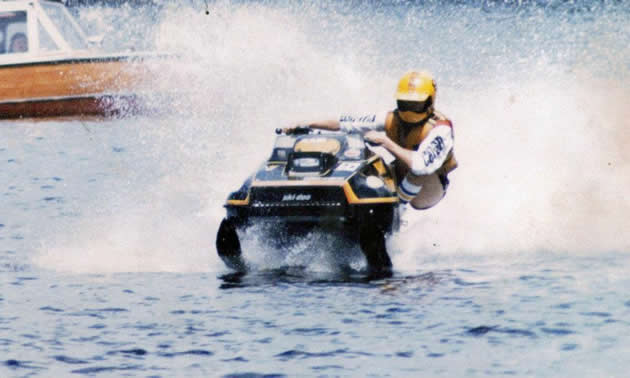 Considered a true pioneer of the sport, Mark was there when snowmobile watercross was in its infancy. A native of Grantsburg, Mark helped grow the sport, finding ways to make the sleds better and faster. He, of course, was at the Grantsburg World Championships when it was first held in 1977, and won it—not once, but 12 times over. After retiring, Mark was inducted into the Snowmobile Hall of Fame.
It was by default then, that Mark's son, Chad, became a watercross phenom. Chad entered his first race in 2005 at the age of 13.
"My first year went really well and I ended up winning every race," said Chad.
Moving up through the ranks, Chad became a two-time world champion in the Pro Open class. The now 23-year-old has also gone undefeated in Pro Stock at Grantsburg six years in a row and will be defending his class title again this year.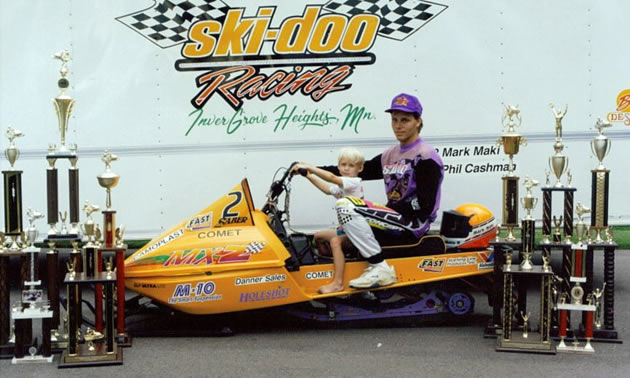 "I'm going for seven in a row," said Chad.
He's also looking to take back his 2012 Pro Open world title from Dale Lindbeck, who won the class last year.
"For Pro Open, Dale Lindbeck's the guy I'm hoping to beat," said Chad. "He won it last year and so he's defending his title. He's pretty fast."
The making of a watercross machine
Turning a machine that is designed to run on snow into what is essentially a personal watercraft with a track is no easy task.
"You want to take the motor out, the skid out and the track off, and you want to fill all the holes in the bulkhead and the belly pan and stuff," said Chad, "because if water gets in your sled, it will bog your motor and cause the belt to slip, so the motor revs, but the track isn't being spun, so you stop."
Racers replace the seat on their machines with a float cushion, which is attached to the sled with a rope. If the sled sinks, the rider can then deploy the float cushion, which will float to the surface; a boat will come along and winch the sled up.
Clutching on a watercross sled is important too.
"An 800 cc is going to go 120 miles an hour on snow but on water, it's going to max out at about 80 and that's because it's gotta have a ton of low-end," said Chad, "because when you let off, and then hit the gas, it needs to jump back up."
A winning team
Testing and tuning the sleds is a big part of it, but Chad has a great mentor and mechanic there to help him.
"My dad knows a lot more about watercross than anyone else," said Chad. "So he's a good guy to listen to. He's really patient. He still gives me pointers, although sometimes, I don't think I need to listen to him, but otherwise, he's about the best guy you could have giving you feedback."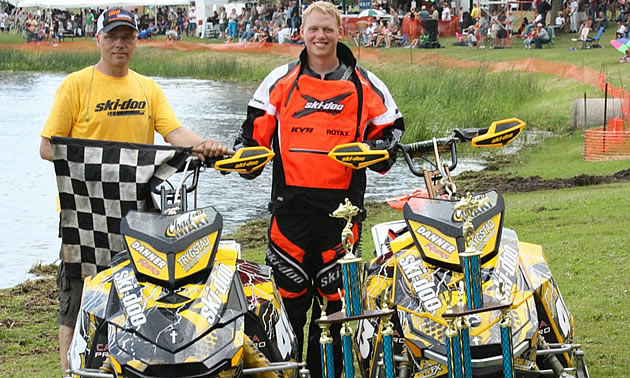 Like many watercrossers, Chad loves the traditional form of snowmobiling—you know, on snow—but when asked how it compares to his chosen form of summer recreation, his response was:
"There's nothing like lining up next to somebody and going as hard as you can and knowing they are too. I'd probably side with watercross on which is my favourite . . . just because of the adrenalin rush you get when you're racing side by side with people—especially the Pro Open and Pro Stock finals. (There are) six guys for eight laps and there are people everywhere, so it just makes it really fun."
For more information on and updates from the father and son team of Maki Racing, visit their Facebook page.