Multi-time Canadian national motocross champ and the man from Prince Albert, Saskatchewan, who redefined the sport of snocross and snowmobiling is back. Blair Morgan made his return to the starting line at the inaugural Adaptive Snow BikeCross event, held January 27 during Winter XGames 2018 in Aspen, Colorado.
Confined to a wheelchair, Morgan has kept a relatively low profile since his accident at the Montreal Supercross in '08. Admired by many and never-to-be forgotten, his return to racing is sure to delight fans across Canada.
In a recent interview with SnoRiders, Morgan talks about his future plans and how the snow bike brings back his love of riding and racing.
How did this event and Project 7C come about?
Well, Joe Duncan, who used to run the National series back when I raced, asked me about this at Hay Days in September, and I've kind of always wanted to ride a bike again. Guys like Doug Henry, he still rides his dirt bike all the time. I still ride snowmobiles and I'm kind of getting into the SxS thing, but it would be an accomplishment, I guess, to get back on the bike that threw me down. What better way than on a snow bike because that's kind of like the new, exciting thing that's happening right now. And it kind of snowballed from there. I contacted a few old friends in the industry and ended up getting a phenomenal amount of support to do it.
Who's backing you?
Mostly the Rockstar OTSFF motocross team with André Laurin, who owns it, and his crew. Steve Simms built the bike and an old friend who I used to race against, Jay Burke, is a metal fabricator so he made the cage. The Yeti guys hooked us up with the track kit. Fly Racing, my old friend Nathan Titus, who I used to race snocross against and some of my old sponsors, like Oakley, got involved. But mostly the OTSFF guys, they did everything. They had to bring the bike out from Ontario and kind of last minute, they had to bring another bike for Ryan Villopoto. It worked out we were in the same rig.
What kind of modifications were done to the bike?
We had to run a cage, which was a rule, for safety. So we put a cage on. The new Yamahas already have electric start. We had an electric shifter put in—you don't really have to shift a snow bike that much but it was cool. There was a Rekluse on it too, which if people don't know, you can just sit there and idle. Apply throttle and then it engages, kind of like on an automatic car.
Did you have to modify the chassis?
A little bit, just with the mounting points. The Yamaha foot pegs are just kind of bolted on anyways so they removed those and that's where one of the points of the cage went. And then we put a go-kart seat on it and a big seat belt.
Had you been on a snow bike before?
I rode a friend's here in November a little bit, but we just didn't have any snow. I wanted to ride it more, like over the Christmas break, but because I was still travelling with Ski-Doo, going to the Nationals, I was away a lot. And then it was very cold over the holidays and we'd had no snow, so I didn't get to ride it and he ended up selling it. Basically, the next time I rode was at X Games. We went for a little bit of a test on the Thursday before the event, so I had about an hour to an hour and a half on one. It had been 10 years since I rode a bike too. It was a bit difficult for sure. I don't know if you've ridden a snow bike, but they're kind of hard to ride, especially on the hard pack.
I have, and I bet they're tough to ride on a track.
It was, and I just wasn't 100 per cent comfortable. Doug Henry, he's been riding like seven years since he got hurt, so he's just a little more experienced at riding a bike. For next year, I'm hoping to spend a little more time on one and get comfortable.
Does this mean you're officially back in competition?
Well, apparently next year they are going to make it a medal event. If they do that, I'm totally going to go for it next year. I already want to start preparing for it, even right now.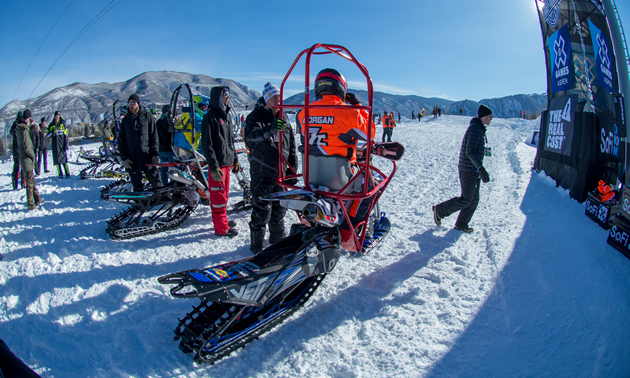 How did it feel lining up at the start again?
It was awesome. It was really cool. I haven't done that for a very long time either. Not only riding a bike, but lining up at the start and racing somebody, that bit of adrenalin and butterflies in the stomach kind of thing, it was really cool to feel that again.
Since your accident at the Montreal Supercross in '08, you've kept a relatively low profile. What have you been up to?
When I first got hurt, I was kind of retiring around that time anyways and it just kind of forced me into retirement. I took a few years just to chill and really not do too much. I had raced for 20 years and obviously my body was pretty beat up and I was mentally beat up. I had young kids at the time so I was spending a lot of time with them. I kind of figured I was going to take a year or two just to do nothing really—enjoy life and the stuff I missed because I was away. Hang out with friends here and just live a normal life. A few years back, I started working with the Ski-Doo guys again, and then now, yeah, I never thought I'd be racing again. But I'm getting kind of bored I guess. I just wanted to do something exciting and obviously not be so confined to a wheelchair.
What do you think of the whole snow bike scene?
I heard it's the fastest growing sport or something like that. Basically, it went from nothing to something in one or two years. It's pretty exciting because I raced motocross more than I raced snocross and this is kind of the mix of the two worlds. I raced snocross all winter and motocross all summer. I tried some of the early versions of the snow bike. And those Snow Hawks, I got to try a couple of those once. They've come a long way since then.
That was before Timbersled came into the picture.
Yeah, it kind of came out of nowhere really because everyone kind of knew there were snow bikes, and then all of a sudden, it got really big. I think some videos came out of guys riding them and it looked like a lot of fun. Apparently, they work really well in the mountains. I've ridden them in the mountains, but never on any sidehills or anything, but apparently they work really well on some cool terrain.
They're definitely more nimble than a sled.
Yeah, but at the same time, the sleds have gotten a lot better lately so the sled guys can go almost anywhere now with the new sleds and turbos and stuff. I think the advancements on snow bikes and snowmobiles in the last few years has been really good.
I believe you had a hand in some advancements.
(Laughs) I guess I did because when I started, they were kind of like cruisers and then they actually changed them with the REV and now they are even more forward. Everyone's riding them standing up.
You said you still have sleds and quads—is there much riding around home?
Yeah, my backyard is basically a provincial forest so there are tons of wicked trails. I was never much for the trail riding on snowmobiles, but we have a farm, there's open fields nearby and I have my motocross track here. We always have tracks somewhere and big drift lines. It was kind of funny, I didn't realize what kind of cool trails and terrain there was around until I got into the ATV thing.
And there you have it—the rumours are true. The great Blair Morgan, Superman, Canadian icon of motocross and snocross racing is back in action! You can follow him on Instagram @blairmorgan7c.