What does it take to win SledTown ShowDown? It requires more than a cool name and backstory, although Flin Flon—aka Josiah Flintabbatey Flonatin—certainly has that going in its favour. To win a major competition like SnoRiders' prestigious SledTown ShowDown, you've gotta have pride. In this instance, prairie pride.
"Our club is extremely excited and proud of winning the SledTown championship," said John Trumbley, president of the Flin Flon Border Explorers Snowmobile Club. "I was very proud of our community's passion.
"Our club has been trying to promote snowmobile tourism in our area for years. SledTown Showdown has been a great tool in helping us get that word out."
Unite the community
Snowmobilers in Flin Flon have been rallying locals together to trumpet their destination for years and the effort has paid off in a big way. Last year, Flin Flon became the provincial champion for Manitoba for the first time. Then they nearly won the whole thing, losing out in the finals by the thinnest of margins to 2019 SledTown ShowDown champion, Tumbler Ridge, B.C. Undeterred, Flin Flon showcased their resolve in 2020 by tallying the most votes of any province throughout all 6 rounds of the competition. They proved to be a powerhouse, knocking off the 2018 SledTown Champion in the finals, McBride, B.C. The win didn't just benefit Flin Flon either. It broke the streak of four straight victories by SledTowns in British Columbia. Flin Flon proved that you don't need to offer steep and deep mountain sledding to be the best. Prairie pride is where it's at.
Make your SledTown accessible
In order to attract tourists (sledders or otherwise), a community needs to be accessible. When it comes to snowmobile trails, Flin Flon has an excellent infrastructure in place.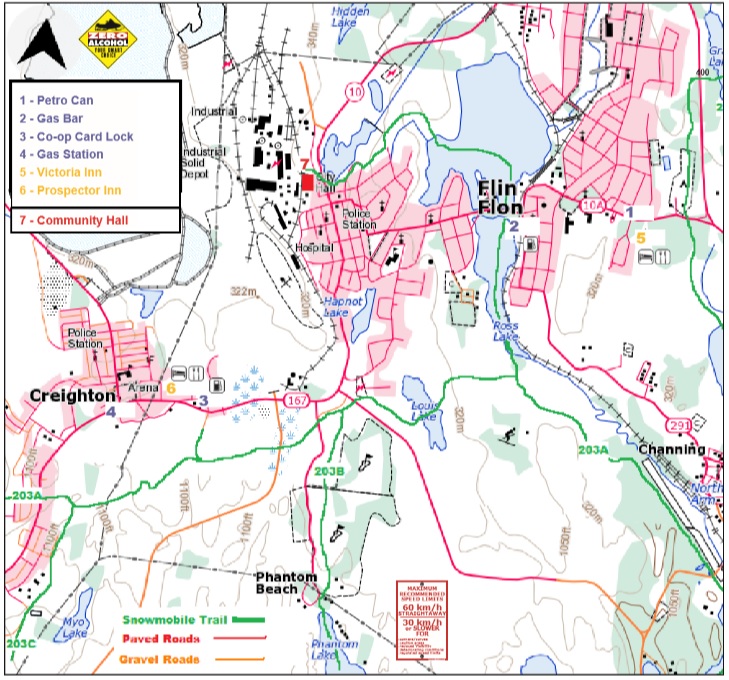 Sledders are allowed to drive snowmobiles on certain community streets, so trail access is possible throughout the city. If you are staying at any of the local accommodations, you can access the trails.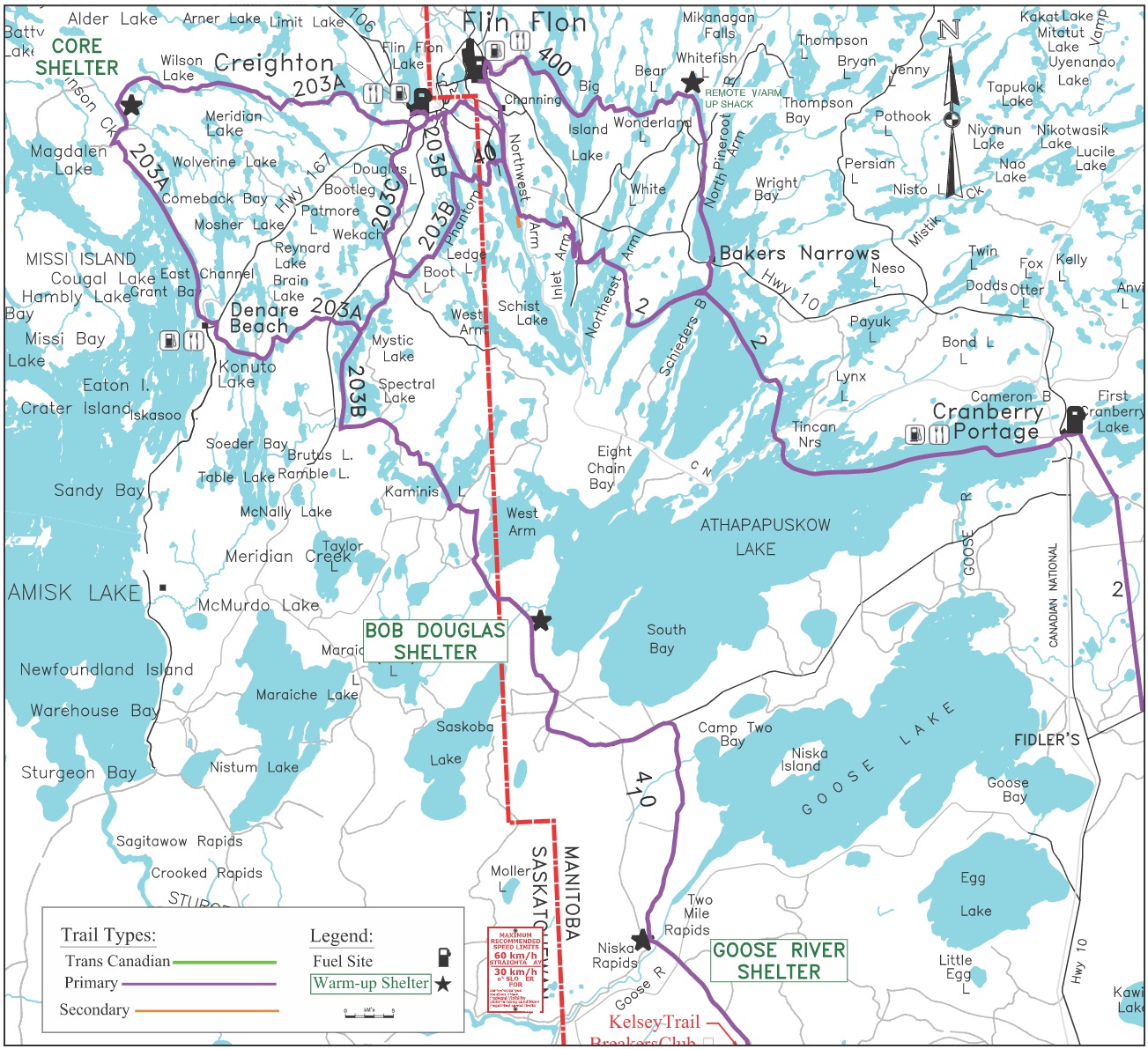 Digitize your strategy
Since SledTown ShowDown's voting is entirely digital, the winning destination needs to have a solid social media presence to share updates and reports about what's going on in the competition.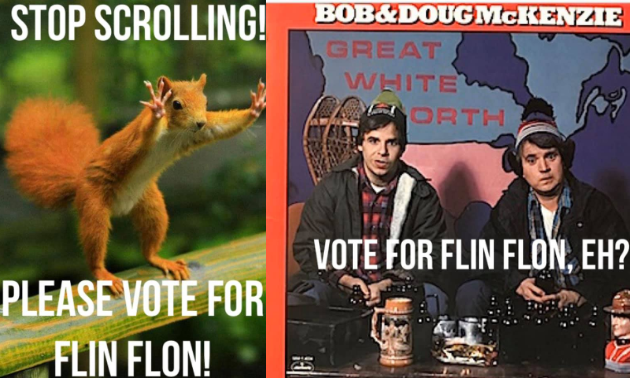 We here at SnoRiders write the updates (example), snowmobile clubs and their members just need to make sure they're diligent about sharing the posts and encouraging interaction with their followers and friends.
"We have a very good social media club member and she worked hard at getting reminders out daily throughout our community," said Trumbley. "All of our club members and the community itself rallied throughout the rounds."
Create rivalries
Looking beyond Flin Flon, the city reached to its rivals to stoke even more interest.
"Our community officials created a few side bets with the other areas we were in competition with," Trumbley said. "The loser had to fly the winning community's flag.
"In general, everyone seemed to really enjoy the SledTown competition."
Offer up amenities
Flin Flon straddles the Saskatchewan/Manitoba border and the Border Explorers maintains a trail system that winds its way through Flin Flon and Cranberry Portage in Manitoba, as well as Creighton and the Denare Beach region of Saskatchewan. These four communities have designated routes along roadways that allow snowmobilers to get around conveniently. It's a vacationer's paradise that provides ample recreational opportunities via 220 kilometres of groomed snowmobile trails.
"All of our trails take you to other communities surrounding our area," said Trumbley. "We have two trails that connect with trails coming from southern Manitoba—you can ride south from Flin Flon to anywhere in Manitoba."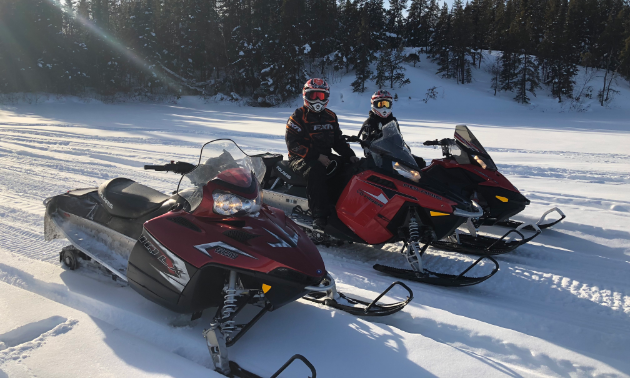 Flin Flon is surrounded by the vast Boreal Forest and hundreds of crystal-clear lakes, rivers and streams. Many species of animals and birds coexist in this pristine region. The lakes are teaming with walleye, lake trout and northern pike.
"One of the great benefits of our area is our scenery," said Trumbley. "Nothing compares with the soul-restoring benefits of nature's playground—and it's all here. Within minutes, you can flee the daily grind and be alone amidst some of the most beautiful scenery in Canada. Here, the snow and lake riding is spectacular, and silent forests stretch for mile after unimpeded mile.
"The Aurora Borealis (the northern lights) are at their most magnificent during the winter. The experience of watching the northern lights at sunset is must-see. Standing in amazement while they dance overhead is one of the most treasured northern experiences.
"The stunning scenery here will amaze you."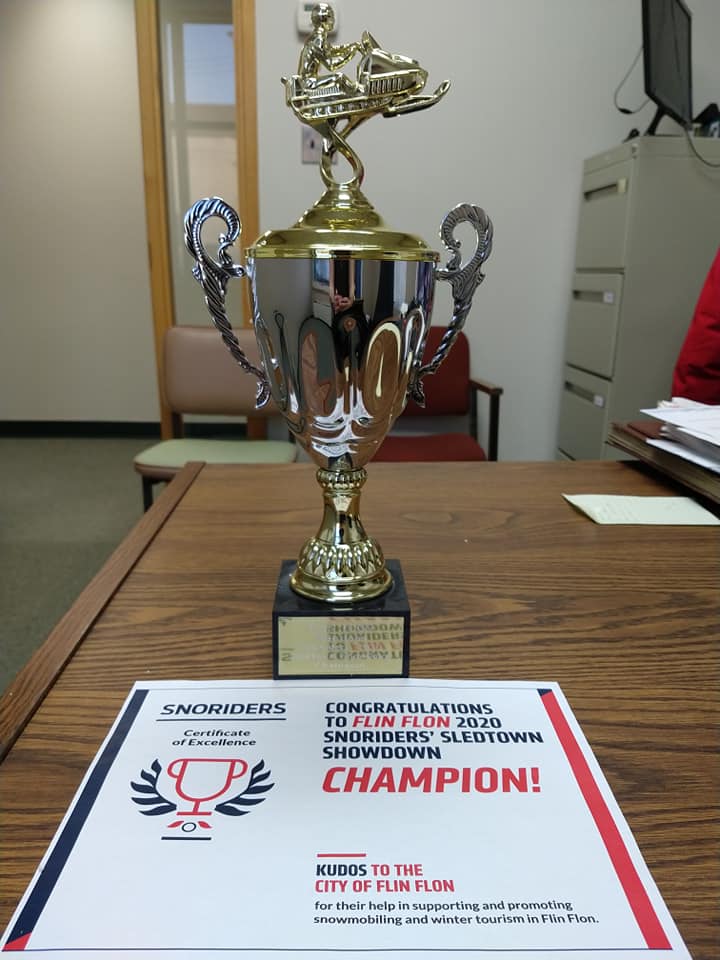 Variety
So which trails should you try? In short, all of them.
"​All of our trails are similar in popularity," Trumbley said. "It's a very scenic area that boasts all kinds of riding for the most advanced to the first time rider. Once you ride here, you want to come back time and time again."
Take a look at the Flin Flon Border Explorers Club Profile to find out more.
Prepare a game plan
When it comes right down to it, there's no single solution to winning SledTown ShowDown. The winning destination has to be a deserving location that has solid infrastructure, amenities, trails, accessibility, hospitality and a digitally engaged snowmobile club. This is good news for aspiring towns and snowmobile clubs that would like to win the title. They now have a template for what to do to succeed. Most of these services can be improved with planning and hard work.
Now that you know what it takes, what are you going to do to launch your SledTown to a championship in 2021? Whatever strategy you employ, godspeed and good luck! Here's to another stellar SnoRiders SledTown ShowDown in 2021!