It was a segment in Slednecks that brought Chris Brown to Whistler, B.C., about 10 years ago. Since then, the big mountain freerider who's originally from the U.S. has become well known the world over for his huge air antics and internationally recognized riding clinics.
Over the years, Brown has also overcame some major injuries and through it all has remained incredibly upbeat, humble and easy to approach. Here's our preseason interview with him:
Hey, Chris, got any special plans for the winter?
We've got people booking trips right now, updating the website this week and working with Polaris on some cool plans. I just set some dates for my riding clinics in B.C., two riding clinics in Japan and two riding clinics in Iceland in May. We are going to spend a week exploring and riding in both Japan and Iceland while we are there. I will be riding in Iceland with some guys who are the Polaris distributor there, so I'm pretty excited for that. Anyone is welcome to join us in Japan or Iceland! And I'm super excited to film with Slednecks and Freerider. I finally convinced the Slednecks filmer to film technical riding here instead of all jumps so I'm stoked to get out and show some technical riding and climbs.
Did your accident in 2011 change the way you ride?
Yeah, it totally did. The next winter, I came back and did some cliff drops and then the following year, I pretty much did some of the biggest drops I've done, and on the last one, I got what felt like a mild concussion, but the effects of it lingered for a few months. So I decided to call it quits doing drops and big airs.
Are you more into the technical stuff now?
Totally. I've always loved tree riding and I've always loved technical riding. The only thing I really struggle with now is air hopovers because my ankles have both been shattered. So it's a little frustrating for me because I don't have the spring in my feet or ankles anymore and I can't come down too hard on the running boards. Other than that, I love technical riding more than anything. I probably spend 70 per cent of my time in the trees.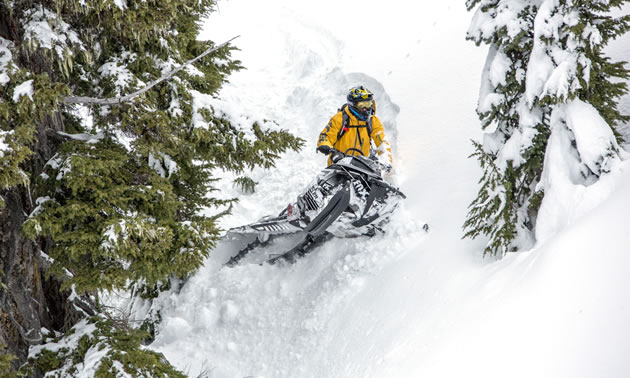 Last winter, you also did some filming for Exploring the Snow. Who's behind that project?
They are a group of Swedes who decided to make a movie about exploring new areas around the world so I think they went to Russia, Japan and they came to my lodge in Bralorne and rode Whistler, Pemberton and Bralorne. They are super nice guys who just love snowmobiling so they want to share their story. It's more a story about their passion and exploring new areas versus all riding, jumps and stuff.
It's been two and a half years since you partnered with Polaris. Thoughts?
Best move I've ever made! I was really excited to work with Polaris and ride something that's light, nimble and built for technical moves, tree riding and boondocking. And then when the Axys came out, I was super excited because it was even easier to ride and super easy for me to teach on. It is by far my favourite sled of all time.
How so?
It does exactly what I want it to, not what it wants to do. The Axys is built for precise, technical moves. I can go anywhere I want on this sled and have 100 per cent confidence riding it. The Axys is really easy to sidehill and do elevators on—it can really hold a line. It's cool to see people pulling these moves they never even thought of trying before.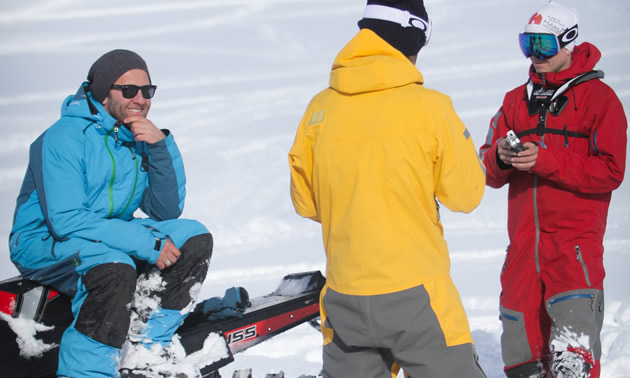 What about the new motor?
I think it's awesome. Where (the Pro) may have been lacking in power a few years ago, the new Axys motor now has instant throttle response, really strong low- and mid-range, and the top end is really strong. There is an extremely noticeable difference between the '15s and '16s.
What will you be on this season?
I'll have a turbo and a stock Axys, depending on what I'm doing that day. I ride a turbo a lot though. I have a TSS turbo 155 and 163 from last year that I'll keep and we'll probably build a turbo 174 this year.
In your opinion, what's the best track length?
I go back and forth between the 155 and the 163, depending on what I want to do. If I want to wheelie through the trees, go fast, ride with my feet and kick the skis off the ground, I'll ride a 155. But if it's super deep and I want to try really steep, techie lines, I'll ride the 163 or 174 this year.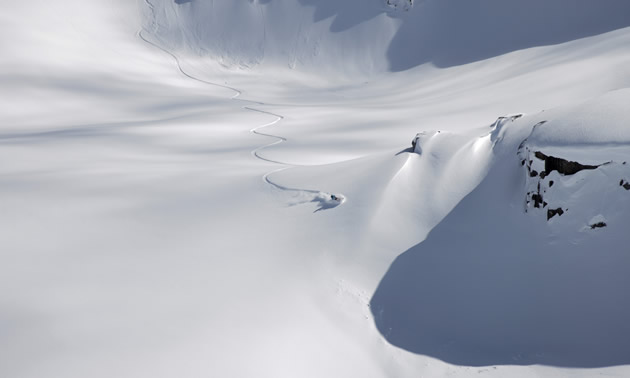 To ride Whistler with Chris Brown, visit his website.