First off, congrats on another medal at X. Your third, possibly not the colour you wanted, but now you have a full set.
Yep, now I've got a gold, a silver and a bronze: a full set (laughs).
Let's go over how X Games went for you. When did you head to Colorado?
We stayed in Colorado for eight days prior to Aspen to do some elevation training, riding, testing and last-minute prep. We did some dyno work with Vickery Motorsports in Denver—they've been helping out every year. Everything went well and I was happy and confident going into X Games.
We got there and the track was a little tight. We tried to get them to open it up like previous years to make it more passable and to make for some better racing. It was super one-lined, kind of like the Minneapolis Supercross this year; it was kind of like a freight train. You could catch right back up to the guy in front of you but unless you stuffed him to pass him, you were kind of stuck. That was the only frustrating part—that the track wasn't super passable—it would have made it more exciting for the crowd. Otherwise, they did a great job as usual.
How did qualifying go?
I qualified first in my heat. I think I had the third fastest time, which was close to where I wanted to be, and my bike was running good. I had a really good set-up. We'd spent a lot of time testing suspension and set-up.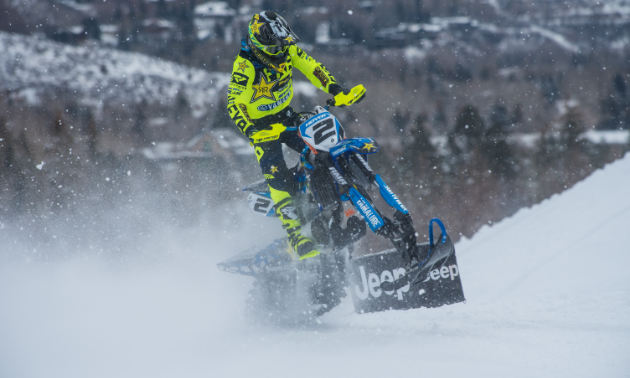 And how did the final go?
I got a good start and then I got stuck up the inside, trying to make the pass. There were only so many corners—that's what it comes down to. I also might not have made the best lens choice for the main. The sun set just as our final was starting. The lens I had was kind of darker than I needed to have in some of those dark shady spots. I was just pushing through this spot and I hit an icy spot and pushed the front end out. I was able to keep it running and get it stood up but I dropped back to third.
I caught up to everybody again and was trying to put the pass on second but I just needed a couple more laps. So, it kind of sucked to get a good start and be pushing trying to catch the leader and end up falling down; it sucks to see all that work go down the drain. But it is what is; it's just racing.
That's your third straight snow bike medal at X Games. It's such a huge event. How much emphasis is on that event during your season?
It's a huge focus. A lot of our sponsors push for X. That's the most important event to them. The pressure is on for X, for sure, and then you can go back to your routine of backcountry riding and filming. We put in a lot of time getting ready for X. When we got home, I took some time off. It had been hair straight back since December for me … testing and building and riding and racing and flying. It's been nice to get home and ride with some friends and hang out with my wife and kids and just relax.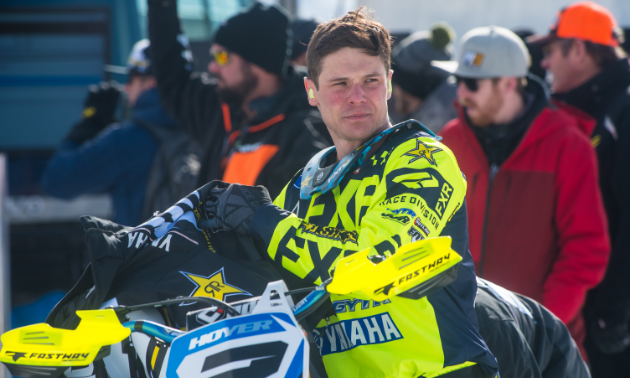 How do you handle the pressure and the buildup?
I don't let the pressure get to me too much; it is what it is. There's so much media exposure. You can't afford to buy that kind of coverage, and there's no better way than to go out there and kick butt for the sponsors. X Games really is the main focus. The few races I do here and there—it's important to win, but at X you need to put your best foot forward.
For the Canadian guys, you are testing for all this time, for one race, one moto, for 20 laps. It's just part of the game. Normally if you mess up on a race, you've got the next round to redeem yourself but for X, it's a one-off. You train your butt off but it helps if you have a little luck in your back pocket too. It's one of those things—a little luck and a lot of training.
Now that you've gone 1-2-3 does that mean you have to start the running order over with another win?
Yep, I feel like we need to start from the top again and go gold, silver, bronze (laughs).
What does the rest of your winter look like these days between competing, filming and working?
I still work a little bit in the winter. I'm a heavy-duty mechanic but I park my service truck for the winter and just wrench a little on the side. My winter is pretty much taken up by snowmobiling and snow biking. Next, we have a big snow bike gathering in Vernon, then some filming, then to Florida for the release of the new Timbersled, then back for some more filming, then I'm off to Toronto for two weeks to race the last two CSRA rounds for Andre Laurin at OTSFF Motorsports. Then I come home for a bit and then we have the FXR 2020 shoot and then I'm off to Alaska to cap the season off. I'm all over the map.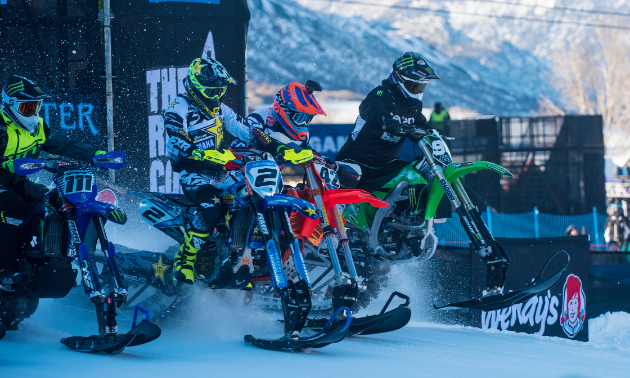 You are probably one of the most experienced snow bike riders on the planet. Tell us a bit about how you got started in the sport and the progression you've seen.
In terms of time on the bike and being in the industry, I'm among the most experienced, for sure. I've been part of this almost since it started with Timbersled. I got into it because of one of my best friends, Derek Christianson. He was my inspiration to get into the sport and he has since passed away. I run his number on my gear and bike still.
Derek had bought one of the first Timbersleds in Canada and brought it up to Williams Lake. I was instantly pumped. I was still doing the Canadian MX Nationals at the time, and he let me take it out and said, 'Go have fun.'
The next day I called and ordered one. It's weird, that was one of the most spontaneous things I've ever done in my life. I didn't care what it cost. I called and said, 'I want to order this, this and this' and then I asked what it cost at the end. I didn't really care. I didn't have the money (laughs) but I put it all on my Visa.
I guess it's just one of those things; you have to invest in yourself for the future and it's paid off for me. I never thought I'd be doing this on this level; I thought it was just going to be a cross-training tool, and it ended up being my full-time gig. It's pretty crazy how life leads you down certain paths.
How was the sport changed?
When I first got into it, I was like an alien out there in the mountains. People would stop and be like 'what the heck is that thing?' People's faces would be awesome. And now you've got some big heavy hitters like Polaris buying Timbersled. That kind of brand traction puts snow biking in the limelight. If Polaris is buying this, there must be a reason. That's definitely helped the sport.
And having them in the dealerships and shown to consumers is huge. Every year it builds. I've been doing this for seven years and it's just been building and building every year and getting more well known. That's one of the coolest parts.
You grew up racing dirtbikes. I feel like when I watch you ride I can see the same style you had on a dirt bike carry over. How has that helped you on a snow bike?
Yes, motocross has definitely helped me on a snow bike, and snow biking has helped me a lot with motocross. There are some things you do totally opposite on a snow bike, like how you weight your pegs. A lot of it is very similar, but when you switch back to dirt you have to retrain your brain a little bit, to hold on a little tighter. I want to ride that thing just like I ride my dirt bike and post relatively similar lap times.
You do a lot of backcountry riding in B.C. Do you also ride a sled for fun out there or are you always on a snow bike?
The last few weeks I've been on my sled a lot; I try to jump back and forth. I like the change. I love snow biking and I probably spend most of my time on my snow bike. But this year, I spent so much time on my snow bike getting ready for X Games that it's been nice to have a change and go out with my sled buddies. And it just depends who is around to ride; lately my snow bike friends have been away. Back in the day I would ride with anyone, but now you ride with your snow bike friends on a snow bike for the most part. They ride different terrain. Snow bikes can cover really steep, crazy ground really quick, whereas on a sled you need to be a top, top level rider to go there. I can ride a sled fairly well but there are lots of spots that you need to be on your game or you can easily wreck your sled. On snow bikes you can cover a lot of ground really quick. They don't do straight up hill pulls as well as a sled. They are both really fun and I love riding both. We just got a huge dump of snow here too.
I understand that riding is a family affair now too?
My four-year-old just started riding a sled—it's a little too big but he'll grow into it. He's also riding his Yamaha PW50 now too. It's really refreshing to have them enjoy the same stuff. I know about a year before snow biking came into my life, I was getting to that burnt-out stage with motocross—which everyone does—and the snow bike gave me a way to make it fun again. With the kids enjoying the same things, it makes it that much better again. To be able to go to the track and bring the kids makes it awesome.
Thanks for your time, Brock, and congrats again on another great year. Who would you like to thank?
Thanks. I have lots of people who definitely make what I do possible. It would be impossible for me to travel this much without help. My wife, my sister-in-law, my mom and all the people who come together to help with the kids when I'm away are priceless because my wife is working full time too. We are just constantly juggling to make it all work, especially when I'm out of the country.
I also want to thank my sponsors: Yamaha Motor Canada, Timbersled, Rockstar, FXR Racing, Fox Suspension, JJR, Outlaw Motorsports, GET Ignitions, Bills Pipes, Rekluse Clutches, RMR Suspension, VP Race Fuels, LimeNine, Mongoose Machine, Seat Concepts, CTI knee braces, Sledgehammers, CR Racing, The Snow Bike Shop, Fast Way, Cariboo Steel, KAMO, Caliber, BCA Avy Gear, P3 Carbon, Wiseco Pistons, K&N filters, Munster, DEVOL, IWL Construction, Total Strength Training, Bike Binderz, ODI, OTSFF Motorsports, Limitless Mfg, Cyclops Lights, Revvup, Diamond Movement (Arron Fraser), Simmons Flexi-Ski, Atlas Neck Brace, Mettech TI, Cycle North, Powder Kings, CC Industries and Motovan.