Riding in Northeast Saskatchewan means hundreds of kilometres of groomed trails and powder riding. There are many destinations to explore that will take you over or through forests, fields, lakes and hills. Choose your own adventure from the many different areas and clubs in this region of Saskatchewan.
Tisdale
"With optimal conditions and ample warm-up shelters along the way, the trails around Tisdale are just waiting for snowmobilers to come out and ride," said Sean Wallace, director of economic development for the Town of Tisdale. "You can cruise for hundreds of scenic kilometres, and then come back to town for a bite to eat and a comfortable rest at one of the quality local accommodations."
Take a look at the Tisdale landing page for information on sled dealerships, destinations, snowmobiling trails, snowmobile-friendly accommodations, local snowmobiling clubs and more.

Tisdale is located at the intersection of highways 3 and 35. Ample parking and staging areas can be found behind the Tisdale Recplex or the Dog Hide Park within town limits. Additionally, trails are close to motels for those staying overnight and parking is available there. You can always ask, if in doubt.
Arborfield, Carrot River and Zenon Park
"Come snowmobile on the Pasquia Snow Goers' 220 trails," said Kathy Lindsay, secretary for the Pasquia Snow Goers. "These trails will take you over 260 kilometres of wide open fields to winding forest trails—you will travel over flat ground and breathtaking hills—bored you will not be! You will enjoy the fresh clean air and the pristine powder which no one has found in the secluded nooks of the Pasquia Hills. Pack a lunch to enjoy at one of the many strategically placed warm-up shelters."
Sledding "the alphabet"
According to Lindsay, you can start your adventure by snowmobiling by the alphabet, i.e., take the 220A to the 220B then onto the 220C. The club also has a 220Z for those who are interested in visiting the local French community of Zenon Park. In Arborfield, head straight east to the Trans Canada Trail, 220A, where you will turn right; following this trail will take you into Aylsham where the 220A connects with the 226A which takes you into Nipawin and beyond. Or you can take the 220B which will take you near Carrot River then back down the 220C returning to Arborfield. This ride should take you a few hours to complete and lets you see several communities.
Pasquia Hills
For a whole day of riding, you could take the 220A left to the community of Carrot River where you take a right onto the 220B which will take you into the Pasquia Hills on the edge of farmland. Spend the day checking out all the trails in the Pasquia Hills, 220B, 220D, 220E, 220H and 220I connect to the 220A which will bring you west back into Arborfield. Or ride the 220A to the 210A which takes you into Hudson Bay.
The 220 trail system connects with Nipawin, Hudson Bay, Mistatim and Tisdale. Take a short ride or a long ride—the choice is yours.
If the weather gets blustery, ride into the Pasquia Hills where you will enjoy the shelter of the trees and stop at the Jubilee warm-up shelter.
Depending on which community you have chosen to stay in, each location offers a unique experience. Stay at the Arborfield Inn which has four rooms and a general kitchen/dining area so, if you are travelling in a group, you can all share the common area yet have your own private space. From here you are only one block from the Trans Canada Trail—a quick snowmobile ride down Main Street of Arborfield and you are on the trail.
Carrot River Inn offers a new two-storey hotel complete with full restaurant and lounge. It is located right beside the trail. In both cases, you are right near the local co-ops which provide full fuel service during the day and cardlock fuel service after hours. Once you arrive at the community of your choice, there is no need to move your vehicle until you are ready to go home. Both inns have ample trailer parking. If you are coming for just the day, there is ample parking on the edge of town along the trails; just make sure you are not blocking the entrances.
"Of course whenever in doubt, check out maps at www.sasksnow.com," said Lindsay. "Or contact our club and we will attempt to connect you with local people who are going out riding or they could share where to ride for what interests you the most. The one thing Pasquia Snow Goers is proud of is that you will not be riding in ditches, only crossing them perhaps. We also have an excellent relationship with our landowners who graciously allow us to have our trails over their fields. See you in the scenic Northeast where many trails of adventure beckon!"
Porcupine Plain
According to Carla Hipkins, community development officer for Porcupine Plain, Saskatchewan, Porcupine Plain is a snowmobile destination you don't want to miss. Hundreds of miles of groomed trails lead you in any direction for an absolutely wonderful sledding experience.
Porcupine Plain is central for the Northeast and connects to all the other trails in the area to make a day trip to any other destination. The trails all lead to and from the community of Porcupine Plain.
For more information, visit the website at www.porcupineplain.com.
Kelvington
Kelvington is one of the best-kept secrets of snowmobilers around the province, with trails and snow that rival anywhere else in Saskatchewan. The Kelvington Trailblazers snowmobile club offers 460 kilometres of groomed trails. They take you from picturesque open farmland through the communities of Rose Valley, Wadena, Lintlaw and Kelvington and up to the lakeshore of Fishing Lake, or choose to ride to the premier parkland of Greenwater Provincial Park.
Judy Lillebo of the Kelvington Trailblazers said you can also choose to ride the scenic tree-lined trails throughout the Porcupine Provincial Forest, truly Saskatchewan's best-kept secret for outstanding snowmobile trails, with breathtaking views that cross lakes, rivers, streams and valleys. Moose, deer, elk, coyotes, wolves and foxes are spotted frequently along the trails.
"We offer many warm-up shelters along the trails for you to take a rest, warm up and have lunch," said Lillebo. "Conveniently, trail maps are available in the shelters so you will always know where you are. Accommodations, fuel and restaurants are located along the Saskatchewan Snowmobile Association (SSA) trail system with plenty of parking for trucks and trailers for ease of access to all attending or visiting the area."
Accommodations are available at the Sportsman Motel and Villa Hotel in Kelvington, as well as several guest houses in the area for those larger groups or families. Greenwater Park boasts many cabins for rent, and Wadena offers the Blue Willow Inn, both just a short drive away. All accommodations are located along or have snowmobile access to the SSA trail system and have plenty of parking for trucks with trailers.
Fuel is available at two locations in Kelvington, as well as in the towns of Wadena, Lintlaw, Greenwater and Rose Valley. Restaurants abound in all the communities as well, all of which are located along the SSA trail system or have snowmobile access. Grab a map before venturing out to plan your day's ride.
Hudson Bay
Hudson Bay is a snowmobile paradise in Saskatchewan, winning SnoRiders' platinum awards for the best trails in Saskatchewan for the last 10 years! The Hudson Bay Trail Riders club takes care of over 680 kilometres of groomed trail and 12 modern warm-up shelters.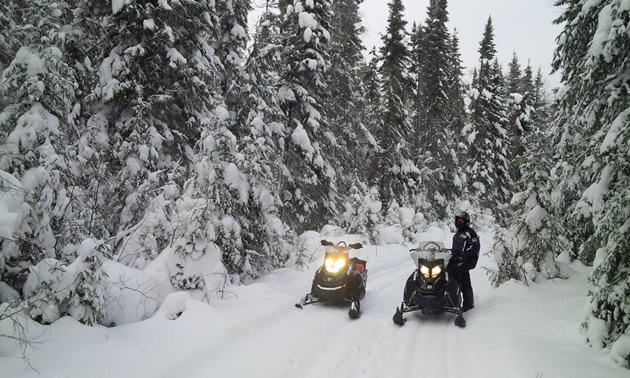 Wildcat Hill Provincial Park
"A very scenic trail route takes you up into the Wildcat Hill Provincial Park (which is only accessible in winter by snowmobile trail)," said Jeanine Holowatuik, community development director for the Town of Hudson Bay.
Leave town on Trans Canada 210A, connect onto 210G and go north on 210Q. Stay north on 210P to enter the Wildcat Hill wilderness park, returning to town on 210P and 210F.
This loop would be approximately 130 kilometres and would take you to four modern warm-up shelters along the way. This trail takes you up in elevation with excellent views and snow conditions along the way.

Getting there: Hudson Bay is a snowmobile-friendly community, and the trail can be accessed from just west of town limits. Hudson Bay has snowmobile trails leaving in all four directions right from town limits.
Parking: There are several parking lots available for snowmobilers in Hudson Bay. For this trail you can park near Treeline Motel (located on Highway 3 within town limits on the west side of Highway 9). There is a service road and graded parking lot that would suit any size of vehicle and trailer.
Nipawin
The well-marked, immaculately groomed trails in Nipawin extend for more than 300 kilometres. Try heading out to Greenwater, Hudson Bay, Candle Lake and Little Bear, or cruise along the popular Trans-Canadian Snowmobile Trail. You can even take a half-hour drive out to Lake Tobin, where you will find rolling hills and easy riding with a view of the North Saskatchewan River.
To find out more about the snowmobiling in Nipawin, check out this article.
Melfort
The Melfort and District Trail Riders Inc. keeps the trails groomed for sledders in this pleasant community, which is also known as the City of Northern Lights. Enjoy the open vistas and the classic Saskatchewan terrain you will find here.