What does it take to make an outstanding snowmobile family? Marriage, kids and sleds. That, and a whole lot of volunteer work. Followers of that particular template can expect to draw some positive attention, like Drew and Liane Leger, recipients of the Outstanding Snowmobile Family award at the 2019 British Columbia Snowmobile Federation Excellence Awards.
"It felt very nice to feel appreciated for all our hard work over the years," Liane said. "We were surprised and grateful."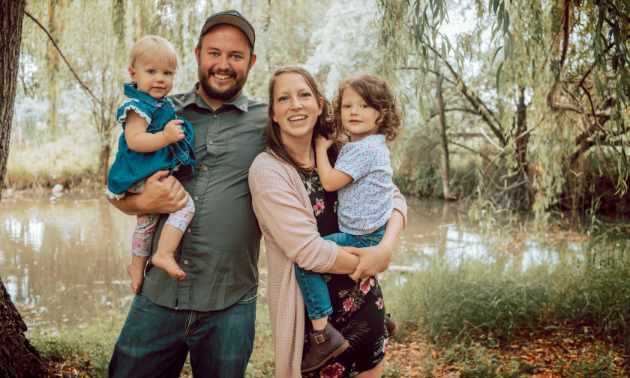 Drew and Liane Leger were born and raised in Lumby, B.C., and decided to keep their roots firmly entrenched in the village, raising their two daughters, Claire (three years old) and Marissa (one year old). Drew works as a marine mechanic and Liane is an accountant.
When it comes to snowmobiling, their responsibilities become even more impressive. Drew's been the vice-president of the Lumby Mabel Lake Snowmobile Club for seven years while Liane's been the treasurer for six. Aside from those roles, Drew helps manage grooming and trail work parties and Liane started a Sledding Movie Night at the local theatre. The event is going into its fourth year and serves as a fundraiser for the Vernon Search and Rescue and their snowmobile club.
"We love volunteering and want to instill that in the girls growing up," Liane said. "We have a lot of young families in our club and we strive to keep our events family friendly. We helped organize our Family Day event last year, which brought out over 20 kids on their Ski-Doo Mini Zs and Arctic Cat Kitty Cats. It was awesome to see."
A selection of snowmobiles
The Leger family rides together on three snowmobiles. Drew drives a 2012 Arctic Cat M800, Liane has a 2006 Ski-Doo Freestyle 300 and the girls get the vintage 1980 Arctic Cat Kitty Cat. Mom and Dad prefer to ride in the Nelson Mountains while Claire and Marissa love riding around in the yard. More often than not, though, the Legers can be found in their 1975 Bombardier Bombi SnowCat as it's a bit more family friendly with its five-passenger cab and heater.
"Honestly, we don't get out as much as we would like to—it's hard to get out with two young children," Liane said.
Teenage sledheads
Both Drew and Liane got their start in the sport as teenagers. Drew skipped class with a couple of high school buddies on sunny days and headed up the mountain. Liane went on "girlfriend rides" with her friends.
"Eventually, a lot of us got married so they turned into 'wife rides,' " she said.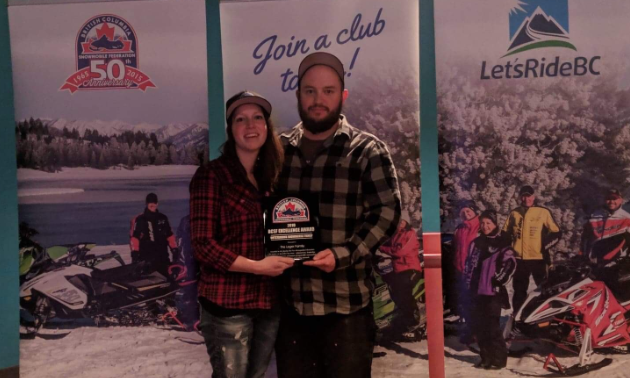 Speaking of marriage, the Legers got engaged on a mountain after a blue-sky day of sledding.
"Drew was nervous all day—riding around with a ring in his pocket," said Liane. "He suggested we go to a lookout place before loading up our sleds. Overlooking the valley, he knelt down in the snow and asked me to marry him."
Without question, the Legers are an Outstanding Snowmobile Family.