Thieves and vandals make a mess of everything they touch. No one is immune to their trail of destruction—even ATV and snowmobile clubs.
Earlier this year, vandals broke into a storage container owned by the Thompson Valley ORV Club at the Pendleton Creek rec site near Kamloops, B.C. The criminals stole several items and then burnt everything else, including the storage container. Because of the arsonists' actions, the Thompson Valley ORV Club lost over $40,000 in equipment, including signage, supplies, tools, and the container itself.
"Vandalism has been increasing over the years," said Curtis Riffel, president of the Thompson Valley ORV Club. "Vandalism is senseless, I do not have any other words to describe it. I'm not sure if you can do anything to prevent someone from stealing or setting it on fire if they have it in their mind to do so."
When the burnt storage container was first discovered, the RCMP were notified and the Thompson Valley ORV Club has an open file with the RCMP regarding this crime.
Unfortunately, the stolen and burnt items within the storage container were not insured, as the Thompson Valley ORV Club was previously told that they could not get insurance. That may change now, however, and Riffel will be looking into insurance again in the future.
"Going forward this fall, the ministry has given us a gate to install," Riffel said. "The gate will stop people from driving into the rec site and to the container."
In an effort to bolster security, the Thompson Valley ORV Club will be reinforcing and adding locking mechanisms on the new container. They will also be putting up trail cameras to monitor the area.
"In the future we will remove the most valuable stuff from the container for the off-season," Riffel said. "However, most of the value that we lost was the container itself, trail signs, sign posts and other stuff used on the trails—all of which do not have any value to anyone."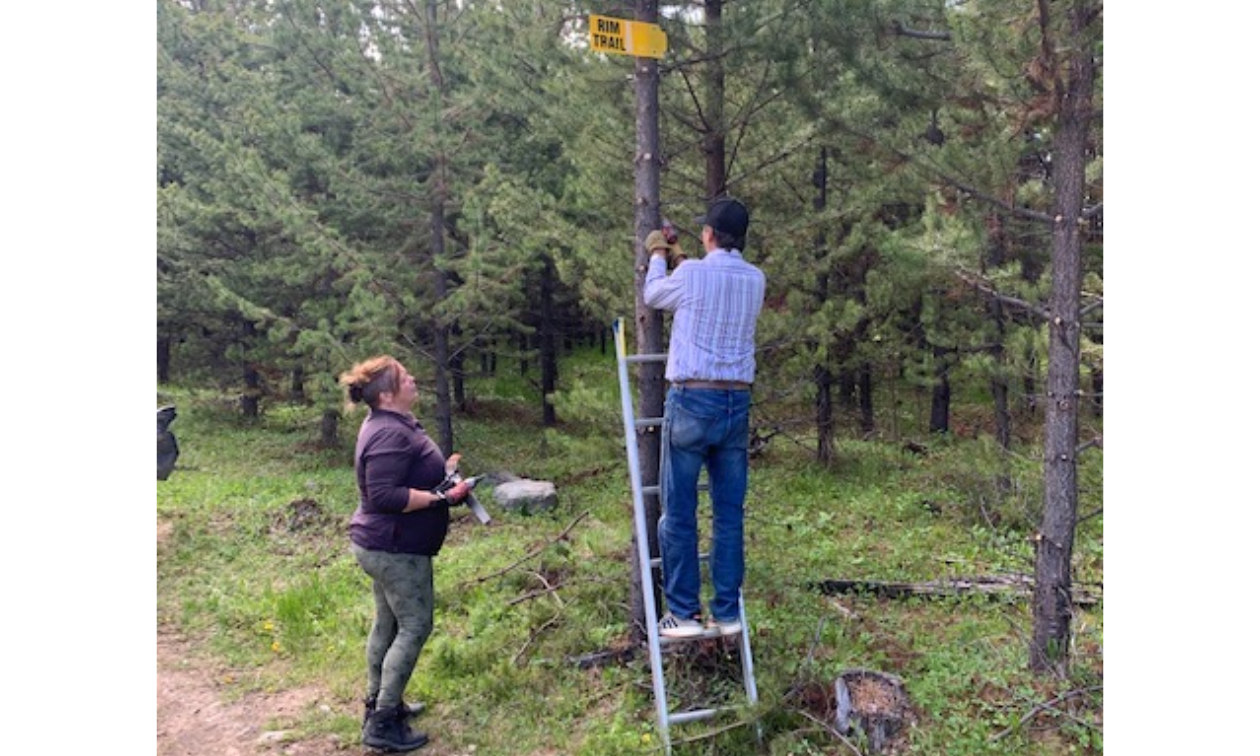 Thankfully, the Thompson Valley ORV Club has received support from nearby clubs, organizations and individuals. The Vernon ATV Club donated $1,000. The Kamloops Snowmobile Association donated $500. A GoFundMe campaign raised $1,100. The Greater Kamloops Motorcycle Association offered the use of any equipment they have. Private donations of equipment came from people in Logan Lake and Barriere.
"I would like to thank all the people and organizations that supported us through this frustrating time," said Riffel. "Thank you to all of our club members who continue to support the club, volunteer time in our recovery and in maintaining the Pendleton Creek rec site and the Greenstone trail system. We cannot do this without everyone's support.
"We now have a new container. We have slowly started to replace our tooling and equipment. We applied for and received funding from ATVBC and the Provincial ORV Fund for trail work and signage. This act of vandalism impacted us for a bit, but we are steadily moving forward."
Security measures:
Looking back, are there a few lessons to be taken away from this experience that can be passed along to other ATV and snowmobile clubs. Here's how Riffel and the Thompson Valley ORV Club are proactively protecting their equipment from further sabotage:
"Trail cameras could possibly help in identifying the people responsible."
"We requested a gate but the ministry could not supply one. We are now installing one this fall."
"Adding additional locking to the container will make it increasingly difficult and slow thieves down."
"In the future, we will be looking at security cameras that send alert messages to the club."