Avalanche Skills Training (AST) has been a common topic throughout Western Canada in light of recent tragic events, and I'm writing to tell you once more to get educated before venturing into the backcountry no matter the vehicle you choose. I grew up as a snow sport enthusiast reading magazines, watching videos, keeping up with current events and discussing backcountry safety with friends, so I thought I had an acceptable level of knowledge when it came to avalanche safety. I couldn't have been more wrong.
I might be misleading you a little—I decided many years ago I wouldn't venture into the backcountry without taking an AST course first and I never did, aside from ducking a few ski area boundary ropes. I've lived in British Columbia for six winter seasons and finally spent my first day in the backcountry last weekend for my AST 1 field day. What I now know about avalanche safety after taking the AST 1 course as opposed to what I knew before is astounding. I'm very thankful I made the decision I did many years ago and would once again encourage others to get educated before venturing off as well.
Giving up one weekend of your winter to help keep yourself and others safe for the rest of your lifetime is a small price to pay. Speaking of prices to pay, AST 1 courses typically run just over a couple hundred dollars depending on the company, which is more than fair for the knowledge and experience you receive. A typical AST 1 course will be either an evening in the classroom followed by two days in the field or one day in the classroom with field practice in the afternoon followed by a full day in the field. My course was the latter through Summit Mountain Guides.
David Lussier and Miranda Terlingen have been operating Summit Mountain Guides in Nelson, British Columbia, since 2005. Lussier is an ACMG and IFMGA mountain guide with a wealth of knowledge and experience and was my group's field guide for Day 2. ACMG-certified mountain guide Stephen Senecal taught our in-class instruction on Day 1. Summit Mountain Guides was very professional and thorough, from sending pre-trip information weeks in advance to handing out certificates once it was all over. Admittedly, they do not teach a snowmobile-specific course, but the curriculum is the same and the skills learned are transferable.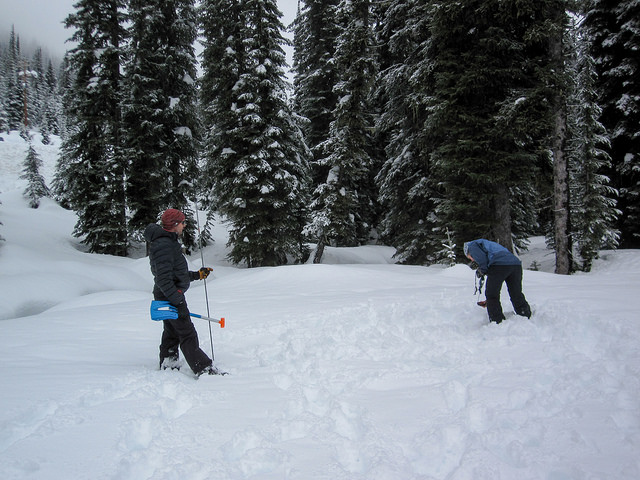 In the classroom
Day 1 saw us in a classroom environment for the morning, learning from PowerPoint and being introduced to the Avalanche Canada Avaluator and Companion Rescue Guide. We were previously assigned to read Backcountry Avalanche Awareness written by Bruce Jamieson prior to the course, which is based on the Avalanche Canada's AST course. We were also assigned Ian McCammon's article What Were They Thinking? on human factors in avalanche incidents as pre-course reading. I would suggest everyone read this article at least once per season.
Throughout the morning Senecal discussed trip planning and the Avalanche Terrain Exposure Scale (ATES), instructed us on using Avalanche Canada's website and the avalanche bulletin, and introduced us to snowpack properties and variables, the types and anatomy of avalanches, avalanche triggers, slope evaluation, terrain characteristics, risk assessment and post-trip assessments—the list goes on. Near the end of our class time, we discussed safety gear and proper technique prior to heading into the field to practise.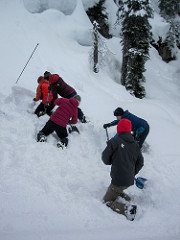 After lunch our group headed up to Whitewater Ski Resort to take advantage of the transceiver practice facility named Beacon Basin. We spent two hours practising using our transceivers, shovels and probes. Lussier and Senecal taught us proper searching techniques with our transceivers as well as proper probing and shovelling techniques. Upon returning to the classroom, we completed an in-depth trip plan for the next day, which included a look at the updated avalanche bulletin and weather forecast.
A day in the field
Sunday morning had us up bright and early for our field day. We broke up into two groups and headed toward Whitewater Resort. Our destination for the day was Hummingbird Pass underneath Evening Ridge close to the resort. The avalanche conditions ranged from considerable to moderate that day from alpine to below treeline. Hummingbird Pass proved to be the perfect place to learn how to safely travel through avalanche terrain. Lussier guided us underneath a well-known avalanche path first thing to give us a firsthand example of what would normally be dangerous terrain. Even though it wasn't much of a threat to us on this particular day, we didn't stand in the line of fire for long.
On the way to our destination, Lussier stopped us several times to assess the risk of certain features and guided us in using our Avaluator to decide if it was safe to pass or not. He also showed us quick tricks for checking the snowpack for instabilities as well as looking for other common signs of instabilities along the way. Each member of the group had his or her turn at leading the group and giving a hand in route-finding using an altimeter, compass and map. After all, navigational skills are very important for staying safe in the backcountry as well.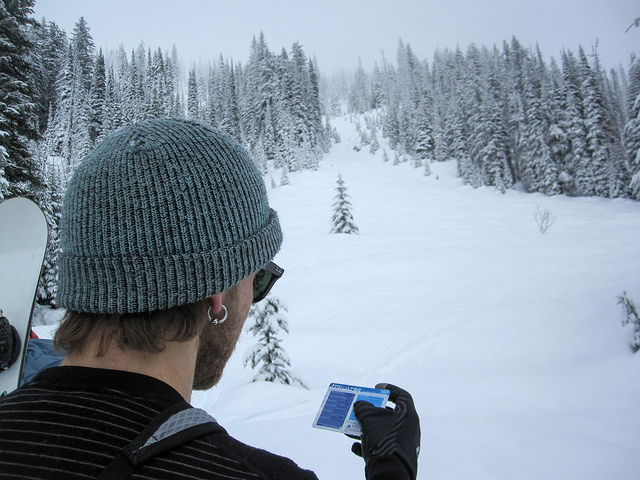 After stopping for a bite to eat, Lussier instructed our group in proper digging techniques including how to effectively dig with multiple rescuers. He also used this lesson as a way of getting us to dig his test pit for him—he's a smart man! Once the pit was cleaned up, Lussier carved out a test profile and performed a compression test to find any weak layers in the snowpack. Prior to this he let us feel the varying density in the snowpack layers using our fingers. It was a very revealing process as some of the layers deep in the snowpack were quite weak. Lussier recorded the compression test results and explained the importance of testing in the same places multiple times a season to record the changes in the snowpack.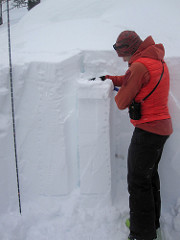 Near the end of our day in the backcountry, our learning was put to the test with a simulated companion rescue. Lussier set up a multiple burial situation to test the skills we had been learning throughout the course. After the simulated rescue was complete, we debriefed as a group and discussed what we did well and what we could have done better with Lussier adding his expert advice when necessary. It was still a stressful situation even though we all knew it was only a simulation.
As I mentioned earlier, the whole weekend was an eye-opening experience for me and I already have plans to sign up for an AST 2 course next winter. Summit Mountain Guides also offers a one-day companion rescue course for those who have previously completed an AST 1 or 2 course and want to learn new rescue methods and practise their transceiver and rescue skills in general. Some people choose to retake an AST 1 or 2 course to keep their skills up-to-date as well. Others choose to do the Avalanche Operations Level 1 course through the Canadian Avalanche Association as the next step after AST 2. No matter which path you choose, it's always important to refine and practise your avalanche skills.