Northern Saskatchewan is known for having tight-knit neighbourhoods and small-town hospitality. In order to branch out from a strong community and become part of a united region, alliances and partnerships must be made to enhance the greater good of the province. Fortunately, Prince Albert and Saskatoon have the benefit of having the wise, 71-year-old Gerry Dolezsar at their disposal to initiate and integrate a lasting bond.
Last year, the Prince Albert Trail Riders decided to groom and sign a trail through the Nisbet Forest to connect the Saskatoon trail system to Prince Albert and all of the trails in Northern Saskatchewan.
"This became something that was very special to work on," said Dolezsar, who is a member of the Prince Albert Trail Riders. "Club members took a number of rides through this area and there was always something new. You are surrounded by a forest element with wildlife including deer, coyotes, moose and lots more. That provides a real mystic atmosphere.
"The trails are already in place in the Nisbet Forest area. Plus, along the trail are old log cabins. I'm not sure how they got there or who built them—they do need a lot of repairs—but there they are. Our involvement would be to maintain them and sign the respective trail. We just want to add to the safety factor."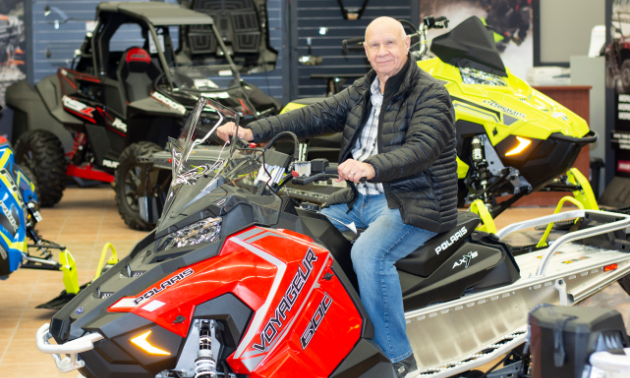 At the moment, the club is waiting for final approval from the Ministry of Environment. They are hopeful that it'll happen this season.
"These trail systems are becoming more important every year," said Dolezsar. "The day when you got on your unlicensed sled and tore off across your neighbour's fields and property have pretty much disappeared. As a result of the provinces' upcoming legislation, staying on the designated approved trail system is the way to go."
For the love of snow, just go
Obeying the rules and putting in time on trail maintenance might not sound like a combination for a best day ever, but Dolezsar doesn't see things that way.
"When it comes to going snowmobiling, it doesn't matter why you fire up your sled," Dolezsar said. "It could be riding with friends, meeting at the nearest warm-up shelter, doing some trail work like signing, staking or trail clearing—as far as I am concerned, it's all just another excuse to go for a ride.
"Being a member of the club, whether it's ours or another one, is the way to enhance the whole
snowmobiling experience. If you don't know where you want to go riding, contact us. We'll arrange for one of our members to lead the way or you can join us for a group ride. This is why you bought that sled! See you on the trail."
To plan your best day ever in Prince Albert, take a look at the interactive map on the Sask Snow website.