Picture this if you will.
It's a bluebird day. Your lunch is packed, your gear is on, and your sled rumbles cheerfully beside you as you finish prepping for a day of adventure. The sweet smell of two stroke smoke clings to the fabric of your logo-branded snowmobile jacket. You've been waiting all week to get to this particular moment, with these exact people. Trail maps have been studied, plans have been discussed, destinations have been picked. A ride to your favourite warmup shack. A cruise down that forested trail to see if you can spot some wildlife. Or perhaps it's the eternal quest to find the deepest untouched snow. You inhale deeply and your lungs fill with crisp clean air. It's go time.
Porcupine Plain is a "ride off your back step" community. No matter which of the many local accommodations you choose to hang your helmet for the night, you will be able to walk out the door, hop on your sled and ride.
The surrounding snowmobile trails offer something for everyone—from fields with rolling hills (that leave your stomach at the top, hoping to catch it at the bottom), to forested areas with walls of spruce on either side funnelling you along. If you're in the mood for a bit of friendly competition, there's an abundance of lakes to ride. If shaming your buddy's new sled isn't your thing, cut a hole, drop a line, and see if you can catch some supper.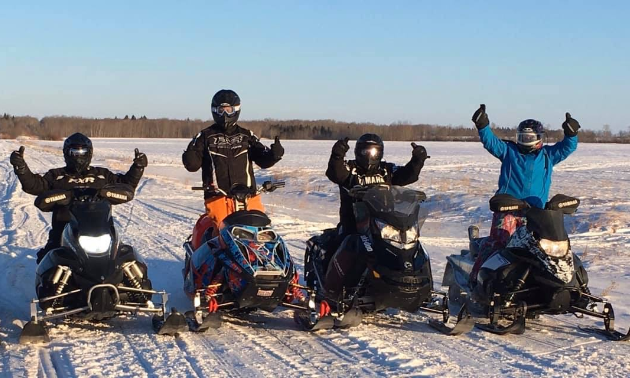 Porcupine Plain's trail system is littered with cozy warm-up shacks where you can rustle up some grub, stop and dry your socks and balaclava, and meet new people that feel like old friends. On the off chance that someone forgot to pack the hotdogs, Porcupine Plain also boasts some of the best restaurants and bars around, including world class burgers, mouth watering chicken wings and friendly small town service.
Still not convinced? Porcupine Plain's trail system is linked to a thousand miles of riding in all directions. The local Co-op carries a selection of belts, oil and spark plugs as well as premium gas at the card lock to get you going and keep you going. The scenery and wildlife are calendar worthy, the trails are legendary, and we typically have snow—lots and lots of snow!
But the best part about visiting Porcupine Plain is when you come back, it's like coming home.