After 26 years of publishing a snowmobile magazine (SnoRiders)—I finally have my wife, Linda, keeping her eyes peeled for old sleds.
Linda originally hails from Minnesota, the epicenter of snowmobiling in North America. This old sled photo sort of captures the essence of the Minnesota snowmobiler. A garage full of everything but the car, with the centerpiece of it all a classic snowmobile (under repair). Two clocks on the wall, one says 9:05 and the other 6:23—depending on how the day is going, you can pick the time that best suits your schedule.
This photo comes from Linda's school days friend, Ellen Hostetler and her husband, Bruce, who live in Pequot Lakes, Minnesota. (home of Dave Guenther, past president of the Antique Snowmobile Club of America)
I don't know Bruce, though he seems like a bit of a tinkerer to me—busy getting the Ski-doo ready for the trails, or at least to bring in the wood.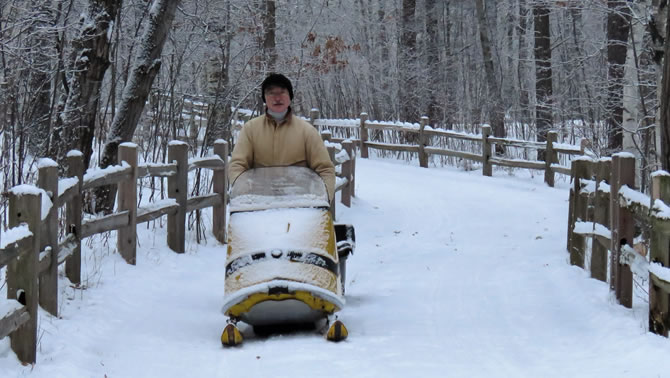 For all you Arctic Cat fans out there, I am sure you'll get a chuckle out of the fact that there is a cat sitting on the old Ski-Doo seat. After all, this classic Ski-doo is sitting in the middle of Arctic Cat and Polaris country.
A tip of the hat or tug of the toque to Linda for passing on this vintage sled photo to me. (it's taken two and half decades of publishing but I did it - she's noticing old sleds)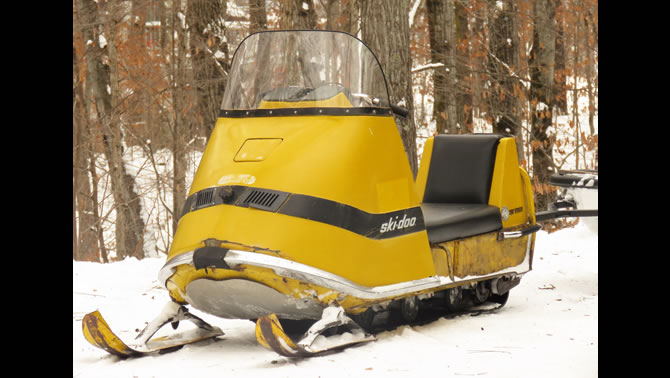 Thanks Ellen and Bruce for these great classic snowmobile photos—enjoy the winter in Pequot Lakes, Minnesota, and watch out for Uma, the cat, the next time you rev up the old Ski-doo.