This week's Old Sled Zone story comes from deep in the north woods of Minnesota. We've written about this old 1968 Ski-Doo Super Olympique before, but now it has been restored to running condition by Bruce Hostetler of Pequot Lakes, Minnesota—it's time for an update.
Here's Bruce's restoration story:
"My intent was never to restore the machine, but use it in the woods to help in keeping the cabin warm. This old sled seems designed to pull a sleigh through. That first season, we got about 10 hours of use before the spline end of the driveshaft shattered."
Now that doesn't sound good?
"The sled was down for the season, while I disassembled the drive train and determined what I needed to get back in the woods the next year. I found a local source who had a 1970's Grand Prix, full of Ski-Doo drive shafts! All of the sprockets were dark and brittle, but we found an exact match for the blown shaft from my machine. I drilled out the rivets and put my old drive sprockets on the new shaft. You can see from the photo that this service was performed once before in the life of this sled. The sled was in my shop for quite a while. Mostly my workshop is dedicated to restoring old clocks. One of our cats decided it was her favorite spot to keep an eye on me."
Another challenge pops up…
"I discovered while re-assembling, that the chain was too short. I'm guessing the last owner didn't understand the eccentric chain tensioner, and removed a pair of links to compensate for wear. The oil seals were in acceptable condition, I end up adding about 6 ounces in the fall."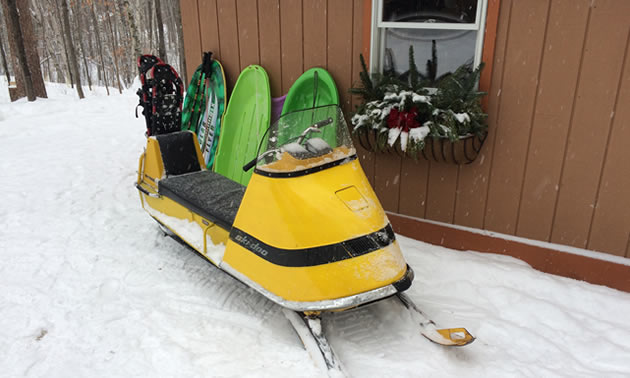 And that's not all….
"I re-glassed that broken hood, but didn't have time to paint. My shop is attached to the house, so fibreglass repair and painting in the winter is forbidden. I have a lean-to outside that works well, but only when the temperature and humidity are right. Generally a couple of weekends in the spring and again in the fall. I serviced the bogies, completely cleaned and greased the drive and driven clutches, reassembled everything. That was a pull and go winter. Only repair was a new cord for the recoil."
Finally, it's time for some finishing touches...
"This last summer, I decided to buy lifetime registration, so I could ride beyond the limits of our property, and on the one warm, dry autumn Saturday, I painted the hood. I'd found a source online for color matched paint. And a paint sprayer at a garage sale for $3. Then waited for that weather to be right.
The sprayer worked better than I'd feared, my first time mixing and spraying urethane paint. The sprayer held enough paint for both the hood and most of the tunnel. The original color had darkened, so you can see where I painted and what I skipped, but I was so happy with how the hood came out. Later I broke the no-paint rule and added the registration numbers and put on the decals."
And now it's time to ride….
"So far, this has been another pull and go winter! We're looking forward to seeing how the plot continues. "
So are we at SnoRiders — please keep us posted on your old sled adventures and if the plot thickens... (Bruce sent us a picture of a big bird (a turkey?) sitting in front of his Ski-Doo. Yes, the plot does thicken but that's for another story?)
Happy riding to Bruce and Ellen Hostetler of Pequot Lakes, Minnesota.
You will find a link to our original story here: http://snoriderswest.com/article/old_sled_zone/vintage_ski_doo_and_a_cat_too