I've had my eye on this old Sno-Jet for a long time, which languishes outside a storage shed not far from my hometown. Late this fall I stopped by to snap a few pictures of this big old blue machine so I could share them with our readers.
Sno-Jet's popular unique marketing approach included the phrase, "Watch out for Big Blue" which was accompanied with the imagery of a husky Paul Bunyan-type spokesman. He readily fit the image of the big, fast, strong snowmobiler, ready to take on the challenges of the wilds.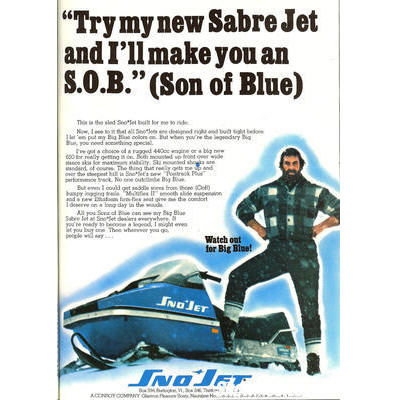 Sno-Jet was one of the many early snowmobiles that was created and manufactured in Canada. According to Wikipedia, "Sno-Jet was a brand of snowmobile first produced in Quebec, Canada in 1965. The sleds quickly proved popular and the company grew to be one of the highest-selling makers of snowmobiles until the early-1970s, helping usher the then-new sport of snowmobiling into Canada and the United States. After the Glastron Boat Company acquired Sno-Jet in 1968 it was sold off to Kawasaki in 1976, which they used in name until 1980.
"Sno-Jet had formed a business deal with German engine manufacturer Hirth in the earliest days of production to supply them with two-stroke engines. Hirth wished to directly compete with their main Austrian competitor, Rotax, for the rapidly expanding North American snowmobile market, and as a result offered their engines to Sno-Jet for a cheaper price than Rotax (whose primary consumer was Bombardier). This quickly made Sno-Jet the largest consumer of Hirth engines, and had the benefit of keeping production costs of Sno-Jets low, thus making them more affordable to consumers. Hirth engines were also quite reliable, which added even more credibility to the good reputation the Sno-Jet company was quickly building.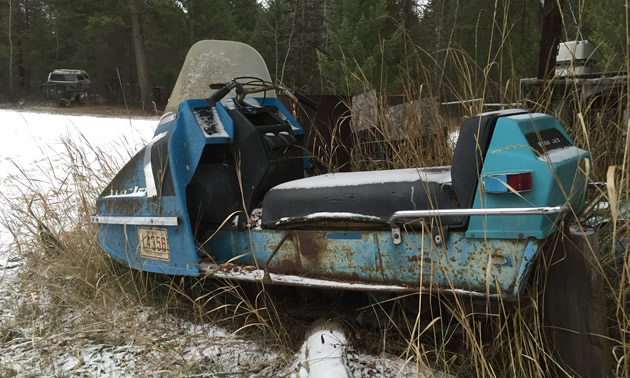 "Sno-Jet's peak year was 1970 with over 30,000 units produced, in over 20 separate models with various engine makes and models. Though owner Glastron Boat Company relocated the company's headquarters from Quebec to Minnesota, the vast majority of Sno-Jets were still manufactured in the company's main production building in Thetford Mines, Quebec."
Got an old sled story or photos? Share them with us at SnoRiders—just email: [email protected]