The beautiful city of Nelson, British Columbia, is considered one of the most interesting and unique towns in the province. Tucked into a scenic valley next to Kootenay Lake, this town bursts with activity especially during winter months. The beautiful and welcoming Selkirk Mountains play host to many adventures. The lake effect creates generous amounts of snowfall each season, attracting many types of winter recreationists including snowmobilers. Elevations range from 610 metres (2,000 feet) up to 2,134 metres (7,000 feet), with the main riding season beginning in December and lasting into late May. It is not unusual to be riding fresh powder in the month of April, when most other areas are hit with concrete snow from spring conditions.
The Nelson Sno-Goers Snowmobile club works hard to groom over 100 kilometres of trails including Six Mile Lakes, Springer Creek, Lemon Creek and the Redfish Creek drainages. This hard-working club has built and now maintains warm-up cabins in Crusader Creek, Meadow Mountain and Snowater riding areas. Memberships and passes can be purchased at Main Jet Motorsports and Playmor Power Products. Be sure to support those who maintain and protect these local riding areas.
Giveout Creek is a mere 10 minutes out of town, but the snowmobiling terrain is user friendly for all types of riders. Endless, wide-open cutblocks and frequent fresh snowfall make this area fun to ride and explore even if your journey doesn't begin at the crack of dawn. Although it may not be chute-climbing terrain, there are ample ways to test your skill, including tree riding and many naturally occurring kickers to send you flying into pure bliss. Many organized group rides, such as International Take a Newbie Shredding day, specifically stage from this area because of its user friendly terrain and easy-to-navigate trail system maintained by the Nelson Sno-Goers.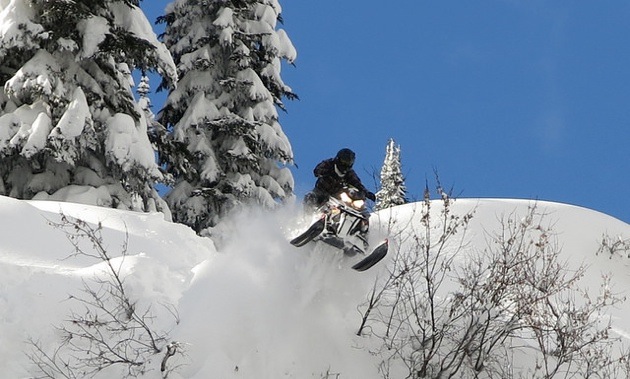 Six Mile Lake Road staging area is just that, six miles from the city of Nelson, heading east up the lake on Highway 3A. For sledders meandering along Six Mile Creek and the lake, this is a beautiful adventure leading into more wide open spaces to play in. More experienced riders will appreciate one unique destination along this trail.
The Meteor Mine Hill Climb
The old Meteor Mine site, located on this trail system about 40 minutes along the way, will test those who enjoy hillclimbing. The Meteor Mine Hill Climb event attracts locals and visitors from Canada and the United States, with around 18 participants and 250 spectators. Many thrills and spills are had the second Sunday in February, with hard-working volunteers from the Nelson Sno-Goers and Main Jet Motorsports creating a day to remember for all those who attend. Hot chocolate, hot dogs and incredible door prizes are the icing on the cake. There are always thrills, spills and plenty of laughter during the Meteor Mine Hill Climb event.
Barrett Lake is another destination for more experienced riders. Staging begins along Highway 6 at Porto Rico Road access. Extreme caution is urged if avalanche conditions are moderate to extreme, as access to the lake is plagued by a very active avalanche slide path. Early season conditions will present many open creek crossings, so again, wait until optimum conditions before venturing into Barrett Lake. Once into the lake, you'll find simple terrain surrounding the lake with many adventures to be had in the trees or the powdery bowls above. Both skiers and snowmobilers frequently enjoy this area, so common courtesy is encouraged to ensure that everyone has a wonderful time.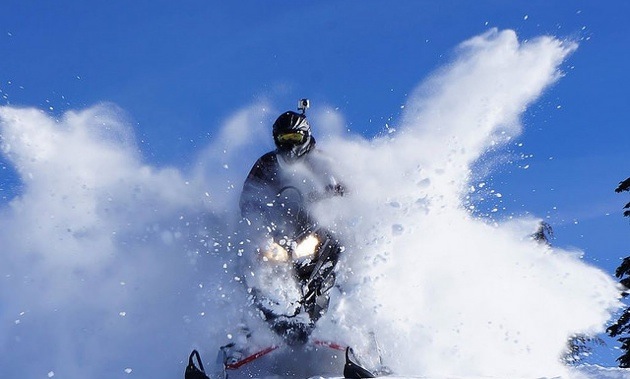 Lost Lake is another lake that can be accessed along the same trail, also providing ample opportunity for challenging tree riding and wide-open bowls to play in.
Always know before you go: have your avalanche safety gear and know how to use it. Mountain adventures are only as good as the preparation that goes into them. Check conditions at www.avalanche.ca