Nowadays, anyone can take a decent photo. Selfies at Times Square? Yawn. To stand out from the crowd, you've got to have an eye for the next rad shot and the know-how to make it look as jaw-droppingly stunning as humanly possible. Billy Stevens is the kind of next-level photographer whose pics draw gasps. His snowmobile skills are nothing to snuff at either.
Like any true professional, Stevens honed his photography proficiency over years of practice. For the past 20 years, Stevens has skied, snowboarded, snowmobiled and photographed through the boonies. Living in Nelson, B.C., Stevens couldn't have had a prettier backdrop to shoot around.
"I take backcountry mountain scenery kind of shots," said Stevens. "I'm out there every day, capturing the moment. People started recognizing it and it escalated from there."
Everybody likes photos
Now that Stevens has built a reputation for himself as a superb photo guru, you might think he'd call the shots about where to ride and who to hang with. Nope.
"I go out with all different levels of sledders from pro riders to new riders," he said. "I create friendships and like to see the progression at all levels. We all started somewhere.
"Beginner riders really appreciate seeing themselves and it amps them up. The pro riders get the shots published. Everybody really likes to get photos of themselves."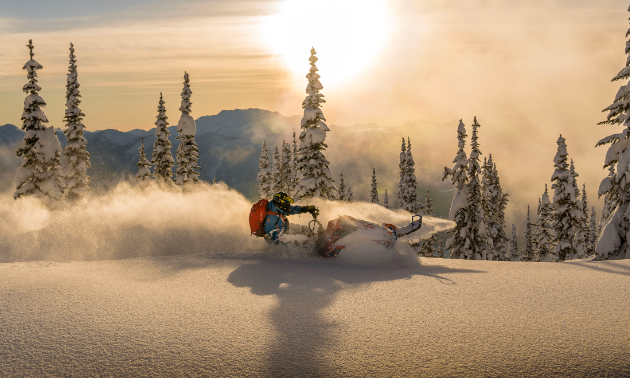 The company Stevens keeps is as eclectic and varied as the locales they take him to.
"I go to the person's area, so it's all new to me," Stevens said. "Sometimes I plan out a shot. Sometimes the riders are so impatient that you just have to go for it."
Backcountry photography for dummies
Wanna step up your Instagram game? Take Stevens' tips to become a picture-perfect photographer.
"Fresh powder makes for better carving shots," Stevens said. "For less snow, get jumping shots."
As far as what to bring with you when doing backcountry photography, Stevens has some advice.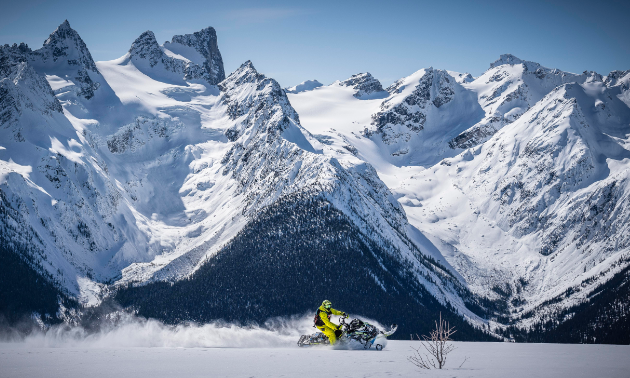 "I carry my avalanche gear, cameras and lenses in my backpack," said Stevens. "Everything else goes in my tunnel bag—my saw and all my safety gear. I also carry a small drone with me everywhere I go."
Snowy sleepover
Stevens doesn't take the Kootenays for granted. He lives in a beautiful spot and he knows it. One of the coolest ways that Stevens takes advantage of where he lives is by having overnight camping trips with friends.
"You wake up and there's almost a metre of snow out," he said. "We're on top of the mountain in the middle of nowhere. We get a lot of snow in this area and nobody's been here. Having the mountain at our back door makes it easy to access incredible areas that most people don't get to see."
If you'd like to see some of Stevens sweet shots, follow him on Instagram @Skid1.