British Columbia is arguably one of the best places in the world for mountain snowmobiling. Why? For one, the snow—or as some call it, white gold. In some places, it can reach depths of 40 feet. Then there are the trails. With support from the British Columbia Snowmobile Federation, this province is home to over 3,000 kilometres of maintained snowmobile trails. Through valleys and passes, these trails take riders to snowmobiling areas in world-class mountain ranges.
So where to begin, now that we've whetted your appetite? Below, and in no particular order, we've prepared a list of the top 10 best places to go snowmobiling in B.C.:
Revelstoke, which has the Monashee and Columbia Mountain ranges on its doorstep, gets hammered with an annual snowfall of 460 inches (40 feet). Add in groomed trail access and sled-in, sled-out resorts and it's no wonder filmmakers and snowmobilers from around the world place Revelstoke at the top of their must-ride list. See our Revelstoke section for more information, or check out our article on Top Hotels in Revelstoke for Snowmobilers.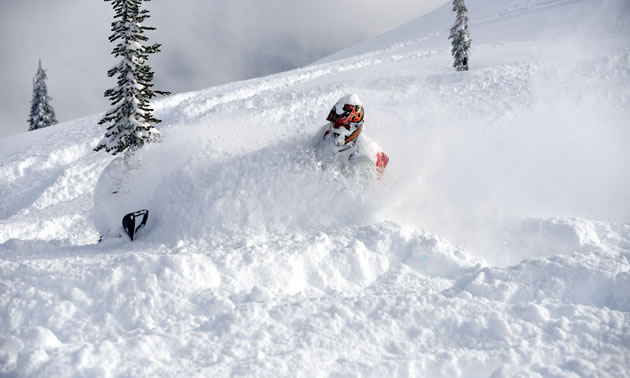 Readers of SnoRiders magazine ranked Sicamous, which is Revelstoke's next-door neighbour, as their Favourite Overall Snowmobiling Area in B.C. for 2016. This small town in B.C.'s southern interior is home to four mountain sledding areas that offer everything from beginner-rated trails to the steep and deep stuff—not to mention the scenery, which will also take your breath away. See our Sicamous section for more information.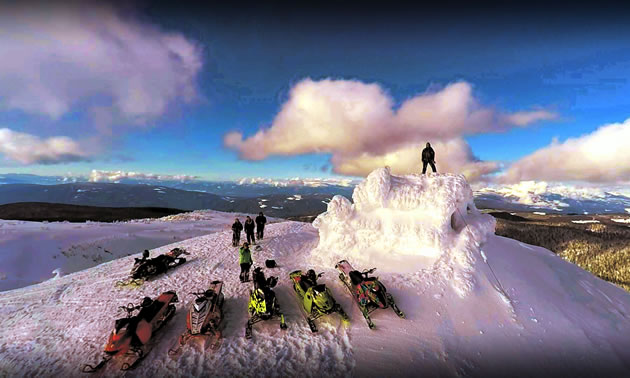 Golden is another snowmobiling destination that is top ranked by our readers. It offers an overabundance of light, dry powder and big mountain riding opportunities. New to the sport? There's no need to feel intimidated because Golden has several snowmobile tour providers that can cater to your riding needs. See our Golden section for more information.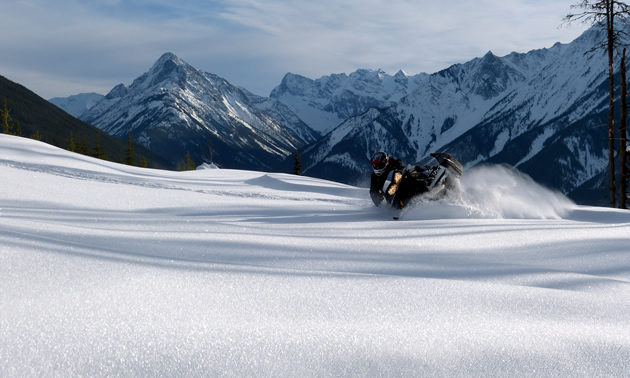 If we were to rank the destinations on this list by their snowmobile-friendliness, then the Village of Valemount would probably be No. 1. In addition to a warm welcome, snowmobilers will also find easy access to three alpine riding areas, a 22-kilometre family trail and a designated area for sled-skiers. See our Valemount section for more information.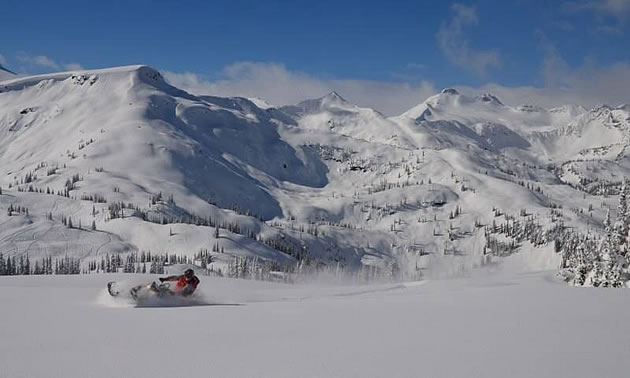 Kelowna's most popular sledding area is the Greystokes, which has three chalets along the trails—all of which are maintained by the Kelowna Snowmobile Club. See our Kelowna section for more information.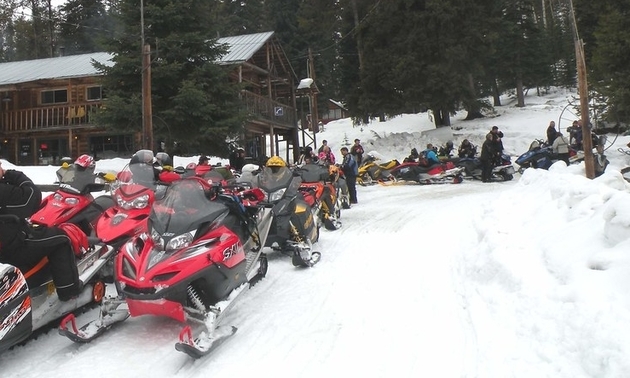 Some of the biggest names in snowmobiling have taken up residence in Whistler. Why? Because of the swamp-deep snow and truly big mountain terrain. They're willing to share, of course, and that's why you'll find businesses like Chris Brown's Ride Whistler, Geoff Kyle's Freeride, She Shreds Mountain Adventures (run by Julie-Ann Chapman), and SnowRide Adventures (run by Jorli Ricker). See our Whistler section for more information.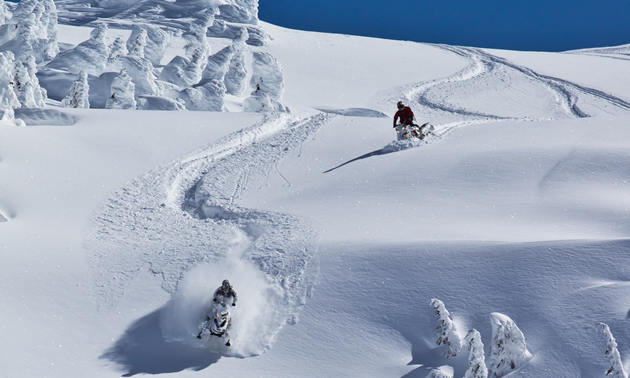 The Elk Valley, and more specifically Fernie, is another B.C. snowmobile destination that ranks high on our snowmobiling radar. Around this tight-knit little ski town you will find lots of technical tree riding and snow aplenty. And if you're looking for a tour guide, there are a few great choices in town. See our Fernie section for more information.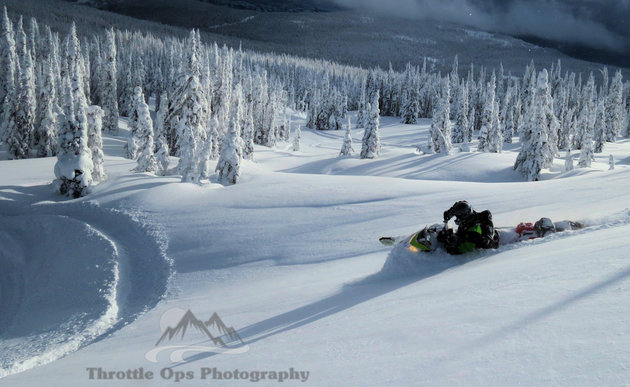 With acres of alpine forests and meadows, the trails that meander through Blue River are enough to excite any snowmobiler. Surrounded by incredible mountains and wildlife, it's no wonder this area is known as the "jewel of the Yellowhead." See our Blue River section for more information.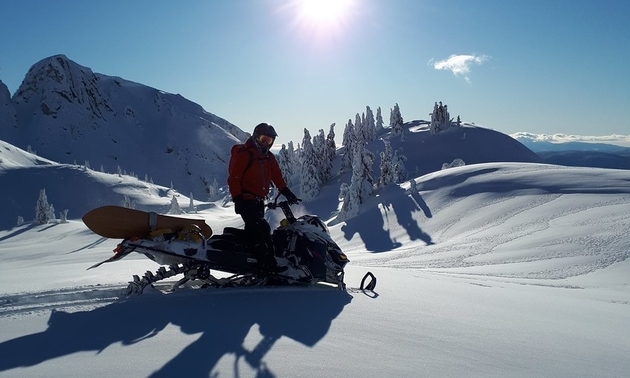 The Tumbler Ridge snowmobile trail system encompasses more than 300 kilometres of trails. In addition, there are more than a dozen other sledding areas around the region that are only a short drive away. Oh yeah, and Tumbler Ridge is SnoRiders' two-time SledTown ShowDown champions (2019, 2023)! For more information, see our Tumbler Ridge section.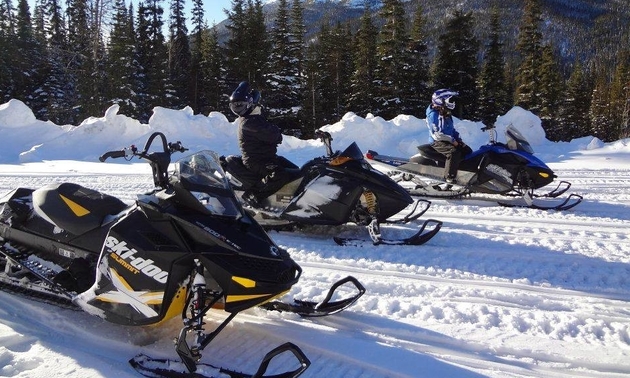 Sledding around Merritt is an adventure worth seeking out. There are trails in the surrounding mountains with ample snowfall and unbeatable views. For more information, see our Lower Mainland section.