Revelstoke has long been known as a snowmobiling paradise, and sledders come to visit from all across the country. There are a number of sled-friendly motels and hotels in the area, but here are some of our top picks for snowmobilers headed to Revelstoke: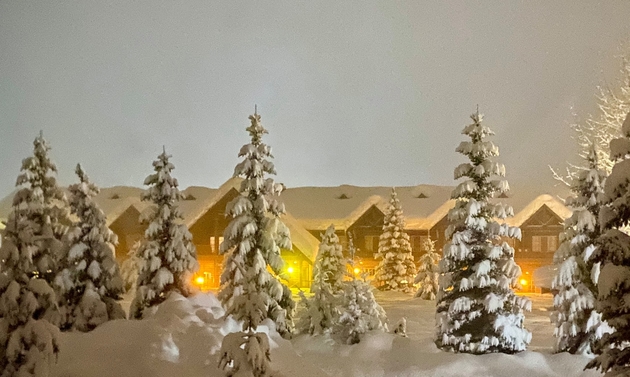 - Photo courtesy Glacier House Hotel & Resort
The cozy, chalet-style Glacier House is a dream-worthy sanctuary for sledders. It has an indoor pool, hut tub and sauna, so you can warm up after a day on the trails. You can also access premium fuel on-site for your vehicle or sled, and there is direct trail access from the hotel.
Massage services, tourism information, fibre optic TV and internet are other amenities that draw snowmobilers to this spectacular venue. In winter, you can even order packed lunches.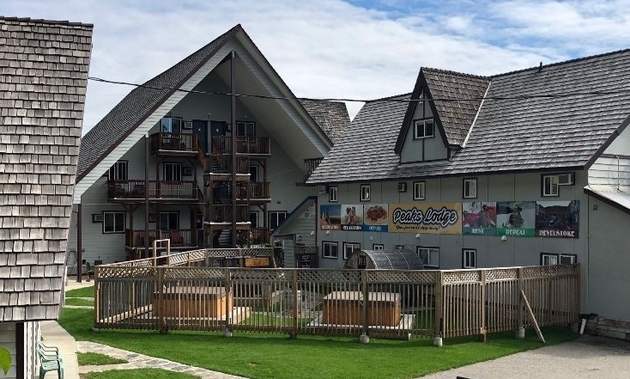 - Photo courtesy The Peaks Lodge
The Peaks Lodge is located just minutes west of town on the Trans Canada Highway 1. The rooms are set up with boot and glove warmers, and you can sled directly from the parking lot to Boulder, Frisby and Turtle Mountains.
The lodge offers winter snowmobiling packages designed with sledders' comfort in mind. These packages come with sled rentals, complimentary access to the sauna and hot tubs, topped off with a drink and barbecue at the Peaks Bar & Restaurant.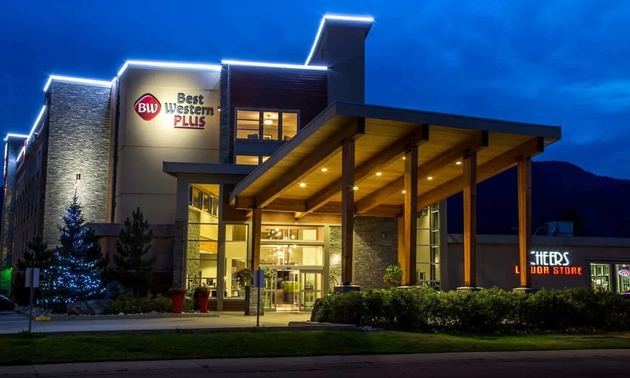 - Photo courtesy the Best Western Plus, Revelstoke
Revelstoke's local Best Western is cherished by snowmobilers for good reason. They have ample parking, a hot tub, massage therapy availability and a complimentary breakfast. There are also convenience and liquor stores nearby, self-serve laundry and boot dryer rentals.
This hotel is one of the newest in town, and it's both kid- and pet-friendly, so you can bring the whole family.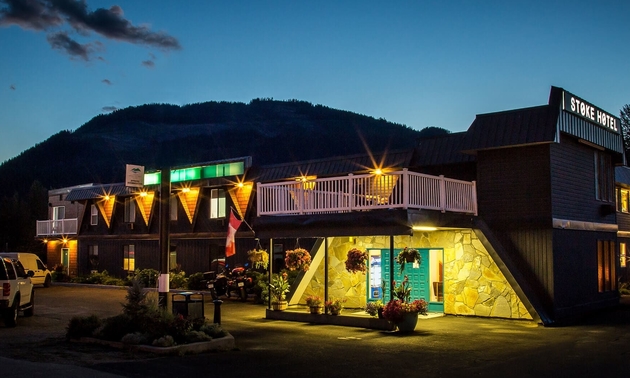 - Photo courtesy the Stoke Hotel
With its comfortable ambiance, the Stoke Hotel is warmly appreciated for its down-to-earth Canadian vibe. All rooms feature a wall-mounted flatscreen TV, free high speed Wi-Fi, a mini-fridge and microwave, but that's just the tip of the iceberg. They even offer a free shuttle service from the hotel to Rivercity Pub & Patio, 112 Restaurant and Lounge, Traverse nightclub and both liquor stores.
The Stoke is located near Revelstoke National Park, so you can stay within reach of your favourite sledding spots.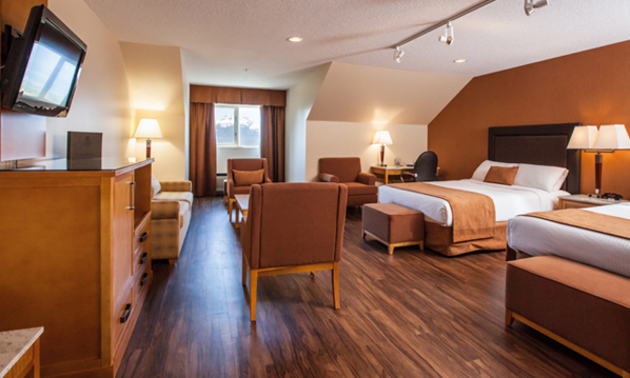 - Photo courtesy the Coast Hillcrest Hotel
The Hillcrest is known for its delicious food and friendly attitude toward snowmobilers. It is situated at the base of the Selkirk and Monashee Mountains, so you will feel the great outdoors all around you, even though you are just minutes from downtown Revelstoke.
You will find two restaurants to choose from (The Begbie Dining Room and the Mountain Guides Lounge), an outdoor Jacuzzi and more amenities to keep you comfortable after a day of riding.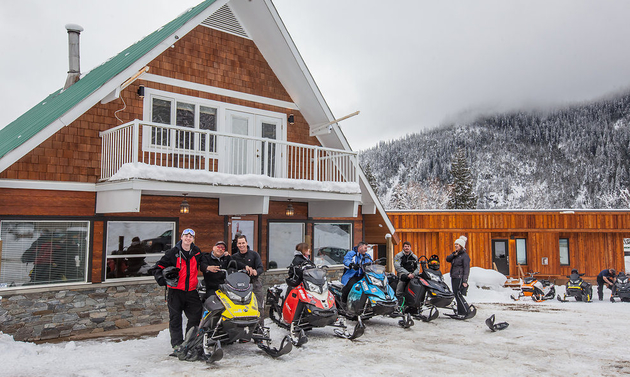 - Photo courtesy Boulder Mountain Resort
If you're looking for a different style of accommodation, Boulder Mountain Resort is a great choice, as it attracts sledders looking for a rejuvenating experience.
Take advantage of their Advanced Sledding Experience package, with breakfast prepared by a private chef, and a personal guide to take you out and show you the terrain (snacks and a lunch provided). You can rent a sled and/or any necessary gear.
Afterward, use the private gear room to dry all your equipment, have a drink while your chef prepares dinner and then cap it off with a soak in the hot tub.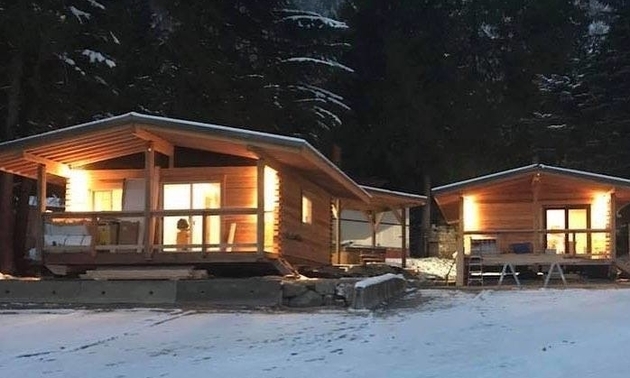 - Photo courtesy the Base Camp Guest House
The Base Camp Guest House offers sled-friendly accommodations in the form of suites and woodsy cabins. They have units designed for snowmobilers and other outdoor recreationists, and they offer guided backcountry snowmobiling tours.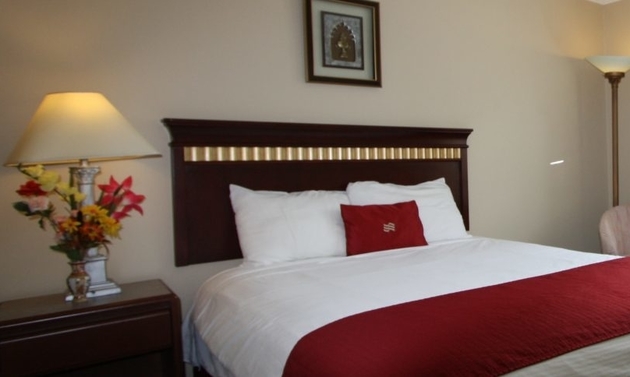 - Photo courtesy the Revelstoke Gateway Inn
The Revelstoke Gateway Inn offers clean, newly renovated rooms near outdoor recreation zones, at a reasonable price. There is a hot tub on site, continental breakfast and plenty of room to park larger vehicles.
They offer seasonal stay and play packages, including one tailored to snowmobilers. It includes excellent room rates with $10 off every second day when you bring or rent a snowmobile during your stay.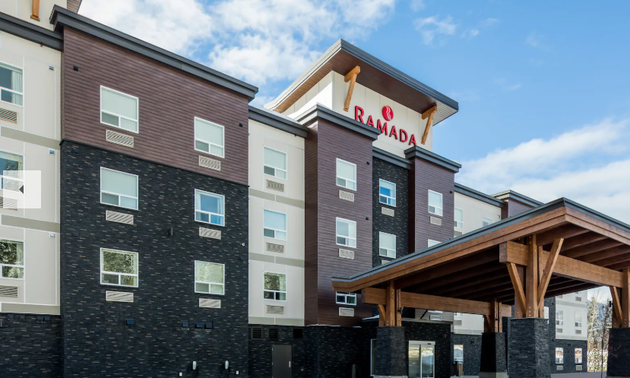 - Photo courtesy the Ramada by Wyndham Revelstoke
Many sledders like to stay at Revelstoke's Ramada hotel, due to its easy access to trails and comfortable, clean rooms.
The Ramada is situated near Glacier National Park and Mount Revelstoke National Park, accessed from Trans-Canada Highway 1.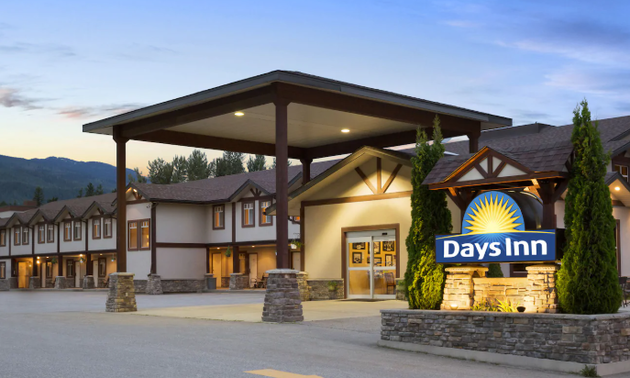 - Photo courtesy the Days Inn & Suites by Wyndham Revelstoke
The Days Inn is located off Highway 1, close to Revelstoke National Park - an ideal placement for sledders. The staff are friendly and eager to accommodate snowmobilers, and there is a free breakfast, large parking lot, a hot tub and free internet access.