Even if you missed out on the Jimi Hendrix Experience, it's not too late to experience Hendrix Mountain in B.C.'s Interlakes region near 100 Mile House. Like the guitar-playing legend, Hendrix Mountain is an aspiring shredder's dream. Instead of scaling a fretboard, sledders carve tracks up and down the logging roads that line Hendrix Mountain. From the endless unplowed logging road trails, Ezy Ryders can slip into the vast expanse of backcountry of untouched snow on the mountain's lakes and meadows.
Whenever the Interlakes Snowmobile Club ascends Hendrix Mountain, you'd better believe Jan DeRepentigny will be along for the ride. The 60-year-old has only been snowmobiling for a decade and is one of the few women who rides with the group. The better-late-than-never sledder would love to have some more female companions along for the trek.
"I would like to see more women get involved with the sport," said DeRepentigny. "The new sleds are getting easier to ride, and it is such a great way to have fun in winter regardless of riding ability."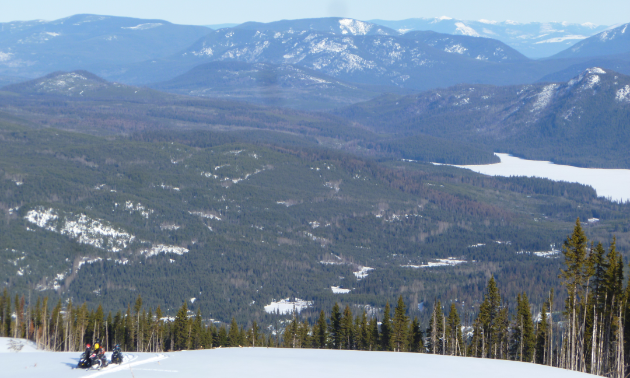 As for what makes Hendrix Mountain her favourite place to ride, DeRepentigny said she loves "being out in areas with untouched snow in spectacular scenery, getting to places you would never access in any other season and riding with great people. That, and keeping up with the big boys when the snow is up to the windshield."
Escape the Purple Haze of the mundane and join DeRepentigny for a ride up Hendrix Mountain before you miss out on another legendary experience.