Revelstoke rider Morgan Gamache flies largely under the sled industry radar, but lately, this master of the whip-it has been gaining some recognition.
The 27-year-old turned heads last winter at the Canadian Hillclimb Championships in Vernon, B.C., with a near clean-sweep of the semi-pro classes. He also landed a segment in the latest Braaap 15 sledding film and a photo on the cover to go with it.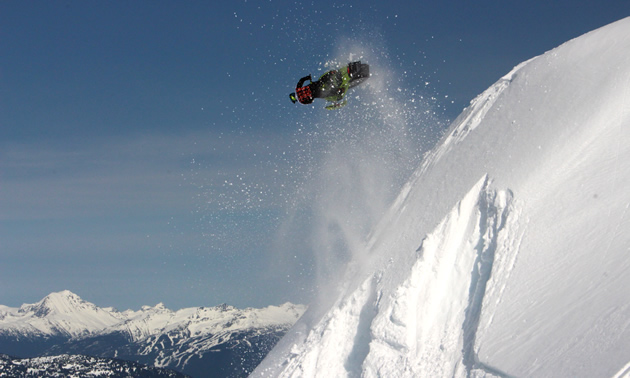 Growing up on the glaciers
Originally from Whistler, B.C., Gamache grew up slaying the deep coastal powder with his parents on the Pemberton ice caps. By the time he was 12 years old, Gamache was an accomplished big mountain rider, with an affinity for airing it out.
"My dad and mom liked to explore the glaciers so we did a lot of long, epic rides across the glaciers and then we would play in certain zones when we got (to our destination)," said Gamache. "If I could find something to jump off, that's what I would be doing. I probably broke 100 feet when I was 12 or 13."
When he was 16, Gamache and his partner in crime at the time, Ray Archer, landed a small role in the 2004 Roops of Hazard sledding film. They were also featured in Slednecks Compound Vol. 1, Braaap 7 and Braaap 8.
Just because he hasn't been featured in a sledding movie since 2008 doesn't mean Gamache has been idle. After high school, he left Whistler and moved to Alberta to pursue training as an aircraft maintenance engineer. During that time, he didn't own a sled, but Gamache still found ways to satisfy his snowmobiling addiction.
"I'd just ride demos or people would lend them to me," he said.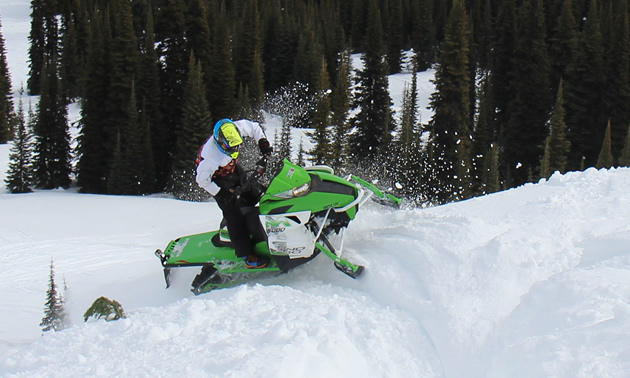 Relocating to Revy
Once he finished his apprenticeship, Gamache found full-time work with a helicopter company based in Red Deer, Alberta, which also has a contract with a heli-skiing operation in Revelstoke. With much of his work and his girlfriend's family based there, Gamache eventually moved from Alberta to the sled-friendly town of Revelstoke.
Compared to Whistler, Gamache said, the terrain around Revelstoke is tighter, giving him an opportunity to enhance his tree-riding skills.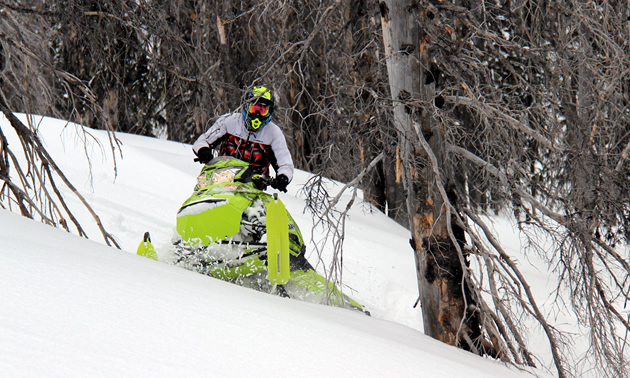 "This year wasn't the greatest snow year," said Gamache, "but it's more technical riding, which I enjoy."
Now a well-rounded backcountry assassin, Gamache can hang with just about anybody.
"(Last winter), I spent a lot of time riding with Brodie Evans and Derek Wood from Slednecks and a couple of their friends we met in Revelstoke," said Gamache. "And then I restarted riding with one of my old buddies, Brett Turcotte, and his friend, Jamie Iwaschuk."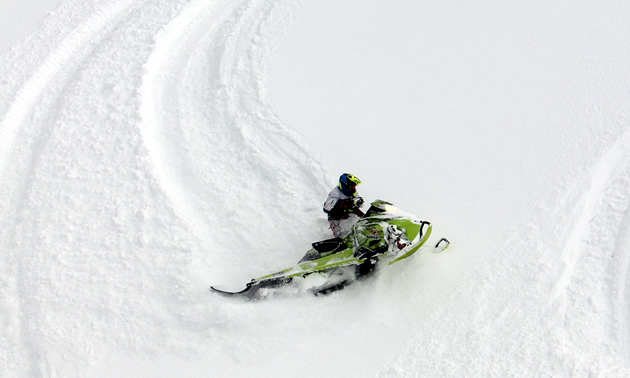 A cover-worthy whip
Gamache had a few good rides last winter. Stand out was a day in the spring when he found a perfect half-pipe for practicing re-entry whips.
"We'd do a couple of hits and talk about it . . . ," he said. "And then we were all done, just sitting there and talking, and I said, 'I'm going to hit it one more time.' I went and hit it at a new angle, probably a few degrees off of where I was hitting before, and threw it as hard as I could. I got right upside down and landed super clean."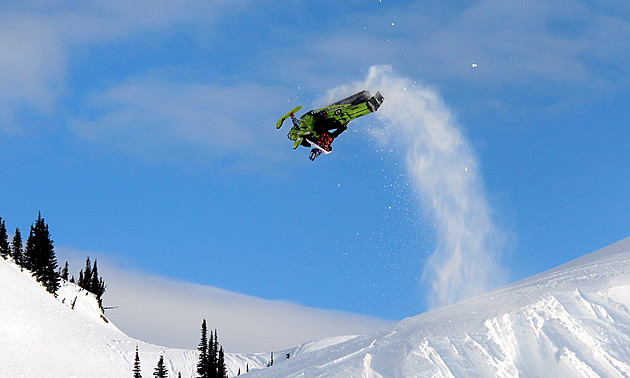 Fortunately filmmaker Jaya Lange was there to capture it, and what you see on the front cover and in Braaap 15 are the results. Gamache said it happened in slow motion.
"My feet came off the running boards a bit because I was right upside down and I was looking at the ground, not really panicking, but I needed to get my feet back on the running boards," he said. "So I was slowly kicking, trying to grip the tunnel and bring my feet back down. That was an amazing whip jump, just a perfect landing, but a little nose heavy and I actually nicked my chin off my mountain bar and got a little cut, so I bled for that shot (laughs)."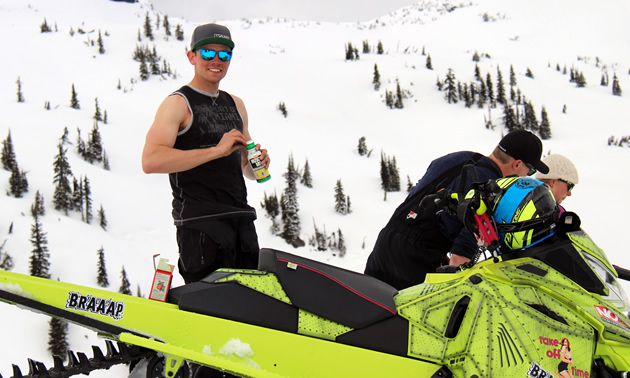 Watch for him this winter
With support from Cycle Works Red Deer, FXR, Limitless Custom MFG and other sponsors, Gamache is planning to hit the backcountry sled scene hard this winter. He'll also be moving up to the pro classes in the Western Canadian Hillcross Association.
Gamache is competitive, but true to his humble nature, he's not intent on winning or becoming the next big name in snowmobiling. He's just looking for new ways to express his creativity, because to him, that's what it's all about.
"Once you've reached a certain skill level, you can think up whatever you want and go and do that—snow conditions permitting," said Gamache. "The creativity you can have with snow and a snowmobile is so much fun, that's my favourite thing about it."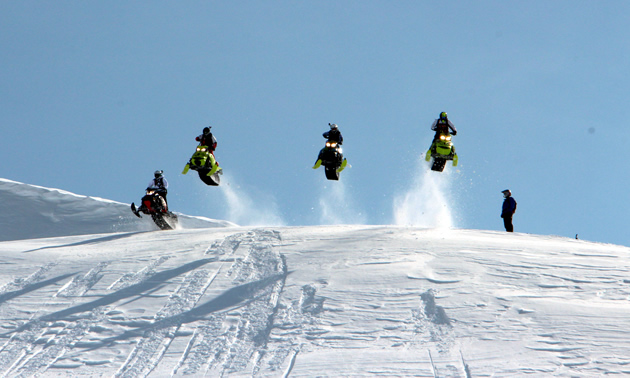 For more photos and videos, you can follow Gamache on Instagram and Facebook.