Cyril Lanctot, an 80-year-old snowmobiler and active Trailblazers member, recently received the Louise Sherren Lifetime Achievement Award from the Alberta Snowmobile Association. Cyril has dedicated himself to Whitecourt's trails and clubs for almost 30 years now. The award ceremony was held in Edmonton at the Alberta Snowmobile Association fall show. "We didn't know a thing about it. It was such a wonderful surprise," said Annetta Lanctot, Cyril's wife. Whitecourt Trailblazers club members nominated Cyril for the award.
"He's certainly been an active member of the Whitecourt Trailblazers since we moved here in 1978," said Annetta. "He doesn't take the front row seat with presidency or anything like that, but he's a worker—the man behind the scenes." Up until five years ago, Cyril could even be spotted (with his power saw) clearing trails alongside other members. Now, he still helps out with the club wherever he can.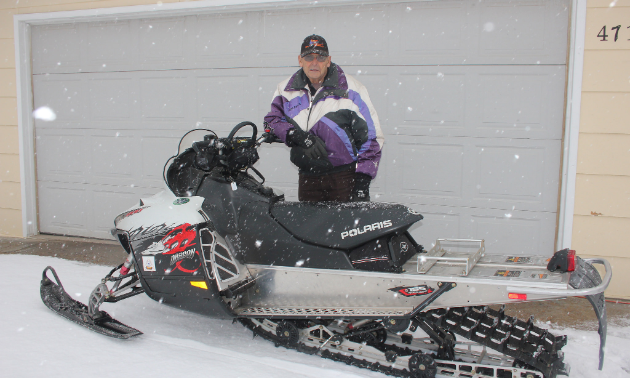 New sleds or Disneyland?
Cyril and Annetta raised their family on sleds, with a shared appreciation of the community that comes with the sport. "We rode as a family with our two boys," Annetta said. "We went out as often as we could." Riding as a family with their friends and other club members and roasting lunch around the warm-up shelter stoves were a few of Cyril and Annetta's favourite aspects of the sport. Their kids enjoyed time on the trails as well. "We would ask them, 'Do you want a new sled, or do you want to go to Disney?' " The answer was always 'a new sled,' " said Annetta.
Cyril still takes his sled out around Whitecourt's trails with other members as well as one of his sons, "local riding mostly now," he said. "There's lots of beautiful country around Whitecourt with superior trail systems," Annetta added. Cyril's weapon of choice is the Polaris 800 Dragon RMK. The Goodwin Lake Trail to Silver Summit was his favourite local ride in his busy sledding days. However, Cyril's favourite destination was Yellowstone Park, where he often explored more difficult terrain.
Showing snowmobile spirit
One of Cyril's favourite organized rides was the ASA ride from Red Deer to Silver Star at Vernon in the 1984-1985 season. The ride was organized to draw attention to sledding. "We wanted to make the public aware of snowmobiling," Cyril said. "The Vernon trip was really special. It was well organized by the club and well attended all through the province. A group of us from Whitecourt snowmobiled together and had a great time."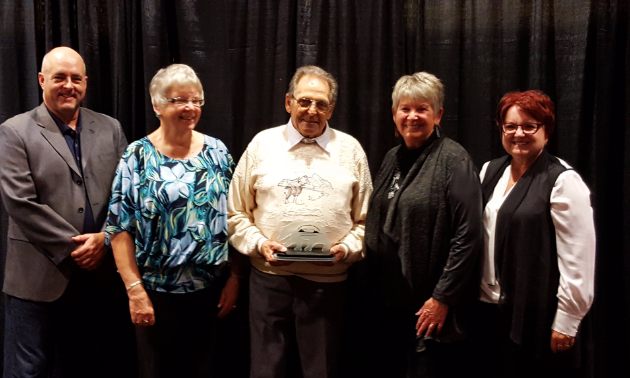 Aside from the Vernon ride, Cyril's favourite features of his snowmobiling career include the community he and Annetta became a part of and his volunteer work within that community. Over the years Cyril has helped organize plenty of family rides, media rides, Women of Whitecourt rides, alongside other club functions. He has helped with facility repairs, marking routes and fundraiser events. Cyril's list of contributions to the Whitecourt Trailblazers is practically endless.
Despite fewer sled rides, Cyril and Annetta still enjoy the community of snowmobilers in Whitecourt. "We have an awesome group of members at the Trailblazers Club," Annetta said. Cyril is involved in other areas of the community as well. He volunteers with the Heritage Society in Whitecourt as well as the Repeat Boutique, Christmas Hamper, Senior's Circle, and United Church. He also is a member of the Lion's Club of Whitecourt. His caring, helpful attitude makes Cyril a well-deserved winner of the Louise Sherren Lifetime Achievement Award.